Internships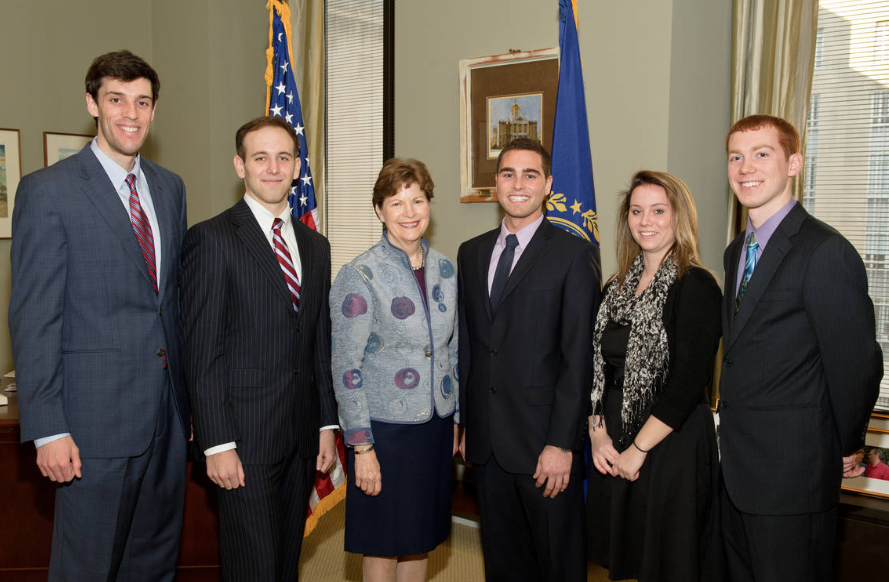 Interning in the United States Senate is a great opportunity for college students to get experience working in a busy U.S. Senate Office. Interns in Senator Shaheen's office will be able to take part in a wide variety of activities in the legislative, administrative and communications departments of the office. The program seeks to provide participants with the skills necessary to embark on a career in politics or public policy.
Many of the duties of interns in the office will focus on providing administrative support for the rest of the staff. Specific responsibilities will vary depending upon the interests and abilities of the individual intern. In addition, all participants are encouraged to take advantage of the many resources available to Senate staff, such as committee hearings, lectures and more. Internships are unpaid, but financial support from the student's educational institution may be available. All financial assistance must comply with relevant Senate rules. Interns are also responsible for finding their own housing; recommendations on where to find housing in Washington can be found below. Interns are expected to work at least 100 hours over the period of the internship. Individuals seeking to receive academic credit for their internship should contact their individual school for specific requirements.
While there is no average day in the Senate, you can get a better idea of how interns in Senator Shaheen's office spend their days by reading "INTERN CORNER," a special section on Facebook.
In order to process your internship application please submit all of the following material to either our office in Washington, DC or our office the Manchester, New Hampshire by regular mail, e-mail or fax. This material should be submitted before the listed due date.
Application Material
Resume
Writing sample explaining why you would like to intern for Senator Shaheen (350 word maximum)
2 letters of recommendation from professional or academic sources
College transcript
Dates of availability
Completed application form
Due Dates
Summer: June 1st to August 15th (Application due March 15)
Fall: September 1st to December 20th (Application due August 1)
Spring: January 5th to May 15th (Application due November 15)
Note: Due to security procedures, physical mail sent to the Senate office can take from 2-6 weeks to arrive. Applicants are strongly encouraged to use e-mail or fax to submit their applications.
Washington Address
Office of Senator Jeanne Shaheen
C/O Intern Coordinator
520 Hart Senate Office Building
United States Senate
Washington DC 20510
Fax: 202-228-3194
Email: DCInternships_shaheen@shaheen.senate.gov
New Hampshire Office
Office of Senator Jeanne Shaheen
C/O Intern Coordinator
1589 Elm St.
Suite 3
Manchester NH 03101
Fax: 603-647-9352
Email: NHInternships_shaheen@shaheen.senate.gov
Frequently Asked Questions
Below are some frequently asked questions and answers regarding internships.
Why would I want to be an intern?
Interning in a working Senate office is a great opportunity for students to learn about the workings of the Federal government. Interns get to witness the legislative process, work with a communications staff and see what goes into running the office of a United States senator. These experiences are a valuable foundation for careers in public policy, politics or the private sector.
Is the internship paid?
No, the internship is not paid. However, financial support from your educational institution may be available, but care must be taken to comply with Senate rules regarding potential conflicts of interest. Stipends are also available through the New Hampshire State Society for eligible students. More information can be found here.
Is there a dress code for interns?
Yes, interns working in the office should dress in a professional manner, befitting someone working in the United States Senate. Fridays are casual days that still require workplace appropriate clothing.
When are internships available?
Internships run in three cycles (Spring, Summer, Fall) and the durations are listed below. It is expected that all interns will complete at least 100 hours of work during the course of their internship.
Fall: September 1st to December 20th (Application due Aug 1)
Spring: January 1st to May 15th (Application due Nov 15)
Summer: June 1st to August 15th (Application due March 15)
Will I be able to receive college credit for this internship?
Receiving college credit for your internship is dependent upon your school's requirements; you should work with your school to get details on how to receive credit.
How many hours a week should I expect to work?
A lot. Senate offices are very busy, and interns are expected to work at least 30 hours each week for internships in the Washington office and at least 15 for internships in the New Hampshire offices.
Is housing provided?
Housing is not provided; interns are responsible for their own arrangements.
What does an intern in Senator Shaheen's office do?
Interns perform a variety of functions in Senator Shaheen's office including, but not limited to, administrative support for staffers, answering constituent mail and phone calls, and helping to direct visitors to the office. Individual interns will receive more specific responsibilities based upon their interest and abilities.
What do I have to submit to be considered for an internship?
All of the following must be included in the application in order to be considered.
Resume
Writing sample explaining why you would like to intern for Senator Shaheen (350 word maximum)
Two letters of recommendation from professional or academic sources
College transcript
Dates you are available to intern
Completed application form
If you have any additional questions about Washington internships, please send an e-mail to DCInternships_shaheen@shaheen.senate.gov
If you have additional questions about New Hampshire internships, please send an e-mail to NHInternships_shaheen@shaheen.senate.gov