Shaheen Meets Virtually with NH Advocates to Discuss Open Enrollment & Encourage Granite Staters to Sign Up for Health Insurance
December 03, 2021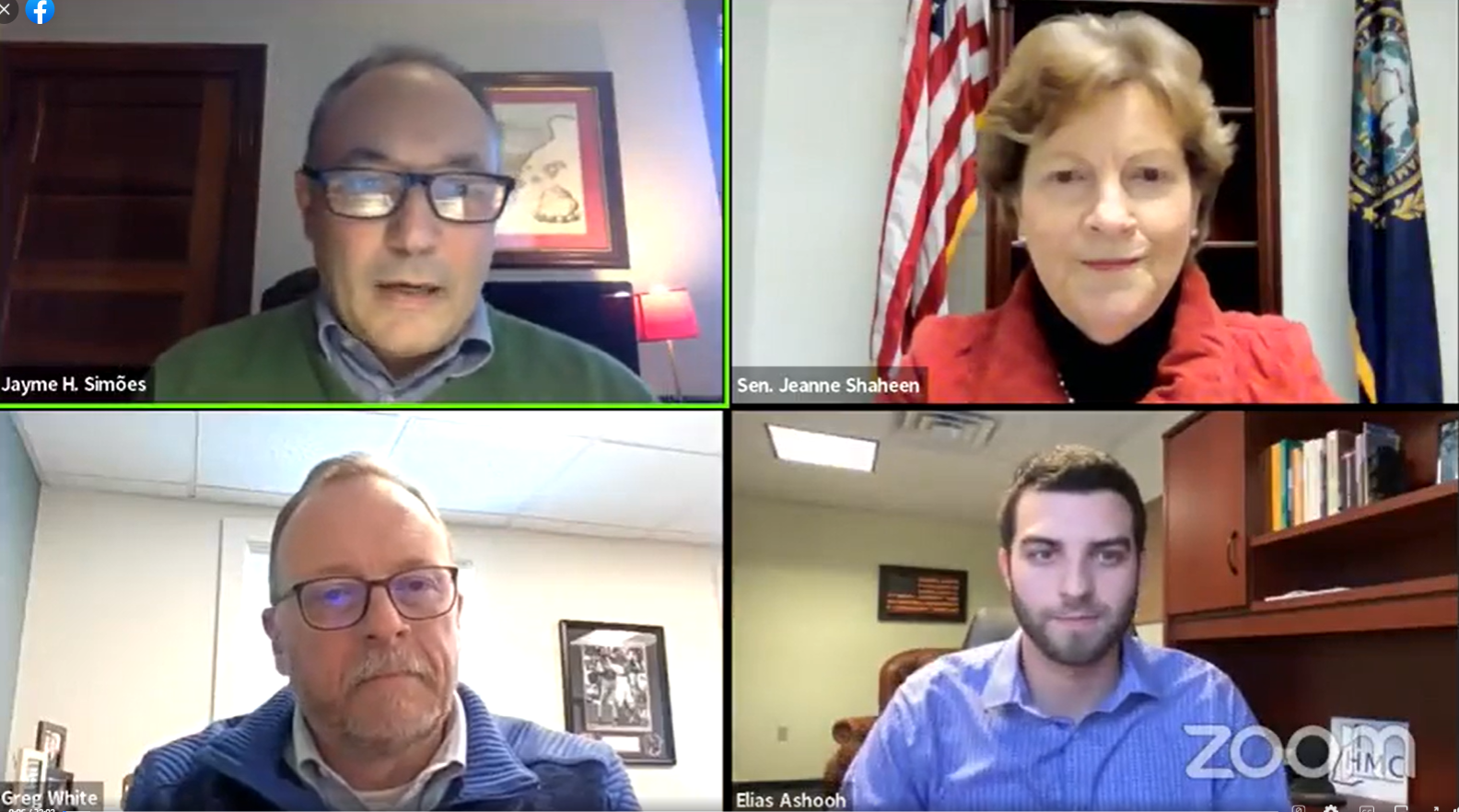 (Washington, DC) – U.S. Senator Jeanne Shaheen (D-NH) today met virtually with members of Protect Our Care NH and advocates to discuss open enrollment under the Affordable Care Act (ACA), and encouraged Granite Staters to enroll in coverage for 2022. She was joined by Jayme Simões of New Hampshire's Protect Our Care; Greg White from Lamprey Health Care; Elias Ashooh, a NH Navigator and Project Director with Health Market Connect; and Lisa Beaudoin, the Executive Director of ABLE NH. Currently, New Hampshire has the highest number of new COVID cases per capita in the United States.
"As COVID cases climb in New Hampshire, access to quality, affordable health care has never been more important to protect our communities," said Senator Shaheen. "That's why I joined local advocates today to encourage Granite Staters to sign up for health insurance through the ACA. Throughout the pandemic, I've successfully worked to lower costs for premiums and deductibles so families don't break the bank on health care, as well as to ensure treatment is available for those suffering from the substance use disorder crisis that's been exacerbated by COVID. I'm also pleased that new Navigators are available to help individuals choose the plan that's right for them. I hope Granite State families explore these resources to shop for affordable, quality health care plans leading into the January 15th deadline."
You can watch the full roundtable session here.
Shaheen has led efforts in Congress to protect and improve the ACA, including leading all 47 Senate Democrats on a Senate resolution that would reverse the Trump administration's Department of Justice's decision to side with U.S. District Court Judge Reed O'Connor's ruling that would strike down the health care law. Senator Shaheen also spearheaded Senate Democrats' proposal to make health care affordable and accessible for Americans during the COVID-19 public health emergency. During negotiations around the American Rescue Plan, Senator Shaheen led the push to expand and enhance the ACA's premium tax credits. Provisions of the Senator's bill, the Improving Health Insurance Affordability Act, were included in the American Rescue Plan that President Biden signed into law earlier this year. The Build Back Better Act, currently under consideration in the Senate, would also extend these tax credits as well as lower the cost of insulin, which as co-chair of the Senate Diabetes Caucus, has long been a top Shaheen priority.
###
---
---
Next Article
Previous Article