A Message to NH Families: An Update on Efforts to Respond to COVID-19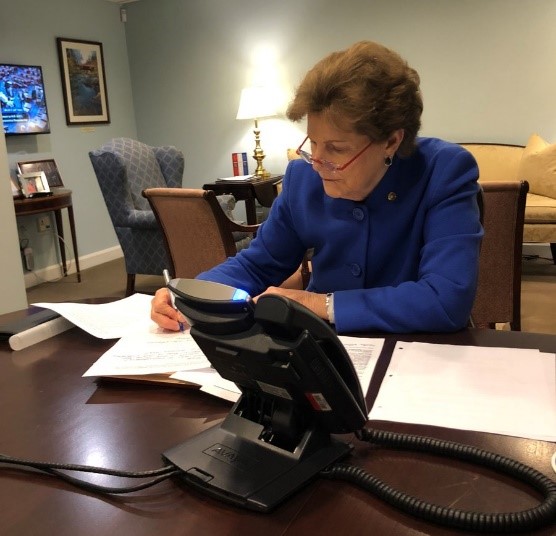 Senator Shaheen discussing the impact of the coronavirus on conference calls with mayors, businesses and non-profit service organizations across New Hampshire this week. 
Dear Friend,
This is an incredibly stressful moment for families and small business owners. Assistance is urgently needed across New Hampshire. Congress has taken some initial bipartisan steps but much more needs to be done and quickly. I'm currently engaged in bipartisan negotiations and this is what I'm fighting for:  
Financial relief and paid leave to workers, especially hourly workers and those who have been laid off because of the impact of the virus.
Support for small businesses so that they can stay afloat and pay their workers while they're closed or have reduced demand.
Childcare and elder care for health care workers, especially those who are being asked to work extra shifts.
Assistance so that Americans can afford treatment.
Help for our hospitals and health care providers as they prepare for a surge in demand for treatment as the virus spreads.
Aid for charitable and non-profit organizations on the frontlines so they can continue to carry out their missions during this public health emergency. 
This is an all-hands-on-deck situation and there needs to be urgency at every level of government. Every Granite Stater plays a part in this by helping to mitigate the spread of the virus. This is one of those times in history when all Americans need to unite and do what's best for our communities and our country.

As a reminder, New Hampshire has established a hotline to answer questions about COVID-19. If you have any questions or you suspect that you're exhibiting COVID-19 symptoms, please call 2-1-1 or 1-866-444-4211. For information on resources for small businesses, contact the Small Business Administration at 1-800-659-2955 or email disastercustomerservice@sba.gov. If you have questions about unemployment insurance, please call New Hampshire Employment Security at 603-271-7700 or go to www.Nhes.nh.gov.

Legislative Update: Two Emergency COVID-19 Response Bills Signed Into Law
Congress has passed, and the President has signed into law, two emergency bills in recent weeks to respond to the threat posed by COVID-19. This includes the Families First Coronavirus Response Act, legislation that provides economic support to families and communities financially impacted by the coronavirus, including:
Requirements for insurance companies, Medicare, Medicaid and Tricare to cover the full cost of coronavirus testing;
Emergency measures to make sure those without insurance have their coronavirus testing costs fully covered;
Nutrition assistance to low-income families and seniors, including through food banks, school lunch programs and programs that help mothers and infants;
Emergency paid sick leave to many workers who get infected with the coronavirus, undergo quarantine or need to take care of a sick family member;
Expands rights to paid family and medical leave for many workers;
Supports unemployment insurance for those who are laid off as a result of the virus;
Targeted tax credits for small businesses for providing paid leave;
As much as $110 million in Medicaid funding to New Hampshire to cover the additional costs of health care as a result of the virus.
 
The Families First Coronavirus Response Act came on the heels of a bipartisan emergency funding package passed on March 5. The first bipartisan bill to respond to the coronavirus provided:
$8.3 billion for the national effort to respond to the coronavirus;
A formula grant that ensures New Hampshire will receive an initial $4.9 million to support NH's response efforts. The CDC has already made these funds available to New Hampshire;
$350 million for areas of the country where there are high concentrations of the virus;
$500 million to procure pharmaceuticals, masks, protective equipment, and other medical supplies to distribute to state and local hospitals;
Funding to reimburse states for expenses stemming from coronavirus response efforts;
Resources for the CDC Infections Disease Rapid Response Fund which helps send CDC personnel and resources around the country;
Funding for training local responders and bed capacity in areas with high concentrations of the virus. 
Congress is now urgently working on a third emergency response bill to deliver further relief to families and businesses impacted by the coronavirus.

The Third Emergency Response Bill
The third emergency response bill that is being negotiated is intended to address the economic impacts of the coronavirus and provide additional resources to our hospitals and health care workers during this desperate time of need. I've been appointed to negotiate provisions to support small businesses in this upcoming bill, alongside Senators Marco Rubio (R-FL), Ben Cardin (D-MD) and Susan Collins (R-ME). My priorities in these negotiations have been informed by my extensive conversations with New Hampshire businesses, non-profit organizations and community leaders as this crisis has unfolded. This moment in history requires bold leadership from Congress and unprecedented steps to support small businesses and workers. Congress must rise to this challenge and deliver help to these struggling Granite Staters.
Additional Action to Help New Hampshire
In the midst of working on the emergency response bills outlined above, I've been advancing a variety of additional measures in recent weeks to deliver relief to Granite Staters and address the economic fallout from the coronavirus. Here is a brief summary:
Urged the President to immediately issue a disaster declaration so states could utilize funds to mitigate the spread of COVID-19 and protect public health. I was pleased to see the President declare this emergency declaration the following day.
Joined the New Hampshire congressional delegation in calling for the Department of Health and Human Services to urgently provide guidance to health care providers in New Hampshire and across the country on the steps being taken to deliver personal protective equipment (PPE), ventilators and other essential supplies to hospitals as they prepare for a surge of coronavirus patients.
Senator Hassan and I pressed the Coronavirus Task Force for answers on their response plans to protect nursing home residents, workers and their families.
Held conversations with mayors, small businesses and non-profit service organizations from across New Hampshire to discuss what they're seeing and what they need as they respond to COVID-19.
Joined the New Hampshire congressional delegation in requesting that the Small Business Administration (SBA) issue an emergency declaration to ensure New Hampshire small businesses are eligible for the full suite of emergency resources available through the SBA. I was pleased to see this declaration issued the following day.
As New Hampshire schools were ordered closed for three weeks, I requested that the Federal Communications Commission help provide access to remote learning, so students can continue classes from home.
Introduced a bill to provide child care and elder care to health care workers on the front-lines of coronavirus response, so they have the flexibility to work extra shifts in the weeks ahead.
Joined a group of Senate colleagues calling for direct cash assistance to help Americans weather the economic fallout of the coronavirus outbreak.
Introduced legislation to suspend Small Business Administration loan payments for six months to provide a financial reprieve to New Hampshire small businesses.
Requested that the Trump administration re-open the Affordable Care Act enrollment window to ensure more Americans could access affordable health care.
Called on the President to immediately issue an executive order directing federal agencies to maximize telework for federal workers.
Proposed the COVID-19 RELIEF for Small Businesses Act with my Democratic colleagues on the Senate Small Business and Entrepreneurship Committee to help small businesses address public health-related challenges from the coronavirus outbreak.
Joined a bipartisan group of Senate colleagues urging the Federal Communications Commission (FCC) to increase support for rural health care providers to help them deliver and expand telehealth services for rural communities during the COVID-19 pandemic.
Introduced legislation to help provide financial assistance to charitable and non-profit organizations involved in coronavirus response.
Senator Hassan and I introduced a bill to help Manufacturing Extension Partnership (MEP) centers stay open during this public health emergency. MEP centers help manufacturers in New Hampshire and across the country promote growth, improve productivity and expand capacity.
Requested that  President Trump issue guidance to the businesses and individuals that will be exempt from the U.S.-Canadian border closure and future travel restrictions to ensure that supply chains for essential goods and service are not disrupted.
Urged the President to use his authority through the Defense Production Act to increase the domestic manufacturing of medical equipment that our health care system desperately needs.
Led a bipartisan group of 39 Senators in a letter, calling on the President to work with Congress to deliver much-needed assistance to airports across the country grappling with the urgent public health challenges posed by the coronavirus. 
Joined Governor Sununu and New Hampshire's entire congressional delegation in calling on President Trump to take additional action to swiftly get critical medical supplies, such as personal protective equipment, swabs for diagnostic testing and ventilators to New Hampshire and states across the country.
And I'm continuing to work to bring Granite Staters impacted by travel restrictions and stranded abroad, back home. I'm in contact with leadership at the State Department about a number of individuals and families around the world and won't stop fighting until they're home safe. If you or someone you know is affected, please call my office immediately -- 603-647-7500 -- we can help. 

A Message to Granite State Families


You can watch the video message here.

On Tuesday, I sent a video message to New Hampshire families on the coronavirus public health emergency. You can watch here.
Before You Go
These are challenging times. The health of Granite Staters and the American people is my top priority. If you know of anyone in urgent need of assistance with a federal agency, you can open a case here. If the matter is time-sensitive, you can call my Manchester office at (603) 647-7500.

At every level of government, we need to work together in a bipartisan way to address this threat. As the situation evolves, I will continue to keep you up-to-date on my work in Congress to deliver relief to Granite Staters. I encourage you to follow along on Twitter, Facebook and Instagram for more timely updates. 

I hope you continue to look out for your neighbors, your loved ones and yourself. Remember, we will meet this challenge together.