After Midnight Expiration, Shaheen Seeks Land & Water Conservation Fund Reauthorization
**On Senate floor Republicans object unanimous consent request to reauthorize LWCF**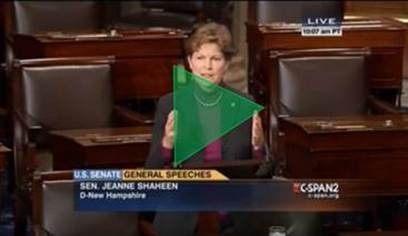 (Washington, DC) – On the Senate floor this afternoon, U.S. Senator Jeanne Shaheen (D-NH) called on Republicans in the Senate who support the Land and Water Conservation Fund (LWCF) to encourage fellow Republicans to end their obstruction of the program's reauthorization. The LWCF expired yesterday at midnight, despite bipartisan calls for its reauthorization. During her remarks, Shaheen made a motion for unanimous consent to pass legislation that would grant a 60-day extension of the fund, a request that was once again blocked by Republicans.  
Senator Shaheen's entire speech can be watched here.  
Over the past five weeks, Senator Shaheen has been highlighting the importance of permanently reauthorizing and fully funding LWCF to New Hampshire's economic growth and environmental stewardship. Hosting events in Meredith, Concord, Nashua, and the Ossipee Pine Barrens, Senator Shaheen discussed her extensive track record of supporting LWCF and why its impact is vital to New Hampshire communities and the state's economy.