As NH Eviction Moratorium Lifts, Shaheen Holds Conference Call With Granite State Housing Advocates & Officials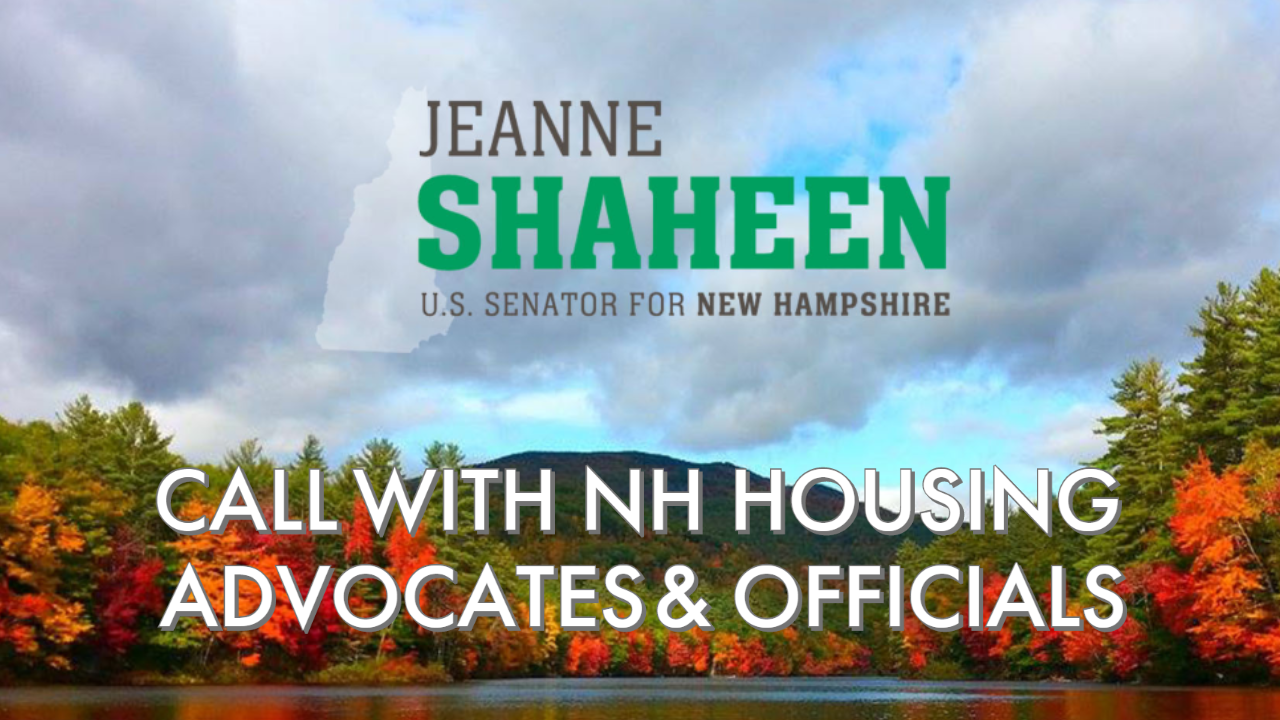 To listen to the audio of the call, click here or on the image.
(Manchester, NH) – Today, U.S. Senator Jeanne Shaheen (D-NH) hosted a conference call with New Hampshire housing advocates and officials to discuss their ongoing needs amid the COVID-19 crisis. The event came as New Hampshire lifts its eviction moratorium, which has led to mounting concerns over a potential surge in evictions and homelessness, and the impending expiration of extended unemployment benefits passed as part of the Coronavirus Aid, Relief, and Economic Security (CARES) Act. During the call, Shaheen heard from the participants on the experiences and challenges they have faced working to provide shelter to vulnerable Granite State families and shared a legislative update from the Senate on her priorities in future COVID-19 response legislation. The conference call continues Shaheen's outreach to leaders across the state who are responding to this public health emergency, including school administrators, local officials, small business owners, tourism and hospitality industry leaders, health care providers and non-profit service organizations and charities.
"I want to thank the dedicated housing advocates and officials who joined me this morning for all they are doing to help ensure that during these extremely challenging times those most vulnerable can access the help they need to keep a roof over their heads. But as they made clear to me during our conversation, housing assistance organizations and agencies need more funding - and flexibility - to conduct their work now and as we continue to address this crisis in the future," said Shaheen. "As a result of this public health emergency, many Granite State families are in danger of not being able to pay their rent or mortgage and consequently risk losing their homes. The federal government has a responsibility to help those hardest hit during this unprecedented crisis. I'll take their stories with me back to Washington to ensure New Hampshire voices are heard and to fight for emergency housing relief in future COVID-19 response legislation."
Shaheen has worked to protect Granite State homeowners and renters left vulnerable by the public health emergency. Last Wednesday, Shaheen sent a letter to the U.S. Department of Housing and Urban Development (HUD), calling on the agency to expedite the release of $4 billion of CARES Act funding for emergency housing. In addition, Shaheen is a cosponsor of the Emergency Rental Assistance and Rental Market Stabilization Act of 2020, legislation that would establish an Emergency Rental Assistance program to provide $100 billion in emergency rental assistance to help families and individuals pay their rent and remain housed during and after the COVID-19 crisis. Shaheen also recently led a bipartisan letter to Senate leadership urging a fix for a "maximum allotment" provision that limits the amount of CARES Act relief funds that can be awarded to smaller states through the Community Services Block Grant (CSBG) program. These funds are used by Community Action Programs (CAPs) to help combat homelessness and address housing needs.