At Armed Services Committee Hearing, Shaheen Congratulates and Questions General Lori Robinson, a UNH Graduate Nominated to Be the First Woman to Lead a Combatant Command
April 21, 2016
**Shaheen asks General Robinson her assessment on how to reduce drug smuggling across the southern border that's fueling the heroin and opioid epidemic in New Hampshire**
**Shaheen also congratulated General Robinson on being named by TIME Magazine as one of the 100 Most Influential People**
**Shaheen met with former Bartlett resident General Robinson earlier this week**
(Washington, DC) – Today, U.S. Senator Jeanne Shaheen (D-NH) at an Armed Services Committee Hearing, questioned U.S. Air Force General Lori Robinson on her pending nomination to serve as the commander of U.S. Northern Command (USNORTHCOM). USNORTHCOM oversees national security operations including the defense of U.S. air, land and sea. Shaheen questioned General Robinson on the threats facing the United States and asked for her assessment on how to stop drug smuggling across the southern border that's fueling the heroin and opioid epidemic in New Hampshire.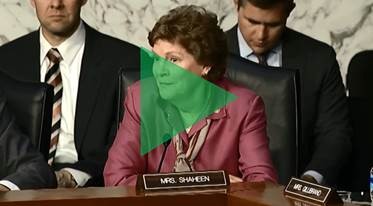 You can watch the full exchange here
General Robinson, is a graduate of the University of New Hampshire and a former resident of Bartlett, New Hampshire. If confirmed, General Robinson would be the first woman to head a combatant command. She is currently the commander of Pacific Air Forces which oversees the Air Force activities of more than 46,000 airmen. She entered the Air Force through the ROTC program at the University of New Hampshire in 1982.
---
---
Next Article
Previous Article