During Visit to Littleton Head Start, Shaheen Highlights Need for Childcare Support for Working Families in COVID-19 Relief Legislation
Senator Shaheen hears more from staff at the Littleton Head Start & local stakeholders on the challenges child care providers face amid the COVID-19 pandemic. A full resolution version of this photo can be downloaded here.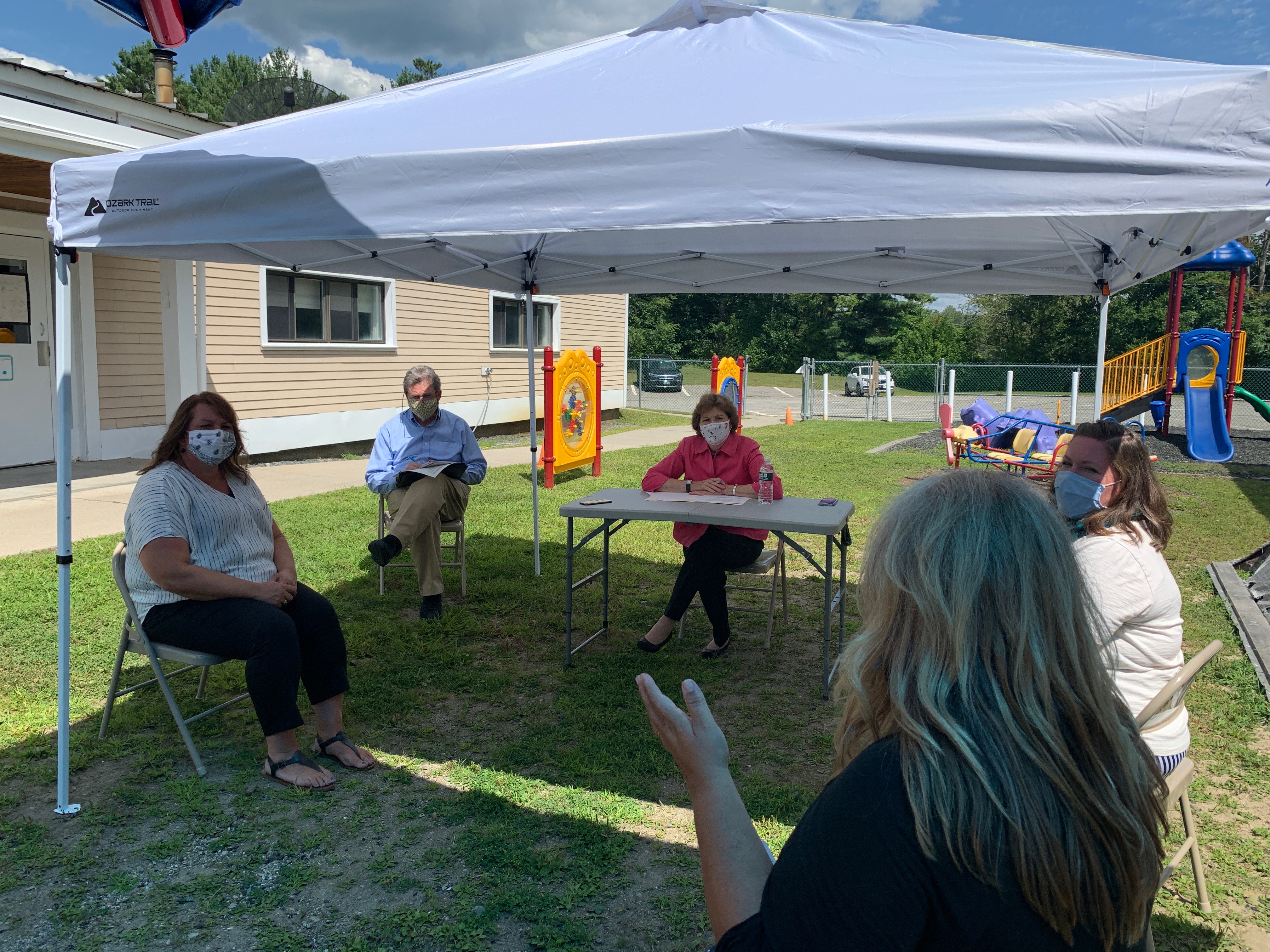 Earlier in Holderness: Shaheen Calls for Additional Relief for NH Small Businesses & Nonprofits during Visit to Squam Lakes Natural Science Center 
Senator Shaheen tours the Squam Lakes Natural Science Center. Full resolution versions of these photos can be downloaded here. 
(Manchester, NH) – Today, U.S. Senator Jeanne Shaheen (D-NH) visited the Littleton Head Start to underscore the need for child care support in upcoming COVID-19 legislation. As New Hampshire's economy reopens, Granite State working families need child care in order to fully return to work, but providers in the state and across the country have been severely impacted by the fallout of the public health and financial crisis and many are at risk of permanent closure. During her visit, Shaheen met with staff at the child care center and local stakeholders and heard more about the challenges providers are facing amid the pandemic and shared a legislative update on her efforts to include child care support in the next round of COVID-19 response legislation.
In June, Shaheen introduced the Child Care is Essential Act, which would create a $50 billion Child Care Stabilization Fund to stabilize the child care sector and support providers in their efforts to safely reopen and operate and has continued to urge Senate leadership to act on the legislation. In March, Shaheen introduced legislation to assist health care workers with child and elder care so that they can continue to treat patients during the pandemic. At Shaheen's insistence, the CARES Act included flexibilities to allow child care grant dollars to be used to support child care for health care workers and other essential workers. New Hampshire has used the federal funding to help establish a child care system to support essential workers, so that they can continue their work on the frontlines of the crisis.
"Working families rely on Head Start for safe and affordable child care and education. But as staff made clear during my visit to the Littleton Head Start this afternoon, many child care providers throughout New Hampshire are at serious risk of closing their doors unless they get help now," said Shaheen. "Child care is critical to our response to this pandemic and a lack thereof will seriously hurt working families and the economy. Funding to support child care providers must be a priority in any upcoming COVID-19 relief package and I will do everything in my power in the Senate to secure it."
Earlier, Shaheen visited the Squam Lakes Natural Science Center in Holderness to discuss the nonprofit's experience with the Paycheck Protection Program (PPP). For generations, the natural retreat has educated and enlightened visitors on New Hampshire's beautiful spaces and native wildlife. During her visit, Shaheen heard more from representatives of the nonprofit on how the PPP has allowed it to continue operating during the public health and economic emergency and highlighted the need to provide further relief to Granite State small businesses and nonprofits that have been hard hit by the fallout of COVID-19. The PPP has been a lifeline for small businesses and nonprofits like the Squam Lakes Natural Science Center in New Hampshire, with over $2.5 billion in assistance disbursed to more than 24,000 businesses across the state. However, many small businesses and nonprofits that have already received a PPP loan are continuing to struggle. Shaheen has called for the passage of the Prioritized Paycheck Protection Program (P4) Act, legislation she introduced that would allow small businesses and nonprofits to access a second round of PPP loans.
"I appreciate the opportunity I had today to hear from the dedicated leadership and staff of the Squam Lakes Natural Science Center, which is a cherished attraction in the Lakes Region and has played an admirable role educating visitors on the beauty and diversity of our state's natural world," said Shaheen. "Thanks to the Paycheck Protection Program, they have been able to continue operating amid COVID-19, but, like so many other Granite State nonprofits and small businesses, remain imperiled by the continuing economic impact of this pandemic. Congress must secure additional relief to small businesses and nonprofits in any future relief package, including my legislation that would fund a second round of the PPP for those hardest hit."