Following Senate Passage of the CHIPS Act, Shaheen Tours UNH Tech Camp, Tech for Teachers Institute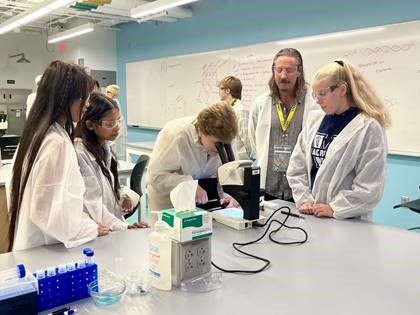 (Washington, DC) – This morning, U.S. Senator Jeanne Shaheen (D-NH) toured the University of New Hampshire's (UNH) Tech Camp following the Senate's passage of the CHIPS Act, in which Shaheen secured provisions to fund the research and development of innovative STEM educational programs. Shaheen toured the Regenerative Medicine: Planaria Project, BioTrek, Virtual Reality and Pharmacology programs, where she met with students and heard about their work in the camp. Shaheen also stopped by the Tech for Teachers Institute, where she visited with middle and high school teachers as they learned how to incorporate regenerative medicine into their classroom curriculums.  
"U.S. competitiveness on the global stage depends on our ability to train the next generation of thinkers and innovators. UNH has always been a center for scientific innovation and exploration, and it was great to meet with students and teachers today who are on the frontlines of cutting-edge discoveries," said Shaheen. "My visit comes on the heels of Congress's passage of the bipartisan CHIPS Act, a crucial bill that invests in domestic production of advanced technologies and helps ensure America remains a global leader. In this landmark legislation, I specifically fought for provisions that support STEM education programs like those I saw on display in classrooms today. I left UNH inspired and committed to continue investing in young minds and future innovators across the Granite State." 
Through her leadership on the Senate Commerce, Justice, Science and Related Agencies Appropriations Subcommittee, Senator Shaheen has been a strong advocate for STEM education and scientific research funding priorities. In the recently passed Creating Helpful Incentives to Produce Semiconductors (CHIPS) and Science Act of 2022, Shaheen secured inclusion of language based on her bipartisan Supporting STEM Learning Opportunities Act to allow funds to support research and development of innovative STEM educational programming, including afterschool and other outside-of-the-classroom activities. This language seeks to improve federal investment in experiential learning opportunities to strengthen the pipeline of students entering the STEM workforce, especially from traditionally underrepresented groups like women and communities of color.    
###