ICYMI: Shaheen Discusses New Hampshire Priorities for the 118th Congress with Newport Community TV
(Newport, NH) – This month, U.S. Senator Jeanne Shaheen (D-NH) joined Newport Community TV to discuss her legislative priorities for the 118th Congress to deliver for New Hampshire. Topics discussed included advancing New Hampshire's role in safeguarding our national security, lowering the cost of insulin, supporting Granite State small businesses and expanding access to early education. 
Additionally, Shaheen discussed her recent "Invest in NH" tour, which highlights Congressionally Directed Spending (CDS) funds she secured for New Hampshire in the fiscal year (FY) 2023 government funding bill, as well as how these funds will benefit Newport and communities across New Hampshire.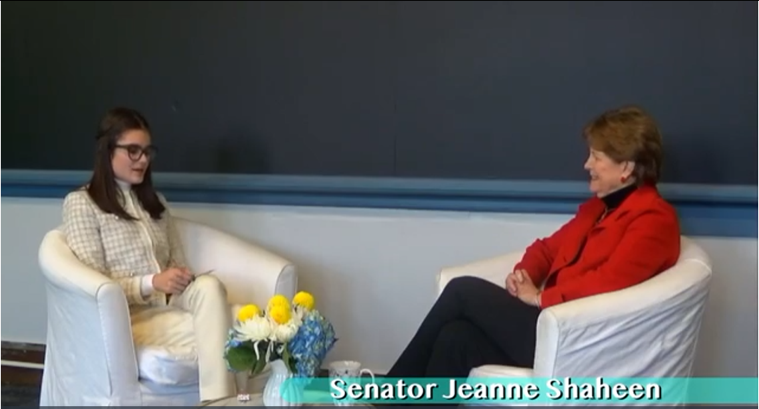 Senator Shaheen on NCTV
Check out some highlights below: 
The impact of CDS funding on New Hampshire communities: 
"One of the things I worked particularly hard on over the last two years was Congressionally Directed Spending, looking at community needs and trying to get funding to support those... [Renovating Newport's community center] was one of the projects that we supported, and the committee agreed that was something that should be funded."
"That funding is extremely important. Because New Hampshire is a small state, we're often at the bottom in terms of grant funding, and a lot of the community efforts that are really important are things that don't get funded through the federal grant programs."
Efforts to address the cost of insulin:
"What we should not allow is people having to ration insulin because they can't afford the cost of keeping themselves alive. To be able to see [my bipartisan bill with Senator Collins] as a step towards ensuring that everybody who needs insulin can afford it was very gratifying."
"[The Inflation Reduction Act] capped the cost for people on Medicare to $35, and it also begins to allow the centers for Medicare and Medicaid to negotiate for the cost of prescription drugs, which is a huge breakthrough."
Supporting Granite State small businesses: 
"We know that the business environment requires infrastructure, so [it's important to] make sure communities like Newport have roads and bridges, wastewater and clean water that businesses can rely on."
"It also means having a workforce that can do the job, and that's one of the big challenges we have right now. Every place I've been in New Hampshire, what I hear is that they can't find enough skilled workers."
The importance of the PACT Act:
"The major expansion of the PACT Act is to ensure that people affected by burn pits and other toxic substances actually can get the health care coverage they need and deserve. It's one of the things we promised our veterans, that if they would serve and put their lives on the line for us, we would make sure they got the health care they needed. I think it's been a really important piece of legislation, and we need to now make sure it gets implemented in a way that everyone who needs help gets it."
Expanding access to early childhood education: 
"As someone told me when I was Governor and working to expand public kindergarten in New Hampshire: Children may only be 20 percent of the population, but they make up 100 percent of our future. We've got to make sure we keep the focus on that future."
"I'm a big believer in early childhood education because we know the future course of children is set for most within the first three years... So I would start with putting dollars into those early years."
Watch the full interview here. 
###