In Manchester, Shaheen Visits Addiction Treatment Center as Senate Prepares to Take Up Legislation to Tackle the National Heroin and Opioid Crisis
February 18, 2016
**Shaheen is Leading an Effort in Congress to Pass an Emergency Funding Bill that will Quickly Provide Resources to First Responders and Treatment Providers**
**Today, She Also Welcomed the Endorsement of the National Governor's Association for Providing Emergency Funding to States**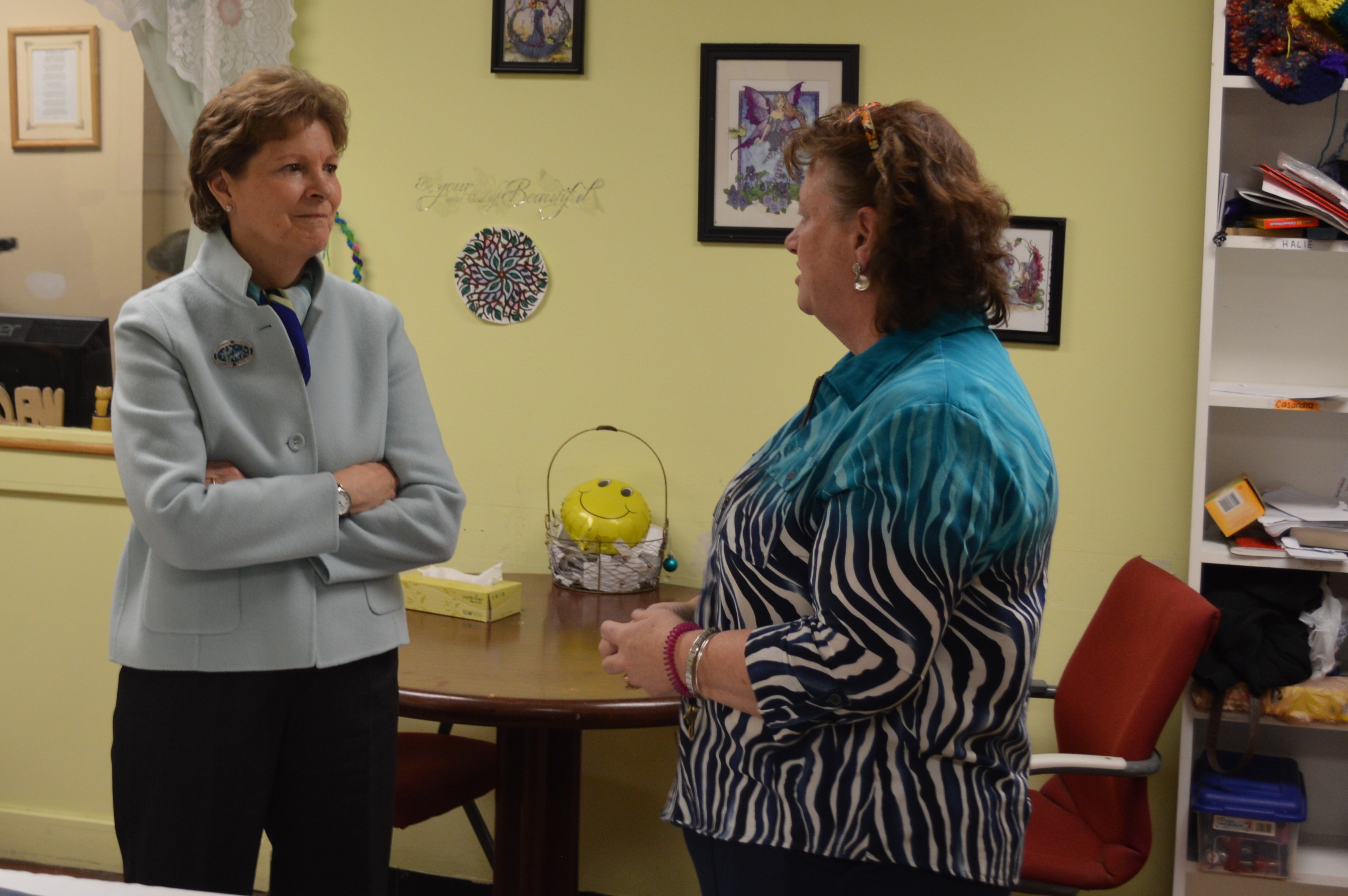 Senator Shaheen meets with Serenity Place CEO Sharon Drake. A high quality version of this photo is here.
(Manchester, NH) – Today, U.S. Senator Jeanne Shaheen (D-NH) visited Serenity Place, an addiction treatment center in Manchester, where she was briefed on the center's programs and discussed her work in the Senate to address the heroin and opioid crisis. Senator Shaheen's visit comes as the Senate prepares to take up legislation next week that she has cosponsored, the Comprehensive Addiction and Recovery Act (CARA), to tackle the national heroin and opioid epidemic. Senator Shaheen is leading an effort in Congress to provide $600 million in emergency funding to first responders and treatment providers across the country, and intends to offer her legislation as an amendment to CARA. Senator Shaheen also welcomed the announcement made today by the National Governor's Association recommending that Congress and the administration "act swiftly" to provide emergency funding to states.
"We're losing three times more people from overdoses than traffic accidents in New Hampshire, and our state is not alone in grappling with this pandemic," said Shaheen. "Treatment professionals like those at Serenity Place are on the frontlines combatting this crisis every day. I have the greatest respect for Serenity's approach to treatment that understands addiction is a chronic disease and should be treated in a safe and caring clinical environment. Sadly, the demand for treatment far outpaces what is available. The federal government needs to be doing much more to help first responders and treatment providers in New Hampshire stem the tide of this crisis and it's my hope that next week Senate leadership will allow for a vote on my emergency funding legislation that will quickly provide them with additional resources. I'm also very pleased to have the support of our nation's governors in this important effort." "
Shaheen's emergency funding legislation would provide $600 million to federal programs that support state and local-level efforts to combat the epidemic. Congress has passed similar emergency funding for public health crises in the past, such as $5.4 billion for the recent Ebola outbreak in West Africa, or $2 billion to fight the swine flu, or H1N1, epidemic in 2009. Shaheen is a member of the Appropriations Committee which approves such funding.
CARA would authorize prevention and education to combat the abuse of opioids and promote treatment and recovery. It would also expand the availability of the overdose reversal drug Narcan which has saved thousands of lives. CARA was approved by the Judiciary committee last week.
Serenity Place is a non-profit community based addiction treatment and counseling agency started in 1977 that offers crisis services, non-medical detoxification, transitional living programs, intensive outpatient programs, and outpatient services.
---
---
Next Article
Previous Article