On the Senate Floor, Shaheen Urges Senate Republican Leadership to Reopen the Government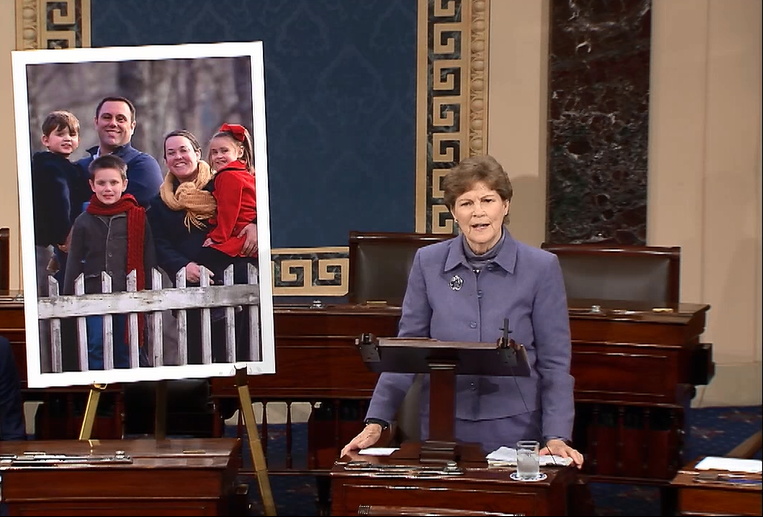 Shaheen speaking next to a photo of Andre of Derry, NH, with his family.
Andre is an air traffic controller who has been working without pay.
**SHAHEEN: "Let's do our job so that the rest of America can do theirs"**
**Watch Shaheen's remarks in full here**
(Washington, DC) – Today, U.S. Senator Jeanne Shaheen (D-NH) spoke on the Senate floor to highlight the challenges facing federal workers in New Hampshire who have been furloughed or are working without pay because of the President's government shutdown. The government shutdown is the longest in United States history, and Shaheen's remarks emphasized the personal stories of Granite Staters who are impacted by the shutdown, while urging the President and Senate Republicans to allow a vote on Republican-authored legislation to reopen the government.
Shaheen opened her remarks by highlighting the challenges facing Andre of Derry, New Hampshire, speaking next to a photo of him and his family and noting, "Andre is an air traffic controller working at Boston Terminal Radar Approach Control facility in Merrimack, New Hampshire... Andre works at the center to keep the airwaves safe for passengers who are flying over the Granite State, and he also represents and talks to other controllers in the New England Region to hear what they have to say so that their voices are heard. Regarding the Trump shutdown, Andre writes:
'… air traffic controllers have remained on the job, dedicated to the safety of every flight. But, we don't know when we will receive our next paycheck. My colleagues and I have suffered the sudden loss of our income due to the government shutdown. It's going to be hard for me to meet all of my financial obligations.'"
Shaheen continued by highlighting the dedication of the federal workers who she has met with, noting, "all of those air traffic controllers… understand the safety of the skies in the United States depends on them. And they're there. They're not getting paid. They're experiencing hardships like Andre's talking about. But they are there doing everything they can to make sure that the American public can fly safely."
Shaheen has heard from nearly 100 other air traffic controllers in New Hampshire, all calling for an end to the shutdown. Before reading an excerpt from a letter she received from Jamie in Auburn, New Hampshire, Shaheen prefaced the personal story by stating, "I think it so exemplifies where we are and how the American people are feeling about this government shutdown."
"Dear Senator Shaheen, There are many stories to be told regarding the effects of the government shutdown on federal employees.  The stress of financial uncertainty, the inability to take necessary time from work to care for our families, and the continued degradation of FAA resources… These are but a few examples shared amongst us. But, there is something that tears at the very fabric of who we are. We take deep pride in serving our country providing the safest and most efficient air traffic control system in the world. We do so with an unwavering sense of duty and a deep understanding of the trust bestowed upon us by the American people. To be used as pawns in a political chess match not only disrespects us as dedicated Federal employees but it serves to weaken our democracy. A government that must hold hostage the livelihood of its citizens is the very definition of a failed democracy."
Shaheen concluded by urging the President and Senate Republicans to pass Republican-authored legislation to reopen the government, "These are just two examples that I think articulate the very real impact this shutdown is having on many hardworking Americans and their families… The House has already passed appropriations bills that would reopen government. This appropriations legislation is not partisan – in fact, they are bills that have already had bipartisan support in the Senate. So I urge President Trump, Majority Leader McConnell and our Republican colleagues to take up these bills to reopen the government. I believe we should reopen the government. Let's do our jobs so that the rest of America can do theirs."