PHOTO AND RELEASE: SHAHEEN EMBARKS ON USS NEW HAMPSHIRE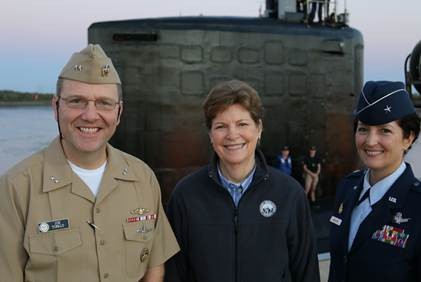 (March 9, 2015 – from left to right: Rear Admiral Joe Tofalo, Undersea Warfare Division (N97), U.S. Senator Jeanne Shaheen (D-NH), Brigadier General Nina M. Armagno, Commander, 45th Space Wing, and Director, Eastern Range, Patrick Air Force Base, FL. Photo by Stephen McConnell/NOTU PAO) 
(Port Canaveral, FL) – Today U.S. Senator Jeanne Shaheen (D-NH) toured Port Canaveral Naval Pier to receive an update on the Navy's Virginia Class Submarine program and embark on the Virginia Class Submarine USS New Hampshire to see the submarine's capabilities firsthand. Shaheen has been a strong supporter of the Virginia Class Submarine program and has consistently advocated for investments in the Navy's submarine fleet, which remains one of the most productive and strategically important assets for the Department of Defense.  Similar Virginia Class Submarines are maintained at the Portsmouth Naval Shipyard.
The USS New Hampshire was commissioned in October of 2008 at Portsmouth Naval Shipyard and has a broad spectrum of capabilities from offensive attack features to intelligence gathering and defensive capabilities. It is currently home-ported at Naval Submarine Base New London in Groton, Connecticut.
A high resolution version of the photo is available here.