PHOTO RELEASE: In Meeting, Shaheen Questions Acting Defense Secretary Shanahan on Trump Emergency Declaration's Threat to Portsmouth Naval Shipyard & NH National Guard, U.S. Syria Strategy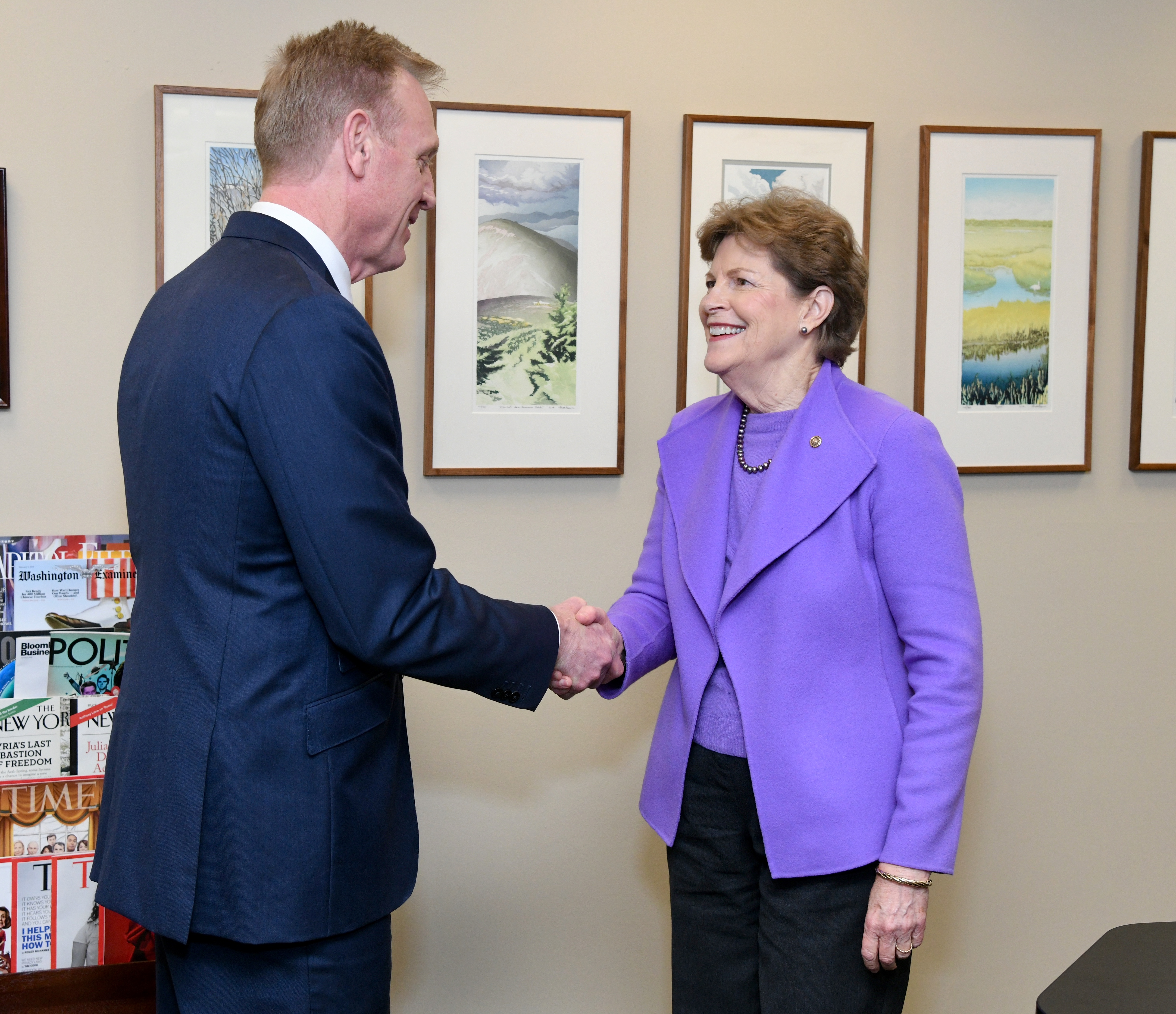 Senator Shaheen greeting Acting Secretary of Defense Patrick Shanahan in her Washington, DC office
(Washington, DC)—U.S. Senator Jeanne Shaheen (D-NH), a member of the Senate Armed Services and Foreign Relations Committees, issued the following statement after meeting with Acting Secretary of Defense Patrick Shanahan. 
"I expressed serious concerns with Secretary Shanahan that many in New Hampshire have about President Trump's emergency declaration which could divert funds from critical projects at the Portsmouth Naval Shipyard and the New Hampshire National Guard to fund a border wall.  We have real national security threats, which is why we can't afford to take funds from important defense programs," said Shaheen. "We also discussed the conflict in Syria and establishing a U.S. strategy to find a way forward. I expressed my concern regarding the President's announced troop withdrawal, which could create a vacuum for Russia, Iran or Assad to fill, and seriously complicates bringing terrorists who participated in the murder of Americans, including James Foley, to justice in the United States. I'm glad to have been able to address these issues with Secretary Shanahan and hope to work constructively with him to address these critical issues."
Earlier this month, Senator Shaheen led a New Hampshire Congressional Delegation letter to the President, urging him to reconsider his emergency declaration which could have an adverse impact on the Portsmouth Naval Shipyard and the New Hampshire National Guard.