PHOTO RELEASE: Shaheen & Staff Join in Holiday Cards 4 Our Military – NH Challenge
(Washington, DC) – U.S. Senator Jeanne Shaheen (D-NH) hosted a card writing party with her staff and interns yesterday, contributing to Laura Landerman-Garber's Holiday Cards 4 Our Military – NH Challenge. Laura began writing holiday cards to American service men and women 15 years ago, and every year her tradition grows in scale. This holiday season, she has collected more than 45,000 cards for our troops.
"As we celebrate the holidays, it's so important that we are mindful of our warriors who are defending our country and can't be home with their families," said Shaheen. "It was wonderful to host a card-writing party with my staff and reflect on the brave men and women whose service keeps our nation strong and safe. Laura is helping to bring some holiday cheer and encouragement to tens of thousands of service members, and my office was excited to play a small part in her effort.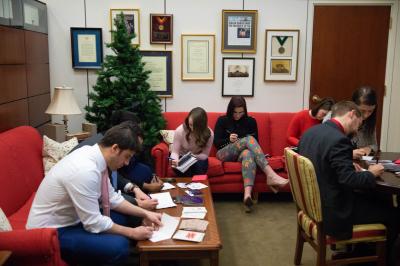 "Holiday Cards 4 Our Military - NH Challenge goes to Washington DC! Year number two of incredible support for the Challenge from Senator Shaheen and her staff, signing holiday cards for our deployed troops," said Laura Landerman-Garber, founder of Holiday Cards 4 Our Military - NH Challenge. "Every card counts when sending care and respect to our service members. Troops around the world will be smiling this holiday season when they open their cards, bringing home just that much closer to them as they defend our freedoms! This year's total now comes to close to 48,000 holiday cards! Thank you Senator Shaheen and staff!"
Media requesting higher resolution photos should email josh_marcus-blank@shaheen.senate.gov.