Shaheen & NASA Administrator Bridenstine Visit UNH Space Science Center and NH Manufacturer Mikrolar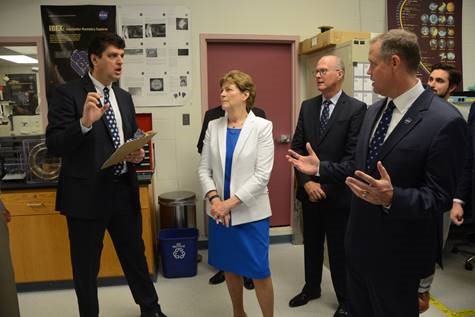 Shaheen and Bridenstine tour the UNH Space Science Center with UNH President James W. Dean Jr.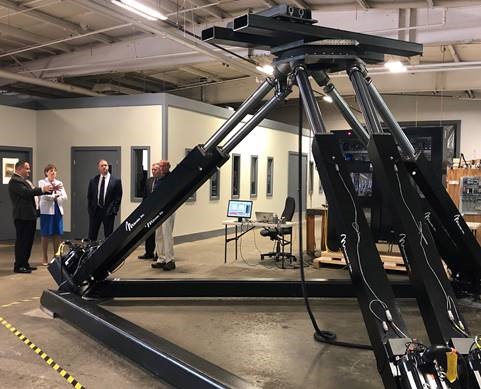 Shaheen and Bridenstine tour Mikrolar and see the "hexapod," one of the company's scientific contributions to NASA.
(Washington, DC) – Today, U.S. Senator Jeanne Shaheen (D-NH), the lead Democrat of the Commerce, Justice, Science and Related Agencies Appropriations (CJS) Subcommittee which funds the National Aeronautics and Space Administration (NASA), joined NASA Administrator Jim Bridenstine in visits to the University of New Hampshire's (UNH) Space Science Center and Mikrolar, a contractor for the space agency. The events come on the heels of UNH's recent selection by NASA for a highly-competitive $107.9 million contract award through the Earth Venture program.
Under the federal contract, UNH will develop their Geostationary Littoral Imaging and Monitoring Radiometer (GLIMR), which will gather specialized data that will help improve how we monitor the health of our oceans and assess risks for coastal communities, including from hazards such as harmful algal blooms (HABs), hypoxia and oil spills. This most recent award, the largest NASA contract award in the University's history, is the latest in a nearly 60-year relationship with the agency. During the visit to UNH, Shaheen and Bridenstine toured the Space Science Center and met with UNH scientists, who highlighted the various collaborations over the years between the University and NASA in support of the agency's mission of scientific discovery and exploration. Following the tour, Shaheen and Bridenstine participated in a roundtable discussion with Granite State businesses that have contributed technology and supplies to NASA. Following this discussion, Shaheen and Bridenstine travelled to Hampton, where they toured Mikrolar, a local small business and NASA contractor and learned more about the company and its past and present contributions of technology and supplies to NASA programs.
"New Hampshire plays a key role in advancing America's space program, as shown today by the incredible displays of collaboration between Granite State scientists, small businesses and NASA. I'm glad Administrator Bridenstine made the trip to the Granite State to see for himself all that we have to offer," said Shaheen. "The research and work done at UNH is critical to gaining valuable scientific knowledge and is boosting our economy while making New Hampshire a leader in this sector. So it should surprise no one that UNH was selected by NASA for a $107.9 million contract award. As the Ranking Member of the Subcommittee responsible for funding NASA, I'll keep fighting to ensure the agency has the resources it needs to invest in research and education, and to meet our national goals, where New Hampshire continues to play an important role in advancing America's leadership in space."
"New Hampshire is positioning itself firmly in America's burgeoning space economy and NASA is pleased to have a key role in expanding the Granite State's presence in this sector through partnerships with academia and private industry," said NASA Administrator Jim Bridenstine. "Our recent award of a $107.9 million contract to the University of New Hampshire is the second largest contract NASA has awarded to a university in the last decade. We look forward to doing more business with the state as our Artemis program progresses toward putting the first woman and next man on the Moon by 2024."
"We have long known that UNH has a world-class space science center," said James W. Dean Jr., the president of the University of New Hampshire. "But this visit was a wonderful opportunity for our scientists and students to showcase their impressive expertise not only to Administrator Bridenstine and Senator Shaheen, but also to the state of New Hampshire and beyond. UNH and NASA share a strong 60-year relationship and we're very proud of all our innovative space projects with NASA – from the past, present and into the future."
"GLIMR's high frequency oscillations will allow us to see variability in phytoplankton communities as they evolve over the course of the day," said Joseph Salisbury, a research associate professor at the University of New Hampshire and the project's principal investigator. "The sun coming up and going down is the most important geophysical influence on phytoplankton communities. We have little information on this from space: When do they grow the fastest? When do they start to slow down? Do they sink, or do they rise up?"
Shaheen has been a strong advocate for scientific research funding priorities. In last year's spending agreement, Shaheen spearheaded efforts to prioritize agencies that conduct research, including the National Oceanic and Atmospheric Administration (NOAA), the National Science Foundation (NSF) and the National Aeronautics and Space Administration (NASA). The research these agencies conduct promotes economic prosperity and often leads to breakthroughs that improve quality of life for Americans. During her time in the Senate, Shaheen has also worked to secure scientific research funding for New Hampshire universities and businesses. In addition, Shaheen has been a leading advocate for efforts to invest in Science, Technology, Engineering and Mathematics (STEM) education. In July, the Senate passed Shaheen's bipartisan legislation, the Christa McAuliffe Commemorative Act, which will create a commemorative coin to honor Christa McAuliffe, the Concord educator who died aboard the Space Shuttle Challenger in 1986. The bill further reaffirms American commitment to STEM education, with proceeds from the coin supporting STEM education.