Shaheen Announces New Legislation to Lower Health Care Costs & Expand Access to Insurance for 4 Million More Americans
February 26, 2021
**Shaheen Talks Exclusively with WMUR About Why The Push to Lower Premiums & Deductibles is Needed More Than Ever During COVID-19**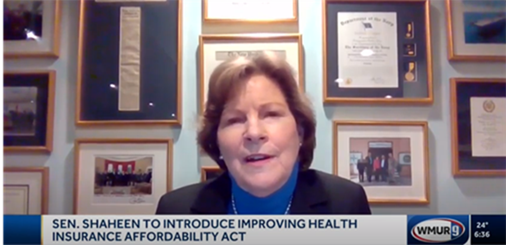 (Washington, DC) – Today U.S. Senator Jeanne Shaheen (D-NH) announced she's introducing new legislation to improve access to health care by lowering premiums and deductibles for low- and middle-income families. She spoke with WMUR about how her new bill, the Improving Health Insurance Affordability Act, would expand coverage to more than 4 million Americans who are currently uninsured and reduce health care costs for millions of additional individuals who already have coverage – which is especially critical given the COVID-19 pandemic.
"Expanding access to affordable health care has never been more critical than during the COVID-19 public health crisis, especially as we recently marked a grim milestone of 500,000 American lives taken by this deadly virus," said Shaheen. "To help families afford life-saving care, I'm introducing a common-sense bill to reduce costs of premiums and deductibles – putting quality health care within reach for millions of low- and middle-income families. My top priority in the Senate is strengthening our health care system and helping Americans get the care they need without breaking the bank."
The Improving Health Insurance Affordability Act would expand eligibility for the Affordable Care Act's (ACA's) premium tax credits for Health Insurance Marketplace coverage for individuals who currently are ineligible, while also making the premium tax credits more comprehensive for people who are currently eligible for them. The bill would increase the value of the tax credits available to people with income between 100 and 400 percent of the federal poverty level (FPL) – who are already eligible for assistance – while expanding eligibility for premium tax credits to include individuals with income above 400 percent of FPL. The bill would also make the second-lowest-cost Gold plan the benchmark plan upon which premium tax credits are based, which would substantially reduce deductible and out-of-pocket costs for families of all incomes. Finally, the bill would also increase the value of cost-sharing reduction (CSR) assistance for people with income between 100 and 250 percent of FPL (who are already eligible), while also expanding eligibility for CSR assistance to people with income up to 400 percent of FPL.
The premium tax credit enhancements in her bill are included on temporary basis in the American Rescue Plan Act that will be considered in the House. Shaheen recently led a letter calling for an expansion of ACA's premium tax credits as a part of upcoming COVID-19 relief legislation, and she'll continue fighting to ensure these tax credit enhancements remain a central part of negotiations when the Senate considers the budget reconciliation legislation.
A February 2021 Urban Institute analysis of changes included in Senator Shaheen's legislation indicates that this bill could result in more than 4 million uninsured individuals obtaining health insurance coverage, while reducing per person total premium and out-of-pocket costs by $1,390 per year on average. This includes more than a 37 percent reduction in monthly premium costs per person and more than a 16 percent reduction in cost-sharing and out-of-pocket costs. Some consumers who would be newly eligible for CSR assistance or eligible for heightened levels of CSR assistance could see even greater savings through reduced deductibles.
The bill has been endorsed by Families USA, Protect Our Care and the National Partnership for Women & Families.
Shaheen's legislation is cosponsored by Senators Bob Casey (D-PA), Michael Bennet (D-CO), Maggie Hassan (D-NH), Tammy Baldwin (D-WI), Richard Blumenthal (D-CT), Jack Reed (D-RI), Catherine Cortez Masto (D-NV), Debbie Stabenow (D-MI), Tina Smith (D-MN), Jon Tester (D-MT), Chris Murphy (D-CT), Ben Cardin (D-MD), Jacky Rosen (D-NV), Amy Klobuchar (D-MN) and Tim Kaine (D-VA).
Full text of the bill is available here.
Shaheen has led efforts in Congress to protect and improve the ACA, including leading all 47 Senate Democrats on a Senate resolution that would reverse the Department of Justice's decision to side with U.S. District Court Judge Reed O'Connor's ruling that would strike down the ACA. This health care sabotage could result in 133 million Americans losing protections for pre-existing conditions, millions more Americans without health insurance, soaring prescription drug costs for seniors, and nearly 90,000 Granite Staters losing health care coverage. Senator Shaheen also spearheaded Senate Democrats' proposal to make health care affordable and accessible for Americans during the COVID-19 public health emergency. She introduced the Marketing and Outreach Restoration to Empower (MORE) Health Education Act of 2019 with Senators Tim Kaine (D-VA) and Gary Peters (D-MI) to counteract the Trump administration's sabotage efforts that slashed funding for health care enrollment advertising and marketing by 90 percent after Donald Trump took office. She also introduced the Protecting Americans with Pre-existing Conditions Act with Senators Mark Warner (D-VA), Ben Cardin (D-MD) and Tammy Baldwin (D-WI) to prevent the former Trump administration from using federal premium tax credits to promote and incentivize enrollment in "junk plans" that do not provide coverage of pre-existing conditions or essential health benefits. Shaheen, Baldwin and Warner called on the last administration to do more to prevent third-party web brokers from steering individuals toward these junk health insurance plans.
Shaheen championed a health care affordability package that includes three pieces of legislation to reduce health care costs for patients and expand access to critical medical services.
###
---
---
Next Article
Previous Article