SHAHEEN ANNOUNCES SUPPORT FOR HAGEL NOMINATION
January 24, 2013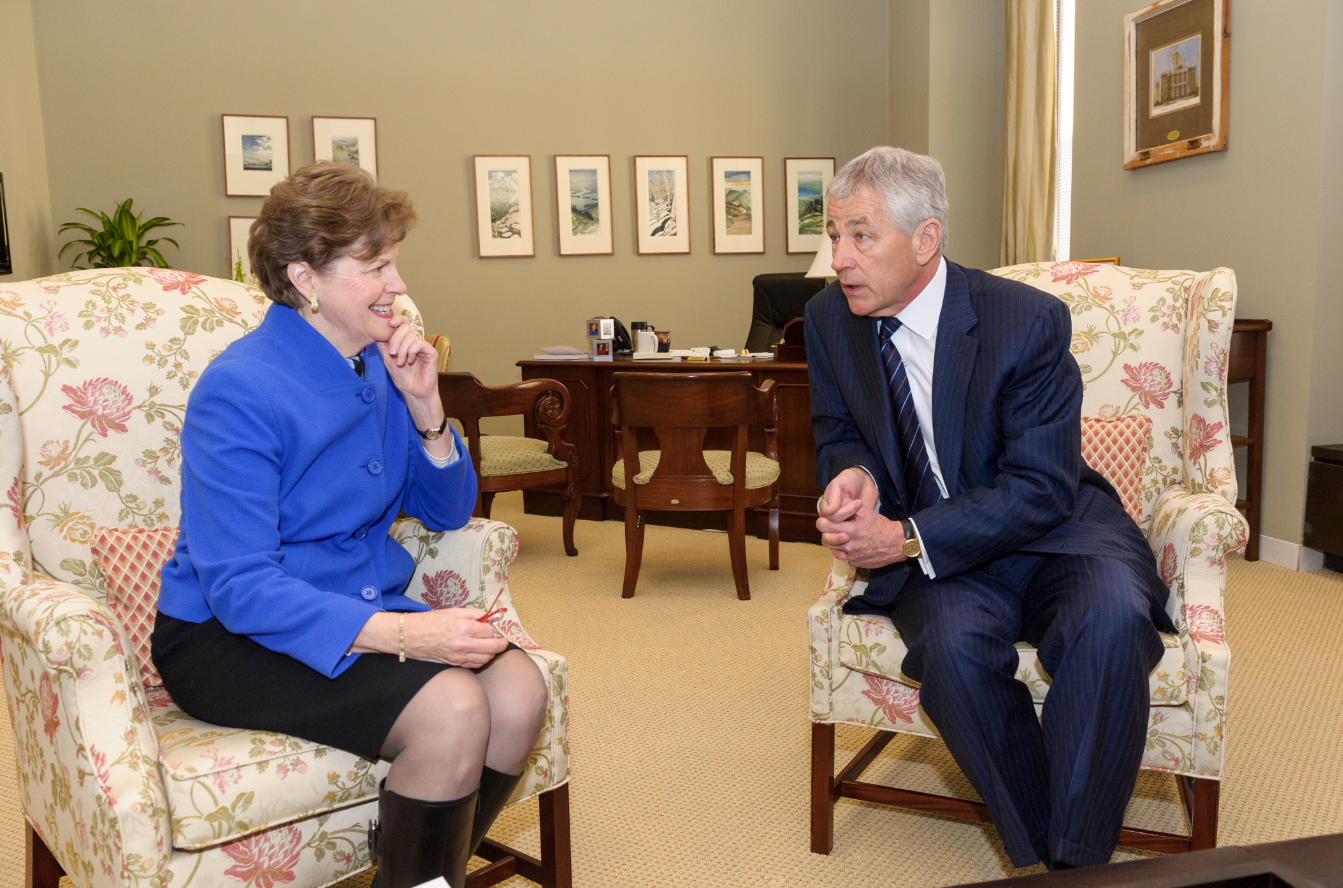 (Washington, D.C.) –U.S. Senator Jeanne Shaheen (D-NH), member of the Senate Armed Services Committee, released the following statement this afternoon announcing her support for Senator Hagel's nomination to serve as Secretary of Defense. Shaheen made the announcement after meeting with Senator Hagel earlier today in her office here in Washington.
"This morning I had an opportunity to meet with Senator Hagel to discuss his nomination and his views on the future of our military and am pleased to announce my decision to support his nomination. It is obvious that Senator Hagel thoroughly understands the complexity of the modern security environment. I was pleased with his strong, unwavering support of Israel, his steadfast opposition to Iran's nuclear weapons program and his commitment to building relationships with our allies including NATO.
"I also appreciated Senator Hagel's recognition of the role New Hampshire plays in our national defense. From the direct roles Portsmouth Naval Shipyard and Pease Air National Guard Base play in our ongoing military operations, to the quality of services provided to returning service members through the Deployment Cycle Support program, to our cutting-edge defense industrial base, I underscored New Hampshire's leadership role in efficient and effective support of our Armed Forces, which he readily acknowledged.
"I was also encouraged by Senator Hagel's willingness to address remaining inequalities faced by female service members and LGBT military families. Specifically, I was pleased he committed to bring the Department's reproductive health care policies in line with federal standards by fully implementing the Shaheen Amendment and that he agreed to push for the elimination of restrictions on LGBT military family benefits, an issue that has been highlighted in New Hampshire by the service of Chief Warrant Officer Charlie Morgan.
Senator Hagel is a strong, independent leader that is uniquely qualified to serve as our next Secretary of Defense, and I think that is evidenced by the amount of bipartisan support he has received in recent weeks. I look forward to his confirmation hearing before the Armed Services Committee and to supporting his nomination."
Press Contact
Press Office, (202) 224-5553
---
---
Next Article
Previous Article