Shaheen Calls for Accountability as Hidden Study Reveals Billions Wasted at Pentagon
**SHAHEEN: "It's very alarming that this report was hidden from the public eye and its findings ignored." **
December 06, 2016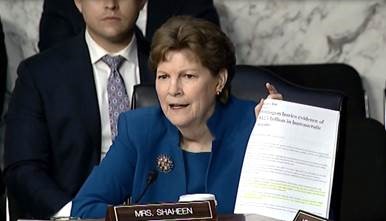 Sen. Shaheen highlights Washington Post story in Senate Armed Services Committee hearing today
(Washington, DC) — U.S. Senator Jeanne Shaheen (D-NH), member of the Senate Armed Services Committee, issued the following statement after the Washington Post published a report that officials at the Department of Defense buried a study that identified $125 billion in cost savings through streamlining Pentagon operations:
"It's very alarming that this report was hidden from the public eye and its findings ignored," said Senator Shaheen. "As public employees, these Pentagon officials should be acting as responsible stewards of taxpayer dollars, not as a bulwark for wasteful bureaucracy. I strongly urge Pentagon leadership to immediately account for the actions taken to suppress this report. In the meantime, I will urge the relevant committees in Congress to thoroughly review the recommendations in this study that could improve Pentagon operations and reduce the deficit."
Earlier today, Senator Shaheen raised the Washington Post story in a Senate Armed Services Committee hearing, where she pointed out the absurdity of these officials suppressing this cost-saving study while the Department of Defense still does not conduct a financial audit.
---
---
Next Article
Previous Article