SHAHEEN CHRISTENS USS MANCHESTER, NEW LITTORAL COMBAT SHIP FOR U.S. NAVY
May 09, 2016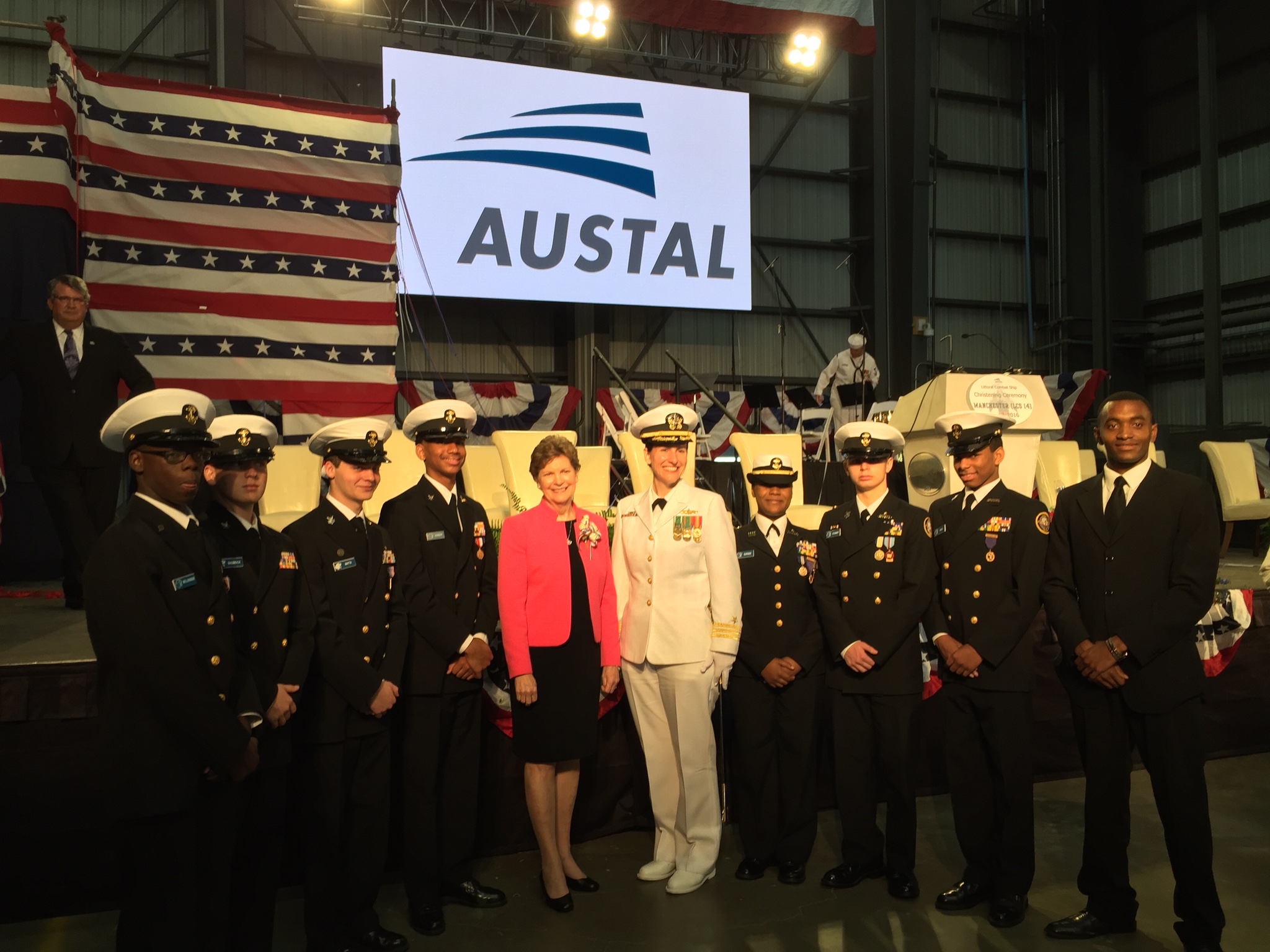 **Official Video Footage Here**
**Shaheen serves as official sponsor of ship named after Queen City**
(Mobile, AL) – U.S. Senator Jeanne Shaheen, a member of the Senate Armed Services Committee, participated in the christening ceremony for the USS Manchester today at the Austal USA Shipyard in Mobile, AL. As the official sponsor of the Littoral Combat Ship, Shaheen is considered a permanent member of the ship's crew and her initials are welded into a part of the ship's hull. In keeping with the storied naval tradition, Shaheen also broke a bottle of champagne over the USS Manchester's bow following an official blessing of the ship.
"I am honored to be the USS Manchester's official ship sponsor and the City of Manchester is very proud to once again have a Navy vessel as its namesake," said Shaheen following the ceremony. "American shipbuilders are the best in the world and this ship is another remarkable feat of engineering. But what is always most impressive, to me, is the professionalism and excellence of the sailors and officers who serve on these vessels. I'm very proud to be counted as a crew member of the USS Manchester and to be included in the Navy family."
Shaheen spoke following remarks from top U.S. Navy officials, Congressman Bradley Byrne (R-AL) and Craig Perciavalle, President of Austal USA.
Granite State Manufacturing (GSM), based in Manchester, built critical systems and components for the ship. The President and Vice President of GSM also attended today's events.
Littoral Combat Ships are designed to face asymmetric threats in shallow areas off coastlines and primarily perform: surface warfare, antisubmarine warfare and mine countermeasures. The USS Manchester will be part of the Independence class of Littoral Combat Ships.
This is the second ship in the U.S. Navy to be named after Manchester, New Hampshire. The first USS Manchester, a light cruiser that saw action during the Korean War, was commissioned in 1946 and primarily operated in the Pacific. It served three combat tours and earned nine battle stars before it was decommissioned in 1956.
---
---
Next Article
Previous Article