Shaheen Concludes Delegation Visits to Germany, Georgia & Romania
**Shaheen, Chair of the Senate Foreign Relations Subcommittee on Europe and Regional Security Cooperation and a Senior Member of the Senate Armed Services Committee, participated in the 2023 Munich Security Conference and led a congressional delegation visit to the Black Sea Region **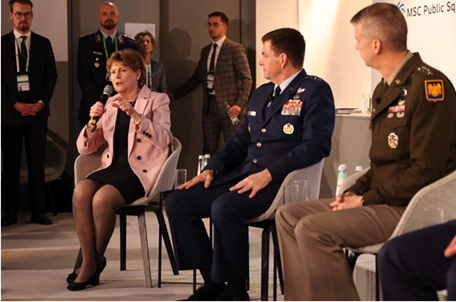 Senator Shaheen speaks on a panel during the 2023 Munich Security Conference last week.
(Washington, DC) – U.S. Senator Jeanne Shaheen (D-NH), Chair of the Senate Foreign Relations Subcommittee on Europe and Regional Security Cooperation and a senior member of the Senate Armed Services Committee, issued the following statement after concluding a series of visits to European allies and partner nations to address the most pressing security challenges impacting the United States and global community. Shaheen first participated in the 2023 Munich Security Forum, and later led a visit with Senate Majority Whip Dick Durbin (D-IL) to Georgia and Romania.
"Restoring and strengthening our diplomatic relationships has been one of my top priorities over the last several years, and as I look back over the last few days, it's clear that this could not have been a more important task. We face serious threats to our collective security, and it is important that we consult and strategize with allies and partners on how best to address these issues head on," said Shaheen. "Continuing to provide aid to Ukraine as they defend against the ongoing Russian assault, responding to China's increasing provocations and supporting fledgling democracies around the globe are priorities for the United States, as well as our allies. I appreciate the opportunity to engage directly with a number of world leaders while in Germany, and with our partners in Georgia and Romania to enhance our transatlantic bonds, which are more crucial today than ever before. While the security challenges we face are great, none are greater than the strength of our alliance."
In Munich, Shaheen participated in a panel discussion entitled Show of Force or Just for Show? Fostering Resilience in Europe's North-East, as well as numerous bilateral meetings with allies and partner nations. In Georgia and Romania, Shaheen and Durbin met with heads of state, members of legislature and representatives from civil society to discuss the nations' bilateral relationships, as well as the geopolitical importance of the Black Sea region. In Romania, the delegation visited U.S. soldiers deployed to Mihail Kogălniceanu Air Base in response to Russia's invasion of Ukraine.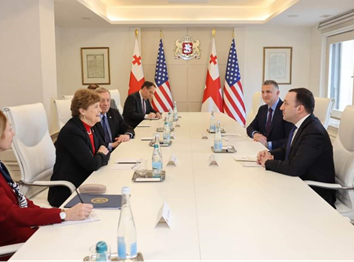 Senators Shaheen and Durbin meet with Georgian Prime Minister Irakli Garibashvili in Tbilisi on Monday.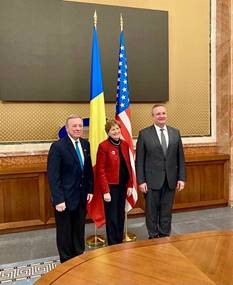 (Top Row) Senators Shaheen and Durbin meet with Air National Guard Members from the 101st Airborne Division, who are stationed in Romania, including Pembroke native, Specialist Logan Raymond.
(Bottom Row) Senators Shaheen and Durbin meet with Romanian Prime Minister Nicolae Ciucă earlier this week.
Senator Shaheen leads bipartisan legislation in the U.S. Senate that would establish a U.S. policy toward the Black Sea region. Shaheen has been very engaged on U.S. policy toward the Black Sea region for years, stemming back to her participation as an election monitor in Georgia with Senator Jim Risch (R-ID) in 2012. She's been vocal in the U.S. Senate about the urgency of prioritizing the region, which is a crucial inflection point amid Vladimir Putin's unprovoked further invasion of Ukraine. Shortly before Putin's invasion, Shaheen and Senator Rob Portman (R-OH) led a bipartisan delegation to Ukraine, where they met with President Zelenskyy and members of his administration. Before the Shaheen-Portman congressional delegation visit in January, Shaheen led a bipartisan group of lawmakers to Eastern Europe, including Georgia and Ukraine, in June 2021. As co-chair of the Senate NATO Observer Group, which she re-started with Senator Tillis in 2018, Shaheen has led bipartisan efforts in the Senate in support of the transatlantic Alliance and as Finland and Sweden seek accession into NATO.
###