SHAHEEN DISCUSSES NEW HAMPSHIRE ECONOMY IN NORTH COUNTRY VISIT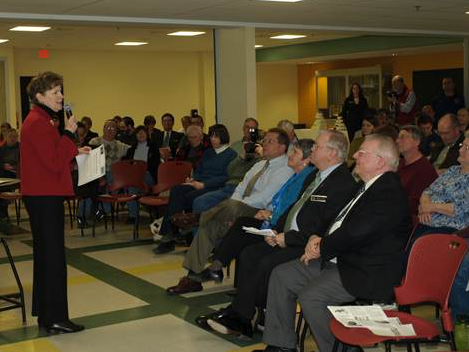 Senator Jeanne Shaheen takes questions from North Country residents at a Town Hall Forum in Berlin. Shaheen discussed important economic issues facing the North Country, and joined local officials in providing an update on efforts to help create jobs and grow the economy.
Shaheen operates a student-built robot during a meeting with the Mount Washington Valley FIRST Robotics Team at Kennett High School. Shaheen spoke to students about her Innovation Inspiration School Grant Program, which would give high school students greater access to non-traditional science, technology, engineering and math (STEM) education.
Shaheen meets with workers at Gorham Paper and Tissue during a tour of the company's facilities. Shaheen learned about the company's plans for future growth and discussed the importance of the mill to regional job creation.
Press Office, (202) 224-5553