Shaheen, Gardner Announce New Legislation to Address Health Concerns Regarding PFAS Exposure through Firefighter Protective Gear
September 20, 2019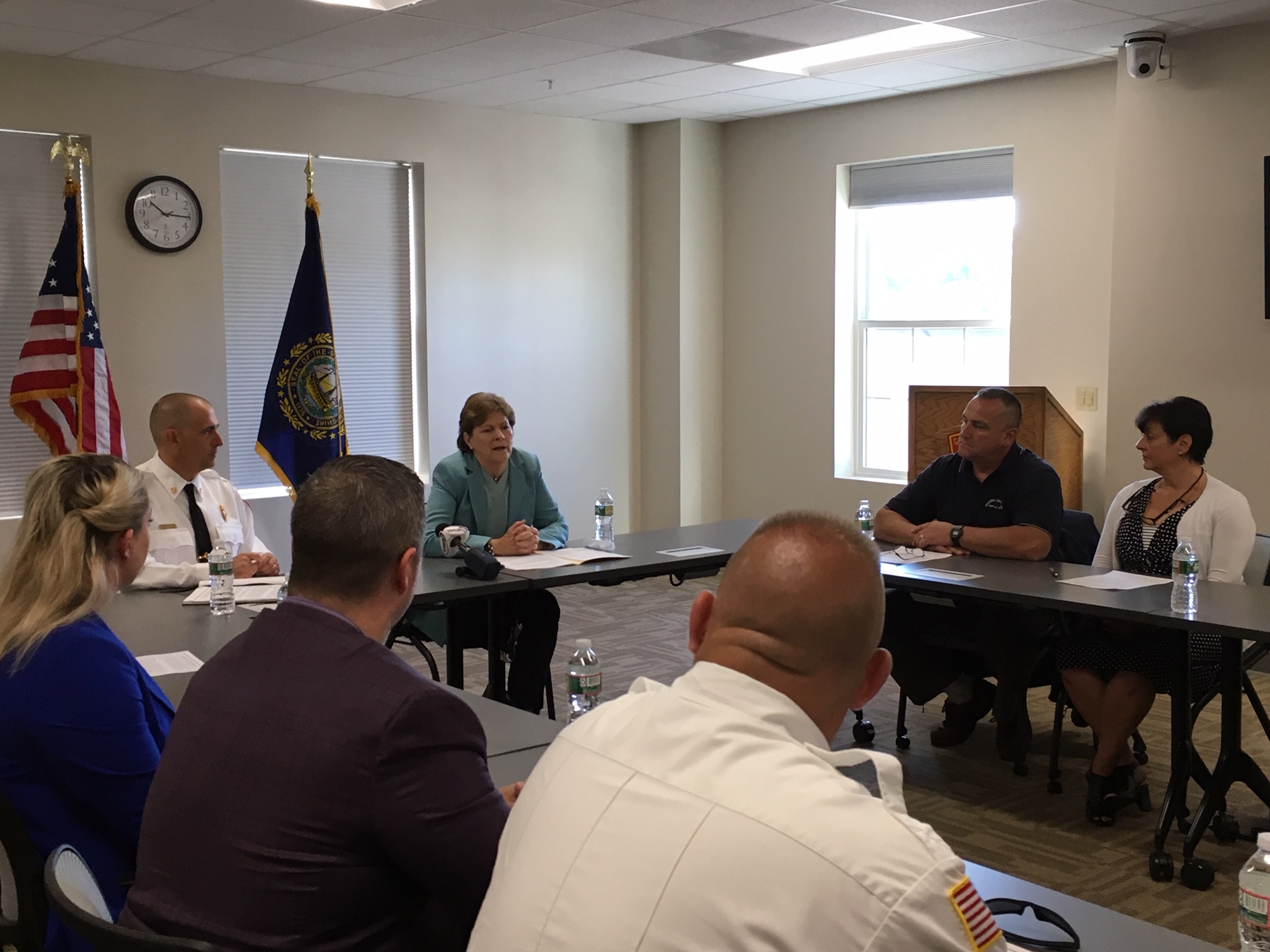 Shaheen participating in the roundtable discussion at the Goffstown Fire Department
(Washington, DC) – U.S. Senators Jeanne Shaheen (D-NH) and Cory Gardner (R-CO) today announced the introduction of their new bipartisan legislation, the Guaranteeing Equipment Safety for Firefighters Act, which would take important steps to address health concerns regarding firefighters' occupational exposure to harmful PFAS chemicals through their personal protective equipment. Shaheen unveiled the legislation this morning during a roundtable discussion at the Goffstown Fire Department, where she was joined by representatives from the Goffstown, Bedford and Manchester Fire Departments, the Director of the New Hampshire Fire Standards and Training Academy and representatives of the New Hampshire State Firemen's Association, as well as PFAS awareness advocates Diane and Paul Cotter of Rindge. Diane is the founder of the PFAS awareness group Your Turnout Gear and PFOA, and Paul is a 27-year veteran of the Worcester, MA Fire Department who was diagnosed with cancer while serving as a firefighter.
Specifically, the legislation would authorize a comprehensive study of the personal protective equipment worn by firefighters to determine the identity and concentration of PFAS, as well as firefighters' risk of exposure to these harmful chemicals from the gear. The legislation would also establish a federal grant program to advance the development of safe alternatives to PFAS chemicals in personal protective equipment.
"Firefighters have enough to worry about when they're on duty—the last thing they should be concerned with is the safety of their own protective gear," said Senator Shaheen. "We know PFAS is in certain types of firefighting foam, which means our firefighters are already more likely to face exposure. With research indicating these harmful chemicals have also been found in firefighters' personal protective equipment, it's imperative that Congress take action to keep our first responders safe. This bipartisan bill will deliver the answers we need and fund the efforts necessary to develop alternatives to PFAS in equipment so our firefighters can do their jobs safely and efficiently. Firefighters put their lives on the line every day to protect our communities – they should have access to the information and equipment they need to keep themselves healthy and safe, and that's precisely what this legislation will help do."
"Our firefighters and emergency responders in Colorado and around the country risk everything to protect our communities, and it is our duty to make sure we have accurate research to understand and mitigate any PFAS exposure during emergency response and training activities," said Senator Gardner. "This bipartisan legislation will authorize a study through the National Institute of Standards and Technology to gather data regarding the concentration of PFAS in emergency responders' protective gear and fund research in to alternatives to the chemicals that will reduce or eliminate the possibility of PFAS exposure."
The text of the legislation can be found here, and a one-pager can be read here.
Shaheen has spearheaded efforts in Congress to uncover the potential health effects related to PFAS contamination, respond to the chemical exposure and remediate polluted sites. The Senate-passed defense bill includes a significant package of legislation, cosponsored by Shaheen, aimed at combating PFAS exposure. This PFAS package includes Shaheen's bipartisan legislation with Senator Rob Portman (R-OH), the Safe Drinking Water Assistance Act, which would expedite analysis of water contaminants like PFAS and provide support and resources to states dealing with the health challenges posed by these potentially harmful materials. Shaheen also successfully added her legislation with Senator Lisa Murkowski (R-AK) to the defense bill that would confront occupational exposure to PFAS— the Protecting Military Firefighters from PFAS Act. The bipartisan bill would require the Department of Defense to include blood testing for PFAS as part of routine physicals for military firefighters. Shaheen and Murkowski previously called on federal health agencies to prioritize studies on the health effects of firefighters exposed to PFAS. Earlier this week, Shaheen sent a letter to the Centers for Disease Control and Prevention (CDC) urging the agency to develop health monitoring protocols for medical care for children and adults exposed to PFAS.
Additionally, Shaheen secured a provision that would ban the Department of Defense from procuring firefighting foam that contains PFAS after October 1, 2022, and would prohibit its use in the military after October 1, 2023. Shaheen also successfully authorized $10 million to continue the PFAS health impact study she established in the FY2018 NDAA. Shaheen has repeatedly secured the necessary authorization and funding to implement the study, which will begin this fall at Pease.
---
---
Next Article
Previous Article