Shaheen Highlights Need for Additional Federal Resources to Support Survivors During Visit to NH Coalition Against Domestic & Sexual Violence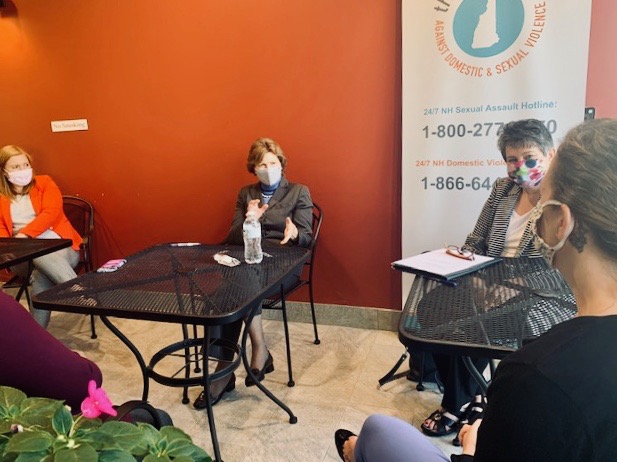 Shaheen discusses the impact of COVID-19 on survivors of domestic & sexual assault during her visit to the New Hampshire Coalition Against Domestic & Sexual Violence in Concord
Later in Claremont: During Visit to Ready Set Grow Child Care Center, Shaheen Urges Inclusion of Support for Child Care in COVID-19 Relief Legislation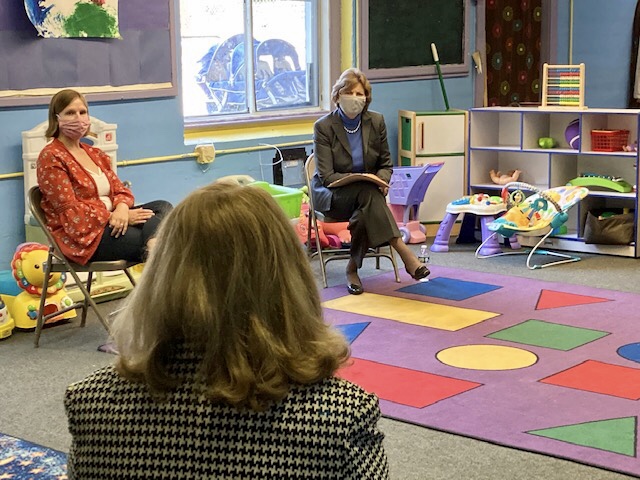 Shaheen hears more from local child care providers on the challenges they are facing amid COVID-19 during her visit to Ready Set Grow in Claremont 
Afterwards in Lebanon: Shaheen Calls for Additional Relief for Small Businesses During Visit to Geokon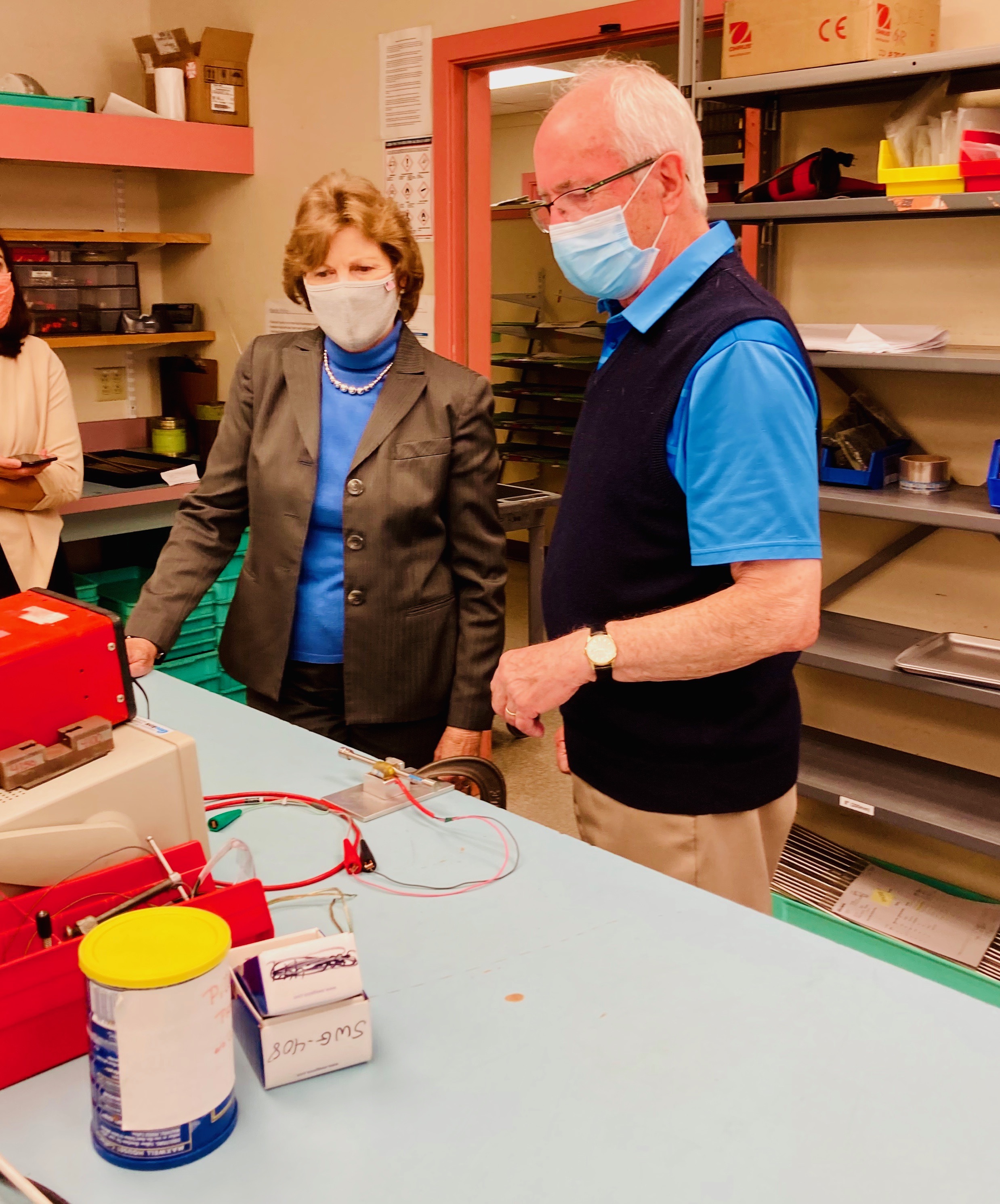 Shaheen examines equipment produced by Lebanon-based Geokon during her visit to the firm
(Manchester, NH) – Today, U.S. Senator Jeanne Shaheen visited the New Hampshire Coalition Against Domestic & Sexual Violence in Concord. Amid the COVID-19 crisis, survivors of domestic and sexual violence have been among the most vulnerable populations due to stay-at-home orders and social distancing practices which have made it difficult to find safety away from their abusers. During the early months of the crisis, calls to the state's 24-hour domestic violence hotline plummeted, while the court system saw a decline in domestic violence and stalking petitions, highlighting the challenges survivors faced in accessing help. During her visit, Shaheen met with NHCADSV's leadership and representatives from crisis centers and heard more about the impact COVID-19 has had on survivors and the state's crisis centers. Shaheen also highlighted the importance of reauthorizing the Violence Against Women Act, which has been stonewalled by Senate Republicans, and discussed her efforts to secure additional resources to support survivors in COVID-19 relief legislation.
Throughout the pandemic, Shaheen has worked to provide more resources and services to domestic violence survivors nationwide. She has called on Congressional leadership multiple times to include additional funding to support the victims of family violence, domestic violence and dating violence in the fourth COVID-19 legislative package. In addition, last month, Shaheen introduced the Lori Jackson Domestic Violence Survivor Protection Act, strongly-supported bicameral legislation to protect domestic violence survivors from gun violence. Shaheen is the Vice Chair of the Senate Appropriations Subcommittee that funds the Office on Violence Against Women (OVW). She has secured record levels of funding for the OVW in each of the past three government funding bills.
"Survivors of domestic and sexual violence are among the most vulnerable populations impacted by this pandemic," said Shaheen. "Organizations like the New Hampshire Coalition Against Domestic & Sexual Violence and our crisis centers have served as lifelines for survivors, ensuring they are able to receive the services, care and support they need to heal, stay safe and hold their abusers accountable. The increasing demand for their services and the significant challenges survivors face during the COVID-19 crisis further underscore why Congress must act now to prioritize federal support for them in relief legislation and finally reauthorize the Violence Against Women Act."
Later in Claremont, Shaheen visited Ready Set Grow, a child care center and preschool, where she met with facility staff, child care providers from the area and local officials and discussed the challenges providers face amid the pandemic. Granite State working families need child care in order to fully return to work as New Hampshire's economy opens, but providers in the state and across the country have been severely impacted by the fallout of the public health and financial crisis and many are at risk of permanent closure. During her visit, Shaheen emphasized the need to boost support for child care assistance in COVID-19 relief legislation.
In June, Shaheen introduced the Child Care is Essential Act, which would create a $50 billion Child Care Stabilization Fund to stabilize the child care sector and support providers in their efforts to safely reopen and operate and has continued to urge Senate leadership to act on the legislation. In March, Shaheen introduced legislation to assist health care workers with child and elder care so that they can continue to treat patients during the COVID-19 pandemic.
"The COVID-19 pandemic put tremendous financial strain on child care providers that working families in the Upper Valley and throughout New Hampshire rely on to return to work. As staff made clear this afternoon, more providers are in jeopardy of permanently closing their doors unless they get help now," said Shaheen. "Child care is critical to the national response to COVID-19 and impacts every part of our economy and society. Congress needs to include relief for providers in any COVID-19 relief package, including legislation I support that would create a Child Care Stabilization Fund to support providers' efforts to safely reopen and operate."
Afterwards in Lebanon, Shaheen visited Geokon to discuss the business's experience with the Paycheck Protection Program (PPP). Geokon is a global, New Hampshire-based manufacturing company that produces advanced geotechnical and structural monitoring equipment needed to construct buildings, assess the condition of infrastructure such as railways and bridges and other engineering purposes. During her visit, Shaheen heard from business leadership on how the PPP has helped them survive the economic fallout of COVID-19 and maintain operations and toured the company's production facility. Shaheen also highlighted the need to provide further relief to Granite State small businesses that have been hard hit by the pandemic. The PPP has been a lifeline for small businesses and nonprofits in New Hampshire, with over $2.5 billion in assistance disbursed to more than 24,000 businesses across the state. Shaheen has called for the passage of the Prioritized Paycheck Protection Program (P4) Act, legislation she introduced that would allow small businesses and nonprofits to access a second round of PPP loans.
"The Paycheck Protection Program has been a lifeline for thousands of Granite State small businesses like Geokon, helping them to weather the severe economic impact of the pandemic. PPP funds allowed Geokon and other small businesses to keep employees on the payroll and maintain operations during such a tumultuous time, but more needs to be done," said Shaheen. "I'll fight to secure additional relief for our hardest-hit small businesses in danger of closing their doors by pushing congressional leadership to include my legislation that would fund a second round of the PPP in COVID-19 relief legislation."