Shaheen Highlights Urgent Need for Additional Food Assistance for Struggling Granite Staters During Virtual Meeting with NH Nutrition & Food Security Organizations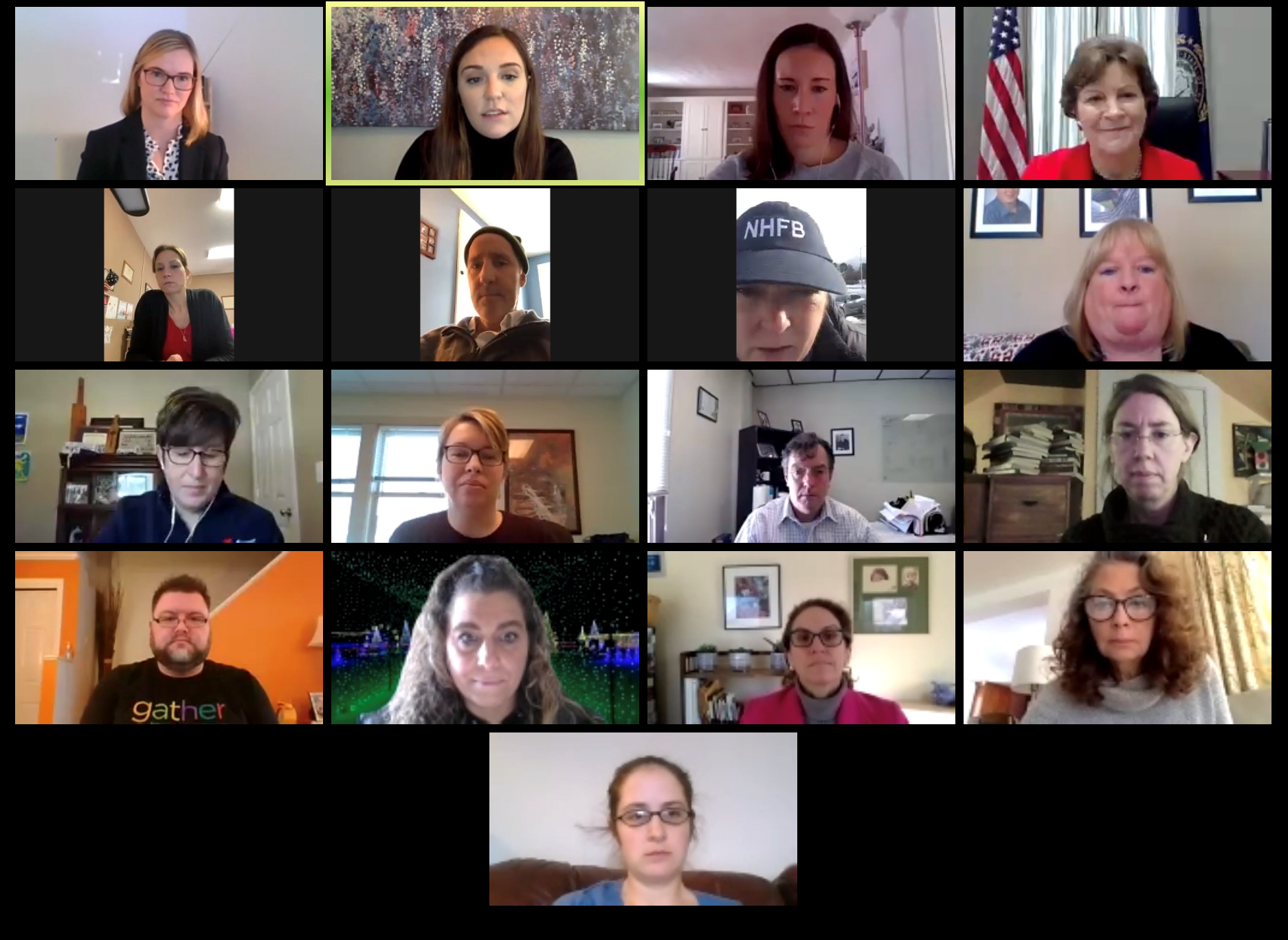 Shaheen hears more about the challenges Granite State food security and nutrition organizations are facing amid the COVID-19 pandemic. To view the virtual meeting, click here.
(Washington, DC) – Today, U.S. Senator Jeanne Shaheen (D-NH) highlighted the urgent need to provide additional food assistance in COVID-19 relief to help struggling Granite State families during a virtual meeting with New Hampshire nutrition and food security organizations. As a result of the COVID-19 pandemic, many families throughout New Hampshire are struggling to make ends meet and put food on the table. 1 in 7 men, women and children in the state are now food insecure, while up to 23% of children are living in a food insecure environment as a result of this crisis. This meeting comes after Shaheen shared additional details earlier this week for the COVID-19 emergency relief bill she announced with a bipartisan, bicameral group of lawmakers. The Emergency Coronavirus Relief Act of 2020 contains agricultural and nutrition assistance for farmers, families and frontline organizations. During the meeting, Shaheen heard more from nutrition and food security organizations about their experiences providing nutrition assistance to vulnerable Granite Staters and the challenges they are facing and updated them on her efforts in the Senate to work to secure needed relief.
To view the virtual meeting, click here.
"As a result of this pandemic, many Granite State families are struggling to put food on the table. 1 in 7 people in our state are now food insecure, as are nearly a quarter of Granite State children. This is an alarming crisis that cannot be overstated – lives are at stake, and Congress needs to act now," said Senator Shaheen. "COVID-19 relief legislation I introduced with a bipartisan, bicameral group of lawmakers contains critical assistance that will help ensure families can put food on the table, and provide support for our food security and nutrition organizations, which have worked tirelessly during this emergency to help our most vulnerable populations. I appreciate the important feedback I received from these frontline groups during our call this morning and will share their stories in ongoing negotiations to help drive this legislation forward and get families the support they need."