Shaheen Kicks Off 'Invest in NH' Tour Highlighting Federal Dollars Coming to NH through New Government Funding Law
**In the final government funding bill for fiscal year (FY) 2023, Shaheen – a senior member of the Senate Appropriations Committee –secured more than $111 million to support NH projects** 
**Shaheen visited Reality Check in Jaffrey & Turning Points Network in Claremont to discuss awards to address the substance use disorder epidemic & support survivors of domestic & sexual violence**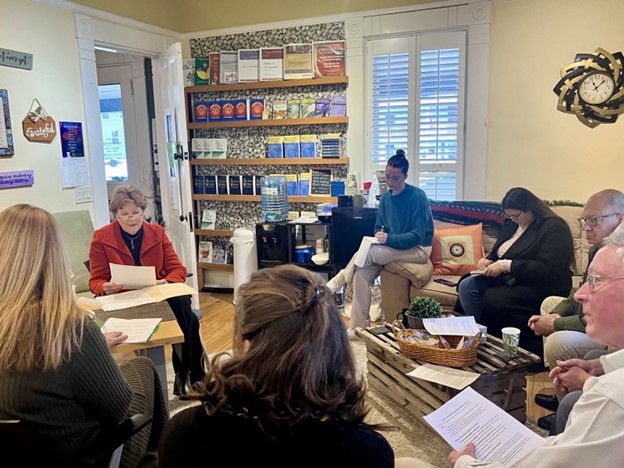 Senator Shaheen visiting Reality Check in Jaffrey. 

Shaheen at Turning Points Network in Claremont. 
 
(Jaffrey, NH) — Today, U.S. Senator Jeanne Shaheen (D-NH), a senior member of the Senate Appropriations Committee, kicked off her "Invest in NH" tour. This tour will highlight the important funding opportunities Shaheen secured for New Hampshire in the fiscal year (FY) 2023 government funding bill that was signed into law, which includes more than $111 million for New Hampshire-specific projects. Through her role on the Senate Appropriations Committee, Shaheen secured the funding through the Congressionally Directed Spending (CDS) process, which is a bipartisan process that was reformed and re-established in the FY 2022 government funding bill. 
Shaheen launched her new tour with a visit to Reality Check, a substance use disorder prevention and recovery organization located in Jaffrey, to highlight the $145,000 CDS award that Shaheen secured. Reality Check works in 32 towns across Cheshire and Hillsborough Counties and will utilize these funds to combat the alcohol and substance use disorder epidemics in New Hampshire.  
"I'm thrilled to launch my "Invest in NH" tour to highlight innovative projects coming to our state supported by the government funding bill. Every year, I use my role as a senior appropriator to ensure New Hampshire gets its fair share of resources, and this year's bill was no exception. I visited Jaffrey today to celebrate $145,000 that I secured for Reality Check to help combat the substance use crisis here in New Hampshire," said Shaheen. "I'll continue working to ensure organizations like Reality Check have the resources they need to support Granite Staters impacted by this epidemic and help them lead healthy and happy lives." 
As the Chair of the Senate Appropriations Subcommittee on Commerce, Justice, Science and Related Agencies (CJS), which funds the U.S. Department of Justice (DOJ), Shaheen has routinely fought to include numerous anti-opioid efforts funded by the Department to combat the substance use disorder crisis in New Hampshire. The FY 2023 funding legislation that was signed into law provided $1.75 billion in State Opioid Response (SOR) grant funding, as well as the continuation of a 15 percent set-aside that Shaheen fought to secure in 2018 for hard-hit states like New Hampshire. In the FY 2022 funding legislation, Shaheen included a key provision from the 2019 version of her legislation - the Turn the Tide Act - to provide flexibility for treatment providers to use SOR grant dollars to help patients suffering from meth and cocaine dependency, in addition to opioid use disorders. Shaheen wrote the provision in response to discussions with New Hampshire treatment providers. In the FY 2023 government funding legislation, Shaheen also secured $608 million to help communities and first responders respond to substance use crises, including opioid addiction and drug trafficking. This also includes $445 million for Comprehensive Addiction and Recovery Act (CARA) grants, which support programs like drug, mental health and veteran treatment courts and substance use disorder treatment programs administered by state and local correctional facilities. 
Later in the day, Shaheen visited Turning Points Network in Claremont, one of New Hampshire Coalition Against Domestic and Sexual Violence's (NHCADSV) 12 domestic and sexual violence crisis centers. Turning Points Network will receive a CDS award of $162,000, which will be used for critical office updates, such as the installation of a security system, a phone system that includes the 24-hour crisis line and updated office equipment and furnishings.  
"To address domestic and sexual violence, it's important for local support organizations to have the tools necessary to support the needs of survivors and staff members," said Shaheen. "That's why I'm glad to see $162,000 in federal funding headed to Turning Points Network. The technological updates made possible by this funding will support the organization's day-to-day work and ensure survivors have access to services. I'll always advocate for federal resources to support the critical work done by organizations like Turning Points." 
"We remain grateful to Senator Shaheen for ensuring that advocates have the tools and resources they need to respond to domestic and sexual violence in their communities. The Senator continues to be a leading advocate for the critical work of New Hampshire's 12 crisis centers and understands how important securing federal funding is so they can carry out their mission and provide live-saving services to those fleeing abuse," said Amanda Grady Sexton, Director of Public Affairs, NH Coalition Against Domestic and Sexual Violence. "Over the last three years, crisis center advocates have seen a heightened demand for services and complex cases that require more intensive and long-term support. These services are essential to help survivors and their families heal from their trauma and to effectively educate communities on how to prevent domestic and sexual violence. We are excited to see the impact that the Congressionally Directed Spending will have for the crisis centers receiving funding for these important projects. This type of flexible funding is crucial to allowing crisis centers to address the unique needs in their communities and make a real difference in the lives of survivors." 
Shaheen also uses her leadership position on the Senate Appropriations Committee to champion efforts in the Senate to boost services and programs for survivors of domestic and sexual violence, who were especially impacted by the pandemic. As Chair of the CJS Appropriations Subcommittee, Shaheen secured the highest funding level ever for Violence Against Women Act (VAWA) programs for six consecutive years, and the government funding legislation for FY 2023 includes a 22 percent increase from last year's funding level that will support training officials, rape prevention programs, processing rape kits, domestic violence hotlines, women's shelters and transitional housing support services. In addition, the FY 2023 funding law provides $10 million to jumpstart Senator Shaheen's Survivors' Bill of Rights incentive grant program, which encourages states to ensure that sexual assault survivors have the same rights guaranteed to survivors under federal law, including not being charged for a medical forensic exam and being informed of results of a sexual assault evidence collection kit. The Survivors' Bill of Rights in the States Act was also signed into law as part of the FY 2023 national defense authorization legislation.