Shaheen, Mayor Craig Lead Discussion on Health Care Wins for New Hampshire Included in the Inflation Reduction Act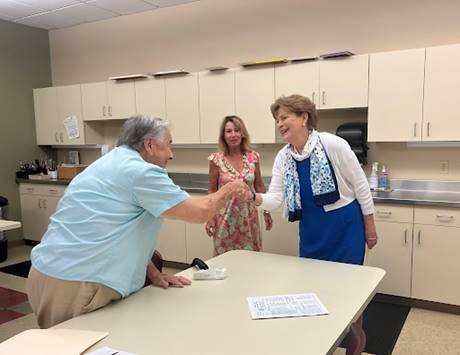 Shaheen meeting with Granite Staters at William B. Cashin Senior Activity Center in Manchester
Shaheen visiting Meals on Wheels restaurant in Merrimack to discuss new restaurant voucher program for older adults
Shaheen during discussion with SBA officials at PT United in Nashua
(Manchester, NH) – Today, U.S. Senator Jeanne Shaheen (D-NH) led a roundtable discussion with Manchester Mayor Joyce Craig, AARP State Director Christina FitzPatrick and other stakeholders on key health care wins for New Hampshire that were included in the recently enacted Inflation Reduction Act. This historic law includes measures that will cap prescription costs, reduce health insurance premiums, tackle surging insulin costs and expand access to health care for thousands of Granite Staters.
"It was great to be in Manchester today with Mayor Craig to discuss some of the key provisions I fought to secure in the Inflation Reduction Act and what this historic law means in terms of lowering health care costs and extending coverage to thousands of Granite Staters." said Shaheen. "This law is a game-changer for our state and takes much needed action to improve access and affordability of health care services for Granite State families."
In the afternoon, Shaheen had lunch at Meals on Wheels partner restaurant, The Village Eatery, in Merrimack to learn about the new Restaurant Voucher Program (RVP) that allows older adults to use their congregate meal at a local restaurant. The Village Eatery partnered with Meals on Wheels nutrition specialists to create this RVP.
"I enjoyed hearing from program participants and representatives about the impact of Meals on Wheels' new Restaurant Voucher Program. This program supports local restaurants while also giving older adults the opportunity to get out of the house, connect with friends and enjoy a nutritious, delicious meal," said Shaheen. "I'll keep working to ensure Meals on Wheels have the resources they need to continue their important work."
Later, Shaheen – a senior member of the Senate Committee on Small Business and Entrepreneurship –visited PT United in Nashua alongside Small Business Administration (SBA) Regional Administrator Mike Vlacich to highlight the importance of cybersecurity to small businesses. Senator Shaheen has worked tirelessly to provide Granite State small businesses with the resources they need to weather and recover from the economic impact of the COVID-19 pandemic.
"New Hampshire's small businesses are at the heart of our economy. It was great to be in Nashua today at PT United alongside SBA officials to discuss the important role cybersecurity plays in protecting small businesses from online criminals. As bad actors become increasingly adept at targeting small businesses, it is imperative that we provide local owners and employees with the tools they need to keep businesses and their customers' personal information safe," said Shaheen.
Shaheen is currently working to get her bipartisan legislation, the Small Business Cyber Training Act, to the President's desk and signed into law. This legislation would help better protect America's small businesses from the threats of cyber-crimes.
###