Shaheen Meets with NH Mayors to Discuss Need for COVID Relief as Communities Face Massive Budgetary Shortfalls Due to Pandemic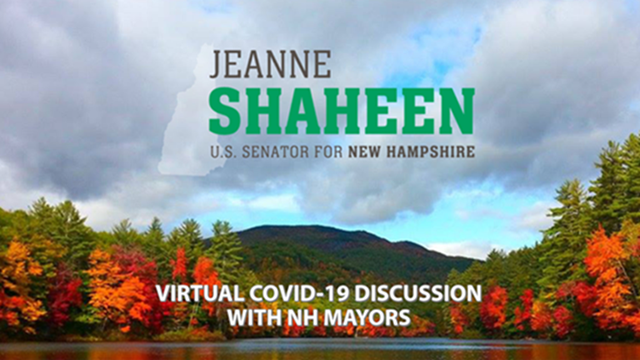 Shaheen's virtual discussion with New Hampshire mayors and local leaders can be heard here.
(Washington, DC) – Today, U.S. Senator Jeanne Shaheen (D-NH) hosted a virtual meeting with New Hampshire mayors and municipal leaders to discuss how severe budgetary shortfalls stemming from the COVID-19 pandemic are impacting local communities. Speaking with the mayors of Somersworth, Manchester, Berlin, Claremont, Nashua, Rochester, Portsmouth, Franklin and Keene, as well as city and town managers, Shaheen listened to how revenue deficits are threatening the provision of essential services to residents as critical workers like police, firefighters and teachers face looming layoffs. During the event, Shaheen shared how she's working across the aisle in the Senate and with the Biden administration to secure New Hampshire priorities in the upcoming relief package – including direct local and state aid and funding for vaccinations, schools, housing and nutrition programs.
Shaheen's virtual discussion with New Hampshire mayors and municipal leaders can be heard here.
"Our discussion today made clear the dire situation our communities in New Hampshire are facing as they weather through this deadly pandemic with severely strapped funds to care for residents," said Shaheen. "We have to make sure our local governments are equipped with the resources they need to keep our schools running, streets safe and families housed during these unprecedented times. I stand with our local governments as they face economic fallout and devastation due to the pandemic -- state and local aid must be a priority in the next relief package, and I'm eager to work with the Biden administration and Senators on both sides of the aisle to see that through."
New Hampshire is facing a substantial budgetary shortfall due to a sharp drop in state revenue. As a senior member of the Senate Appropriations Committee, Shaheen has been a steadfast advocate for funding for state and local governments during the pandemic. During earlier negotiations of the Coronavirus Aid, Relief and Economic Security (CARES) Act, Shaheen helped deliver an initial $1.25 billion to New Hampshire to assist the State during COVID-19. The relief package signed into law last month included language sponsored by Senator Shaheen to extend the period during which state and local governments may use Coronavirus Relief Fund (CRF) aid, allocated under the Coronavirus Aid, Relief, and Economic Security (CARES) Act through December 31, 2021. Dismayed by opposition by Republicans in Congress to allow increased state and local funding in the last relief bill, Shaheen continues to push for this funding to be a top priority during ongoing negotiations in Congress and with the Biden administration.
###