Shaheen, Murphy & Tillis Conclude Bipartisan CODEL to Serbia, Bosnia-Herzegovina, Kosovo & Belgium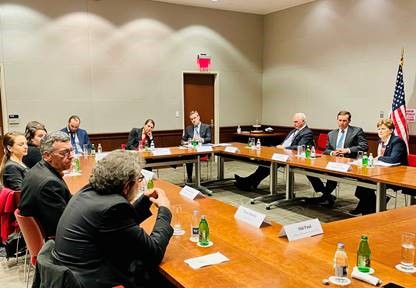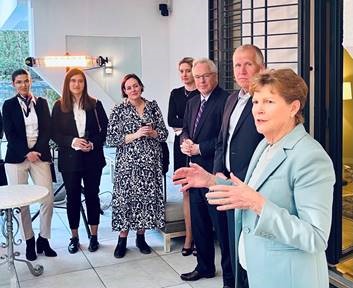 (Washington, DC) – U.S. Senator Jeanne Shaheen (D-NH), Chair of the Senate Foreign Relations Subcommittee on Europe and Regional Security Cooperation and a senior member of the Senate Armed Services Committee, wrapped up a bipartisan congressional delegation trip with Senators Chris Murphy (D-CT) and Thom Tillis (R-NC) to the Western Balkans and Brussels. During their visit, the Senators met with members of the respective countries' governments, members of civil society and members of the press to address numerous issues, including support for the region amid Russia's unprovoked invasion of Ukraine, anti-corruption efforts, democratic reforms, youth engagement, safeguarding freedom of the press and more. 
"Reaffirming U.S. support for the Western Balkans has never been more important than amid Russia's indiscriminate war on Ukraine, which carries significant implications for the security and prosperity of Europe. I'm pleased our delegation sent an unwavering, bipartisan message to our partners that we stand with Western Balkan nations during this pivotal moment in history, and we support their continued path towards democracy and stronger Euro-Atlantic ties," said Senator Shaheen. "During each stop, we met with government and civil society leaders to reiterate the importance of strengthening institutions and rooting out corruption, particularly amid Putin's belligerence that threatens the stability of the broader region. I was also pleased to meet with youth leaders in Kosovo and Bosnia and Herzegovina, who are recipients of critical U.S. funding to build a brighter, more democratic and prosperous future for their countries. Closing the trip with a visit to Brussels, we reiterated our commitment to bolstering U.S. coordination with our European partners to ensure the security and prosperity of democracies across the globe. I appreciate Senators Murphy and Tillis for their partnership this trip, and I will continue to support democratic reforms and prosperity for the Western Balkans."
"Our bipartisan delegation to the Balkans sent a strong, simple message: the time is now for the world's democracies to stand united against Putin's war in Ukraine. If Serbia and Bosnia-Herzegovina are serious about European integration, joining the United States and Europe in our sanctions against Russia and advancing democratic reforms are important steps toward that goal. We also emphasized the importance of advancing the Belgrade-Pristina dialogue through the EU-facilitated talks. The world may not be focused on the Balkans right now, but as Putin gets backed into a corner in Ukraine, he will look to other countries to score a victory. That's why maintaining peace in the Balkans is so critical to European security and why I was glad to return to the region to reconnect with leaders and strengthen the long-standing ties between our countries. During this precarious moment, NATO has never been more vital, and we concluded our trip in Brussels to reaffirm the United States' commitment to our transatlantic allies," said Senator Murphy. 
"Last week, I was proud to visit Serbia, Bosnia-Herzegovina, Kosovo, and Belgium with Senators Shaheen and Murphy and deepen existing cooperation with our partners as Russia continues its illegal war against Ukraine and threatens our NATO allies," said Senator Tillis. "The Balkans region is critical to Europe's security, and as co-chair of the Senate NATO Observer Group, we made it clear that the United States is committed to Europe's sovereignty during these uncertain times. I appreciate the opportunity to hear from leaders of these countries and relay to our colleagues in Congress the importance of supporting our partners."
The Senators kicked off their trip in Serbia, where they encouraged Serbia to continue its transatlantic journey toward E.U. membership amid Russian aggression against Ukraine. In Bosnia and Herzegovina, the Senators met with government officials and leaders to discuss the deteriorating political situation and press for election reform ahead of their October elections. They also attended a Youth Engagement Reception with young leaders eager to build a better future for Bosnia and Herzegovina. In Kosovo, the Senators discussed securing peace, prosperity and independence for the nation, and visited Camp Liya, which houses Afghan refugees. The delegation concluded their trip with a visit to NATO headquarters in Brussels to encourage NATO allies to prioritize peace and stability in the Western Balkans and reaffirm support for a strong and robust NATO amid Russia's aggression.
Shaheen has led action in the U.S. Senate in support of Ukraine in response to Vladimir Putin's belligerence, which also threatens the stability and security of Europe and NATO allies. She has led two bipartisan delegations to Ukraine in the last year, and in February participated in a congressional delegation to Poland. Shaheen and Tillis are co-chairs of the Senate NATO Observer Group, which they re-established in 2018.
###