SHAHEEN PRESENTS AWARD TO PORTSMOUTH SHIPYARD FOR ACHIEVEMENTS IN ENERGY EFFICIENCY
October 12, 2011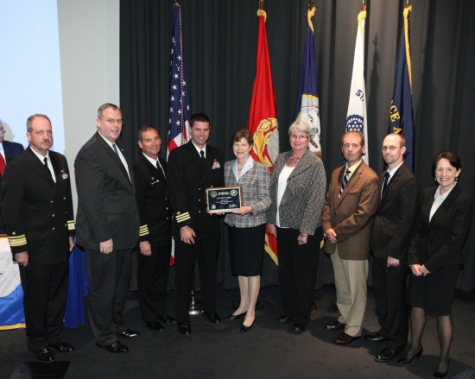 U.S. Senator Jeanne Shaheen (D-NH) stands with Under Secretary of the Navy Robert Work (second from left), Assistant Secretary of the Navy for Energy, Installations, and Environment Jackalyne Pfannenstiel (far right), and other award recipients at the Secretary of the Navy's Energy and Water Management Awards Ceremony in Washington, D.C., on Wednesday.
(Washington, D.C.) – U.S. Senator Jeanne Shaheen (D-NH) today presented an award to the Portsmouth Naval Shipyard, recognizing its success at reducing energy use.
Shaheen joined Under Secretary of the Navy Robert Work in presenting the Shipyard with one of the U.S. Secretary of the Navy's Energy and Water Management Awards at a ceremony in Washington, D.C. Through the Navy's energy efficiency initiatives, the Shipyard has reduced its energy usage by 54 percent since 2003. In July, Shaheen toured the Shipyard with former U.S. Senator and Secretary of the Navy John Warner (R-VA) to see its efficiency upgrades firsthand.
"The Navy has been at the forefront of efforts to reduce the federal government's energy use, and the Portsmouth Shipyard is a great example of the progress it has made," Shaheen said. "I commend the Navy and the Shipyard for their leadership on energy efficiency, for their dedication to improving our nation's energy security, and for their commitment to ensuring the Shipyard is operating at its best."
"It is an honor to be recognized for Portsmouth Naval Shipyard's energy and water management efforts," said Shipyard Commander Captain Bryant Fuller. "Our goal is always to improve our conservation programs, as the result is a true cost and energy savings for the nation. This award is truly a testament to the entire Shipyard, led by our Energy Task Force, pulling in the same direction to take great strides in reducing our water and energy consumption."
Through its use of Energy Savings Performance Contracts, the Portsmouth Shipyard has made $80 million in efficiency improvements at no cost to taxpayers. Those improvements are saving enough energy to meet the needs of almost 800 New England homes every year. Since 2007, the Shipyard has also reduced its water usage by 18 percent.
Shaheen has been an outspoken advocate for improving America's energy efficiency. In May, Shaheen introduced a bipartisan national energy efficiency strategy that would help create jobs, and save American businesses and consumers money. Last week, as honorary chair of the Alliance to Save Energy, Shaheen presented the Alliance's chairman's award to the U.S. Navy for its outstanding work over the past year on energy efficiency.
Press Contact
Press Office, (202) 224-5553
---
---
Next Article
Previous Article