Shaheen Receives Commitment from Rex Tillerson to Preserve Global Gender Equality Programs at State Department
** Tillerson Stops Short of Pledging to Continue Prioritizing Women's Health, Family Planning Services**
January 11, 2017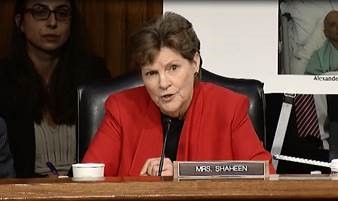 Video of Sen. Shaheen's questioning available here
(Washington, DC) — U.S. Senator Jeanne Shaheen (D-NH), member of the Senate Foreign Relations Committee and the only woman on the panel, questioned President-Elect Trump's Nominee for Secretary of State Rex Tillerson during his confirmation hearing before the Senate Foreign Relations Committee today. During her questioning, Sen. Shaheen pressed Tillerson on global gender equality programs and women's reproductive health and family planning. Tillerson, in response to Shaheen, committed to continue State Department programs that promote gender equity around the world.
Shaheen also forcefully advocated for programs that support women's reproductive health and family planning services, asking Tillerson to "pledge to continue to prioritize quality family planning and reproductive health services for women worldwide." Shaheen pointed out that 225 million women in developing countries around the world want to avoid pregnancy but lack access or information on family planning. Tillerson stopped short of committing to continuing the current level of support for family planning programs. "This is not only a humanitarian value that we should support but also an economic one," Shaheen pressed.
Shaheen has been a leader in the Senate on global women's empowerment and women's health, working with former Sen. Boxer on the International Violence Against Women Act (IVAWA), the Global Democracy Promotion Act to permanently repeal the Global Gag Rule, and the Women, Peace, and Security Act, among other legislation.
###
---
---
Next Article
Previous Article