SHAHEEN SHARES STORIES FROM NEW HAMPSHIRE RESIDENTS ON THE EFFECTS OF STUDENT LOAN RATE INCREASES
Subsidized Stafford Loans will double at the end of June if Congress does not act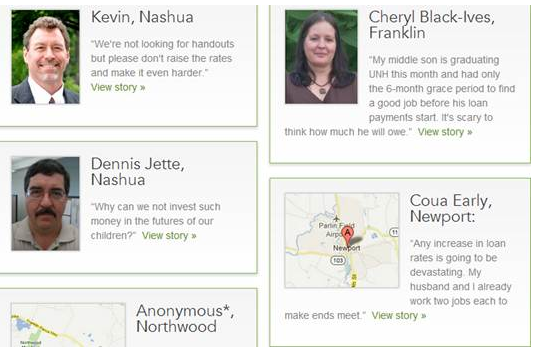 Click on the image above to see more about how student loan rate increases would affect New Hampshire residents or visit http://www.shaheen.senate.gov/debt_stories/
(Washington, D.C.) – U.S. Senator Jeanne Shaheen (D-NH) is urging her Senate colleagues to stop interest rates on subsidized Stafford Loans from doubling to 6.8 percent at the end of June. 
Shaheen recently asked constituents how they would be affected by an increase in student loan costs. Within days, more than 650 people wrote back with their stories. Senator Shaheen has shared some of their responses here: http://www.shaheen.senate.gov/debt_stories/
"It's clear from the overwhelming response from constituents across New Hampshire that an increase in student loan rates has a drastic effect on parents and children who are struggling to pay for college," Shaheen said. "I am hopeful that my colleagues will read these stories and remember that what we do, or don't do, here in Congress has a real impact on people.  We should stop student loan rates from doubling so that every family can realistically plan to send their children to college."
Shaheen spoke on the Senate floor urging Congress to find a bipartisan solution to avoid an increase in student loan costs.
New Hampshire already has the highest average student debt in the nation at $31,408 per student. That could increase by a combined total of $30.5 million if Congress does not act.
Press Office, (202) 224-5553