Shaheen Speaks in Support of Iran Deal on Senate Floor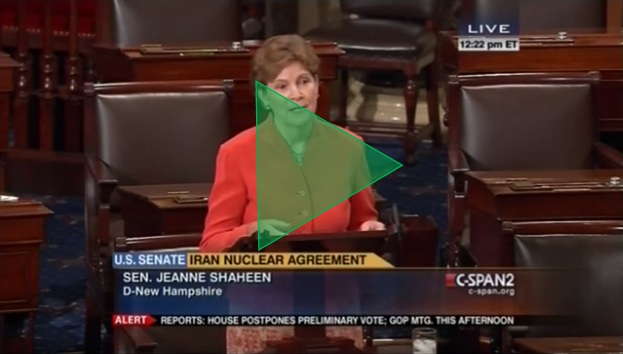 (Washington, DC) – On the Senate floor this afternoon U.S. Senator Jeanne Shaheen (D-NH) spoke in support of the international agreement to restrict Iran's nuclear program. Senator Shaheen's floor speech can be viewed here.
Senator Shaheen is a member of the Senate Foreign Relations Committee and the Senate Armed Services Committee.
Here are her remarks, as prepared for delivery:
Mr. President, I have long stated my conviction that we must prevent Iran from developing a nuclear weapon.  I support the international agreement that the Senate is debating this week Senate because I am convinced that it is the best available option for achieving that objective.   
We can stop Iran's nuclear weapons program in one of two ways, diplomatically or militarily.  Powerful international sanctions, which I have strongly supported, have forced Iran to the negotiating table. And on July 14, the United States, the United Kingdom, France, Russia, China and the European Union – the so-called P5+1 powers – concluded an agreement with Iran that, promises a peaceful, diplomatic solution. 
Thanks to the Iran Nuclear Agreement Review Act, Congress has had ample time to review the accord.  I spent weeks studying the agreement's text and scrutinizing our intelligence agencies' classified assessment of their ability to verify Iran's compliance.  As a member of the Senate's Foreign Relations and Armed Services Committees, I attended more than a dozen hearings and briefings with Administration officials as well as outside experts, both for and against the agreement.  In the end, I have concluded that this agreement effectively blocks Iran's pathways to developing a nuclear weapon for well over a decade.
Right now, Iran can acquire enough fissile nuclear material for a bomb in less than three months.  The agreement extends this breakout time to at least one year by slashing Iran's stockpile of enriched uranium by 98 percent and banning enrichment above 3.67 percent – which is far below weapons grade - for 15 years.  The agreement also reduces Iran's number of centrifuges by more than two-thirds for a decade, and maintains inspectors' access to Iran's uranium mines and mills for a quarter century. 
These are just some of the many restrictions the agreement imposes on Iran. 
In addition, Iran is bound by the Nuclear Nonproliferation Treaty and other agreements, to a permanent commitment not to pursue nuclear weapons and to permit access by inspectors to any suspected sites.  
Of critical importance, the Iran agreement is not based on trust, but on an inspections regime that is more rigorous and intrusive than any previous negotiated agreement.  Nuclear experts are confident that we will be able to detect violations by Iran.  And thanks to language in the agreement that allows the US to respond unilaterally to a violation by re-imposing US and UN sanctions, Iran will know that it faces crippling consequences.
If Congress rejects this agreement, all of these advantages go away. 
The risk of an Iranian nuclear breakout and a regional nuclear arms race will increase dramatically. 
And we will be left with no credible non-military option for stopping Iran's nuclear program.
Mr. President, I respect the views of my colleagues who oppose this agreement, and I have listened carefully to their arguments.  Some of them assert that Iran will find a way to cheat, and therefore no diplomatic resolution is possible.  However, most opponents are careful to avoid talk of military conflict and argue that we can reject this deal, rally the world to impose harsher sanctions, and Iran will eventually capitulate.
But this premise is at odds with the facts as they currently exist. Our negotiating partners in this deal – Britain, France, Russia, China, and the European Union – have concluded that this is a fair agreement.  In a briefing for Senators last month, the ambassadors from these nations told us in no uncertain terms that there will be no going back to the bargaining table if Congress rejects this agreement. 
If the deal is rejected, the most likely outcome is that the international sanctions regime against Iran would unravel, the US would be isolated, and we would lose credibility as a reliable negotiating partner.  Yes, we would retain the ability to act unilaterally.  But unilateral sanctions have their limits, and our military commanders counsel us that even a robust military option would delay but not prevent Iran from obtaining a nuclear weapon. 
This agreement is not about becoming friends with Iran or turning a blind eye to its efforts to destabilize the Middle East.  We must redouble efforts to help our allies counter Iran's malign influence in the region.  In particular, our commitment to the defense of Israel remains unshakeable.  In addition, we must maintain vigorous sanctions against Iran for its support for terrorism and violations of human rights. 
While there are risks to whatever course we take vis-à-vis Iran, I believe the choice is clear: Either we recognize that this agreement is the best available option, or we chase a fantasy agreement on our own as international sanctions collapse, Iran's nuclear program continues unchecked, and our options for stopping it narrow. 
I am convinced that the agreement negotiated by the US and our allies is the least risky approach and most likely to succeed.  I will vote to support it. 
Thank you, I yield the floor.