Shaheen Visits Downtown Berlin Following Announcement of $19 Million RAISE Grant
**Earlier: Shaheen Visits Bethlehem Public Library, Hikes Franconia Ridge Trail**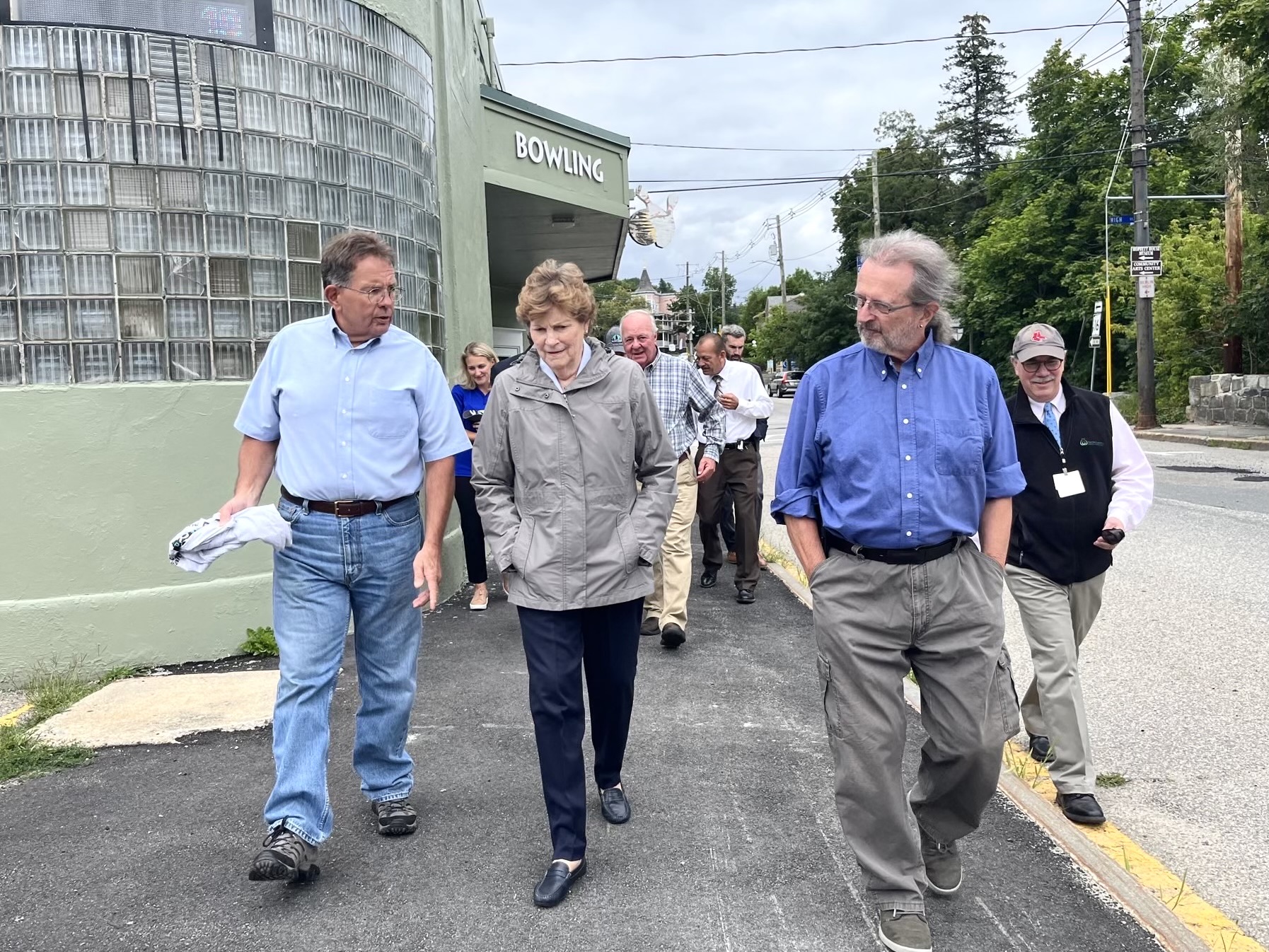 Shaheen in downtown Berlin
  Shaheen in Bethlehem Public Library
Shaheen on Franconia Ridge Loop trail
(Berlin, NH) – Today, U.S. Senator Jeanne Shaheen (D-NH) visited downtown Berlin following the announcement of $19 million in federal funding from the Rebuilding American Infrastructure with Sustainability and Equity (RAISE) grant program through the U.S. Department of Transportation. Shaheen walked through downtown with Berlin Mayor Paul Grenier and local leaders to discuss what this groundbreaking award means for Berlin.   
This federal funding will be used to install a snow-melting system using waste heat or steam from Burgess Biopower, which will revitalize downtown and encourage tourism year-round. As a senior member of the Senate Appropriations Committee, Senator Shaheen historically secures robust funding for the RAISE grant program, which is formerly known as the BUILD or TIGER grant programs.  
"I was thrilled to visit Berlin today to meet with Mayor Grenier, Burgess Biopower leaders and local officials to share excitement and hear about plans to utilize this groundbreaking $19 million award. I applaud the City for devising a creative project to install a snow melting system that will be powered through clean energy, improving public safety and helping draw tourists year-round. This award is at the heart of innovation, economic growth and energy efficiency – a triple win for Berlin," said Shaheen. "I've advocated for this project over the years, and I'm truly elated to see Berlin officials' diligent work to reinvent downtown pay off. I'll continue to advocate for funding that helps towns across the Granite State evolve and innovate."  
As a senior member of the Senate Appropriations Committee, Senator Shaheen historically secures robust funding for the RAISE grant program, which is formerly known as the BUILD or TIGER grant programs. This announcement comes on the heels of the Inflation Reduction Act clearing the Senate, which contains significant North Country benefits that Senator Shaheen fought to secure, specifically in support of New Hampshire's forest-based economy. In November, Shaheen lauded a similar RAISE grant that was awarded to the City of Manchester. Shaheen was a lead negotiator of the bipartisan infrastructure law, which provided $7.5 billion for the RAISE grant program. 
Earlier in the day, Shaheen stopped by Bethlehem to meet with members of the town's Energy Commission and Clean Energy NH staff to discuss their partnership to increase energy efficiency in Bethlehem's public buildings. Shaheen highlighted key clean energy provisions that she helped secure through the Inflation Reduction Act, which recently passed the Senate.  
"Clean energy projects reduce energy costs for towns, create jobs, prepare our businesses for the 21st century economy and protect our environment. It was great to stop by Bethlehem today to review the town's cutting-edge solar projects and arrays, as well as hear the latest in rural energy advocacy and education," said Shaheen. "I'm pleased today's visit comes as the Inflation Reduction Act soon passes Congress – legislation which marks the greatest action to combat the climate crisis in U.S. history. I'm excited to see this bill signed into law soon so communities like Bethlehem have additional resources to ramp up investments in clean energy projects of the future."   
Shaheen also visited Franconia to hike the Old Bridle Path-Falling Waters Trail at Franconia Ridge Loop following her successful push to secure a $1.125 million Congressionally Directed Spending (CDS) award to restore the Franconia Ridge Loop Trails. Restoration efforts will concentrate on installing structures to better define the trail to keep hikers from veering off the path and trampling fragile alpine vegetation, as well as installing rock steps and water bars to protect the trail from further erosion. 
"I enjoyed lacing up my sneakers and hiking on the beautiful Franconia Ridge Loop trail. While hiking, I met with local officials about upcoming restoration efforts that are needed due to the increased interest in outdoor recreation. We discussed how a $1.125 million award I secured will address crumbling structures and support fragile vegetation across the trail. This funding will make a real difference for hikers' safety and restoration of the trail," said Shaheen. "Our state's booming outdoor recreation economy is fueled by hikes like the Franconia Ridge Loop Trail, and I'll continue to advocate for resources to ensure these sites are preserved for generations of Granite Staters to enjoy." 
As a senior member of the Senate Appropriations Committee, Shaheen helped secure $69,047,000 for projects across New Hampshire through the CDS process in FY22 legislation that was signed into law. Shaheen recently announced more than $89 million in CDS awards that she secured in Senate Democrats' FY23 government funding proposal for 95 New Hampshire projects, including water infrastructure, health care facility investments, educational training, resources to combat homelessness and food insecurity, support for substance use disorder programs and much more.   
###