Shaheen Visits Valley Regional Hospital to Meet with Health Care Workers & Encourage Vaccinations amid COVID Surge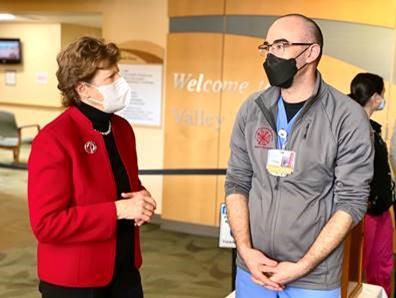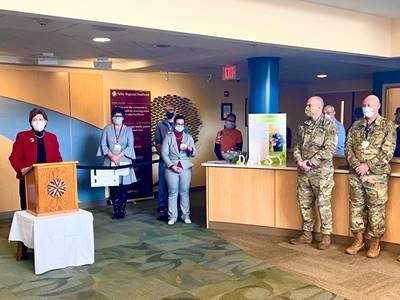 Later: Shaheen Visits Headrest in Lebanon to Discuss Substance Use Disorder Crisis in NH
(Claremont, NH) – U.S. Senator Jeanne Shaheen (D-NH) visited Valley Regional Hospital to thank the hospital's health care workers for their efforts fighting the pandemic and encourage Granite Staters to get vaccinated and boosted. The visit comes as New Hampshire experiences high rates of COVID-19 infections and hospitalizations, further straining health care workers and hospital resources. 
"Valley Regional Hospital is on the frontlines delivering life-saving care to COVID-19 patients amid the omicron surge. Today, I met with doctors and professionals at the hospital to discuss what resources they need to care for the influx of patients," said Shaheen. "Throughout the pandemic, I've led bipartisan efforts to secure funding for hospitals and health care providers to ensure they can recruit additional staff and keep their doors open. I was glad to announce earlier today that New Hampshire will receive additional resources from the Provider Relief Fund, and I'll continue meeting directly with our health care workers to deliver what they need to keep Granite Staters safe and healthy amid this public health crisis."
"Two years into this pandemic, health care workers continue to fight, day in and day out, for the health of the people of this nation and around the world. Every day they come to work fighting an invisible enemy," said Juliann Barrett, DO, President of the Medical Staff at Valley Regional Hospital. "But given the pressures of the pandemic, we are in danger of severe workforce shortages of our healthcare warriors. The system was already struggling, but COVID-19 has exacerbated the issue. The best solution is to get everyone vaccinated so we can reduce the spread of the virus, keep people out of hospitals and give our health care workers time to finally recharge."
Senator Shaheen has led efforts in Congress to secure critical funds to address the COVID crisis in New Hampshire, including joining a bipartisan push to fix discrepancies that caused small and rural states to receive significantly less funding for vaccines and testing than originally estimated. During negotiations surrounding the American Rescue Plan, Shaheen helped steer efforts to increase funding for the Provider Relief Fund (PRF) to ensure hospitals, nursing homes and other health care providers on the frontlines have the support they need to keep their doors open and continue to care for patients. In December, Shaheen welcomed more than $41 million through the PRF to support 262 health care providers who have experienced revenue losses and expenses related to the COVID-19 pandemic. Today, Shaheen also welcomed an additional $11 million to 25 New Hampshire providers through the PRF as part of a $2 billion distribution nationwide.
Later in the day, Shaheen visited Headrest, an organization in Lebanon that provides treatment to individuals with substance use disorders, to tour the facility and hear from staff about challenges they have faced throughout the COVID pandemic. New Hampshire continues to be on the frontlines of the substance use disorder crisis, which has been exacerbated by the pandemic.
"The pandemic created unprecedented pressures on families across the Granite State, from economic hardship to isolation and trauma – all of which increase the likelihood of substance misuse. During today's visit to Headrest, I listened to challenges their staff is facing amid heightened demand for their services, as well as how we can improve access to treatment and help communities heal moving forward," said Shaheen. "For years, New Hampshire has grappled with heartbreaking losses stemming from the substance use disorder crisis, which is why we need an all-hands-on-deck response as rates of misuse tick upwards. Connecting Granite Staters with treatment and support is a top priority for me in the Senate, and I'll continue working to secure federal resources for those on the frontlines of this crisis."
As a senior member of the Senate Appropriations Committee, Senator Shaheen has fought to deliver resources to combat the substance use disorder crisis in New Hampshire. For example, the FY 2021 funding legislation provided $1.5 billion in State Opioid Response (SOR) grant funding, as well as the continuation of a 15 percent set-aside that Shaheen fought to secure in 2018 for hard-hit states like New Hampshire. Shaheen also included a key provision from the 2019 version of her legislation - the Turn the Tide Act - to provide flexibility for treatment providers to use State Opioid Response (SOR) grant dollars to help patients suffering from meth and cocaine dependency, in addition to opioid use disorders. Shaheen wrote the provision in response to discussions with New Hampshire treatment providers. Over the past four years, New Hampshire has received approximately $92 million from these grants to combat the opioid epidemic in the state.
###