Shaheen Visits Wilcox Industries in Newington to Discuss Contributions to Defense Industry
December 02, 2022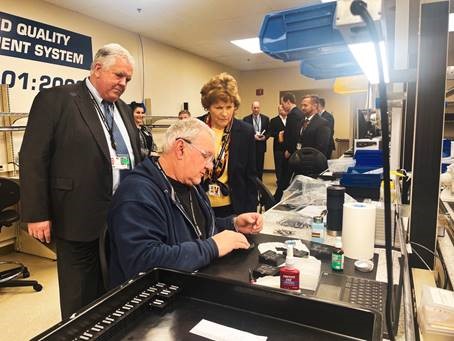 Shaheen stopped by Newington-based Wilcox Industries, a local defense company.
(Manchester, NH) — Today, U.S. Senator Jeanne Shaheen (D-NH), a senior member of the Senate Committee on Small Business and Entrepreneurship and the Senate Committee on Armed Services, toured Wilcox Industries in Newington. Shaheen was joined by New England Regional Administrator for the Small Business Administration (SBA), Mike Vlacich, where they met with employees to discuss Wilcox's operations and projects supporting the manufacturing of protective armor, life support and night vision tools for soldiers on the battlefield.

Wilcox Industries has previously accessed the State Trade Expansion Program (STEP) as part of the Office of International Commerce's (OIC) export training program. Shaheen helped create STEP as a pilot program in 2010 to assist small businesses enter new markets, access export financing and attend trade missions. The program was fully authorized by Senator Shaheen's small business trade amendment, which was signed into law in 2016.

"I appreciated the opportunity to tour Wilcox Industries today and speak with employees about the important work they do to support our country's defense industrial base," said Senator Shaheen. "New Hampshire businesses like Wilcox are instrumental in strengthening our state's economy while also providing important technological contributions to our national security. I'll keep advocating for increased funding for programs that bolster Granite State defense companies so that New Hampshire remains ahead of the curve on innovative advancements that support our national defense."

Senator Shaheen has long supported trade agreements and programs that increase opportunities and growth for New Hampshire businesses. Shaheen was the first New Hampshire Governor to lead trade missions outside of North America and has prioritized efforts in Congress to help small businesses boost their exports. In August, Shaheen joined United States Trade Representative Katherine Tai and the Granite State District Export Council for a roundtable discussion to hear from New Hampshire businesses engaged in the export market on how they use trade agreements and programs to help their businesses succeed.
###
---
---
Next Article
Previous Article