VIDEO RELEASE: Shaheen Calls on Senate to Move Swiftly on House-Passed COVID-19 Relief Legislation & Demands an End to Politicization of Census by Trump Administration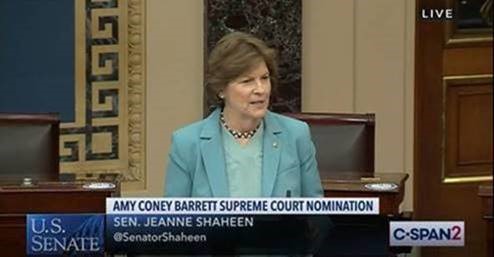 Shaheen highlights the urgent need to move swiftly on house-passed COVID-19 relief legislation
(Washington, DC) – Yesterday on the floor of the Senate, U.S. Senator Jeanne Shaheen (D-NH) called on Republican Majority Leader Mitch McConnell and Senate Republicans to prioritize COVID-19 relief legislation to help communities on the frontlines of the pandemic, over a rushed partisan Supreme Court nomination process. During her remarks, Senator Shaheen read excerpts of letters from local New Hampshire officials and nonprofits that raise the serious impact the pandemic is having and call for Congress to act on a relief bill.
Shaheen's remarks can be viewed here.
In her remarks, Shaheen underscored how industries and communities across the Granite State have been impacted by COVID-19 with the state experiencing a severe budget shortfall of nearly $540 million. In particular, she highlighted a letter she received from County Administrator for Cheshire County, Chris Coates. "Chris' letter describes the important role local governments are playing in mitigating the spread of COVID-19. He says, quote, we are providing essential support and guidance to small businesses, record numbers of unemployed individuals and those suffering from mental illness and substance use disorders."
Shaheen continued, "I also heard from the Seacoast Chamber Alliance, which represents the Chambers of Commerce in the communities of Hampton, Exeter, Portsmouth, Dover, Somersworth, and Rochester. The Chamber Alliance says they respectfully request you and your colleagues in the senate work together in a bipartisan effort to approve a comprehensive funding relief package to support our businesses… Although we and our members are grateful for the support already allocated through previous CARES ACT funding relief packages, we know this economic crisis caused by COVID-19 is far from over and for many the worst is yet to come… It is clear that without another round of assistance, many businesses will not survive into 2021."
Later in the afternoon, Shaheen demanded that the Trump administration end the politicization of the Census count that's underway and adhere to an agreed upon extension that allows for additional time to gather responses from the public and has been affirmed by a recent court decision. The census is a constitutional duty and determines whether states receive appropriate funding and representation, so its completeness and accuracy is essential to communities across New Hampshire and America. The remarks come on the heels of Commerce Secretary Wilbur Ross' announcement that he intends to end the 2020 census on October 5th, defying a federal court order and risking a drastic undercount of hard-to-count populations, including those in rural areas, immigrants and people of color. 
Shaheen concluded, "There is bipartisan support for this extension with a bipartisan bill filed... We should also ensure that the data collection operations, including nonresponse and self-response continue through October 31. It is imperative for the census to count every person in the United States where they live, and this includes communities that have historically low participation in decennial census. The census is too important to allow meddling for political gain. We must take action immediately to ensure that the census bureau takes the time to get it right."
These remarks can be viewed here.