VIDEO RELEASE: Shaheen Highlights Commissioning of USS Manchester on May 26 in Portsmouth
**As the official sponsor of the Littoral Combat Ship, Shaheen is considered a permanent member of the ship's crew and her initials are welded into a part of the ship's hull.**
**You can watch the video here**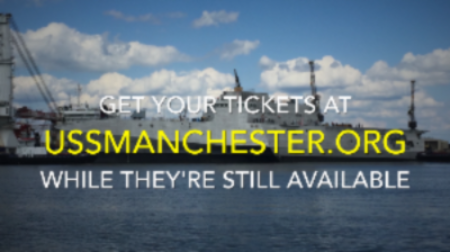 (Washington, DC) – Today, U.S. Senator Jeanne Shaheen (D-NH), the official sponsor of the future USS Manchester and a member of the Senate Armed Services Committee, released a video highlighting the commissioning of the future USS Manchester (LCS 14) on May 26, 2018, in Portsmouth, New Hampshire. Shaheen directs members of the public interested in attending the commissioning ceremony to sign up for tickets at www.ussmanchester.org.
"Since 2011, I have worked closely with the crew of the future USS Manchester, and I am thrilled to participate in the official commissioning on May 26," said Shaheen. "What an honor it has been to serve as the official sponsor and as a permanent member of the crew. It is so exciting to see the final celebration draw close after so many years of working with this remarkable group of service members. The future USS Manchester honors the city of Manchester and New Hampshire's legacy supporting our national defense, and I encourage all who are interested in attending this historic event to reserve tickets while they are available."
The commissioning ceremony marks the acceptance of a ship as a unit of the operating forces of the United States Navy. At the moment of breaking the commissioning pennant, the ship will "come to life" and the crew will ceremonially run aboard ship. At the moment when the commissioning pennant is broken at the masthead, a ship becomes a Navy command in her own right, and takes her place alongside the other active ships of the Fleet. Thereafter the ship is officially referred to as a United States Ship (USS).
Littoral Combat Ships are designed to face asymmetric threats in shallow areas off coastlines and primarily perform: surface warfare, antisubmarine warfare and mine countermeasures. The USS Manchester is part of the Independence class of Littoral Combat Ships. 
The future USS Manchester (LCS-14) is the US Navy's newest ship of this type. The traditional keel-laying ceremony for the ship took place at Austal shipyard in Mobile, AL on June 29, 2015, when the initials of Senator Jeanne Shaheen were welded into the hull of Manchester. Manchester was christened on May 7, 2016 and launched on May 12, 2016. She will be commissioned into active duty in the fleet at the Port of New Hampshire in Portsmouth.
This is the second ship in the US Navy to be named after Manchester, New Hampshire. The first USS Manchester, a light cruiser that saw action during the Korean War, was commissioned in 1946 and primarily operated in the Pacific. It served three combat tours and earned nine battle stars before it was decommissioned in 1956.