VIDEO RELEASE: Shaheen Questions Treasury Secretary Mnuchin & SBA Administrator Carranza on Implementation of CARES Act Small Business Relief Programs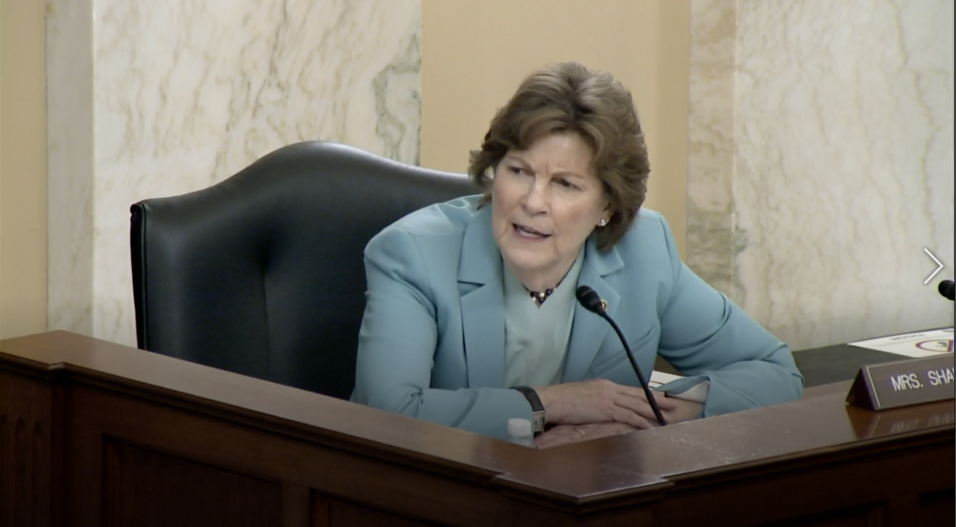 Senator Shaheen questioning Treasury Secretary Mnuchin & Administrator Carranza during the SBC hearing
(Washington, DC) – Today, U.S. Senator Jeanne Shaheen (D-NH), a senior member of the Senate Small Business and Entrepreneurship Committee (SBC), questioned U.S. Treasury Department Secretary Steven Mnuchin and Small Business Administration (SBA) Administrator Jovita Carranza during an SBC hearing on the Trump administration's implementation of small business relief programs that were established in the Coronavirus Aid, Relief, and Economic Security (CARES) Act, which Shaheen helped negotiate with Senators Rubio (R-FL), Cardin (D-MD) and Collins (R-ME). Mnuchin and Carranza's testimonies came in response to repeated calls from Shaheen for Trump administration officials to testify before Congress and the American people to ensure full transparency and accountability, and followed reports showing the administration did not strictly adhere to the guidance in the CARES Act when implementing small business relief programs. During the hearing, Shaheen questioned Secretary Mnuchin on the need to secure further financial relief for small businesses in New Hampshire and across the nation through the Paycheck Protection Program (PPP). Shaheen also pressed Administrator Carranza on actions the SBA is taking to alleviate issues accessing relief through the Economic Injury Disaster Loan (EIDL) program that many small businesses have experienced.
Watch the Senator's questioning in full here.
Senator Shaheen has worked tirelessly to address the administration's flawed implementation of the Paycheck Protection Program (PPP) and small business assistance programs to ensure help reaches those who need it most. Today, she announced her intention to introduce the Prioritized Paycheck Protection Program (P4) Act, which would authorize new lending under the PPP to small businesses with 100 employees or less, including sole proprietorships and self-employed individuals. Shaheen pushed for the passage and signing into law of the Paycheck Protection Program Flexibility Act, which provides necessary reforms to the PPP  to ensure funding assistance reaches small businesses that need it most. She has hosted calls with small businesses and non-profits that have successfully accessed these programs and those that have been unable to access them. She also called on the Trump administration to provide late guidance to small businesses, that's mandated by law, regarding PPP loan forgiveness. She joined with Senators Chuck Schumer (D-NY) and Ben Cardin (D-MD) in calling on the administration to reverse its policy of limiting Economic Disaster Loan Program relief to $150,000 and to reopen the program to non-farm applicants. In May, Shaheen unveiled the Transparency and Oversight of COVID-19 Small Business Recover Assistance Act to ensure accountability for the Trump administration's implementation of the PPP and EIDL grant programs. The Senators sought to pass this legislation through the Senate through unanimous consent, but were blocked by Senate Republicans. Last month, Shaheen and the congressional delegation called on the U.S. Department of Treasury to make adjustments to the PPP so that it can more effectively serve the needs of Granite State small businesses.