VIDEO RELEASE: Shaheen Questions Trump Nominee on the Dangers of Deporting Christian Indonesians to a Country With Religious Persecution
**You can watch the video here**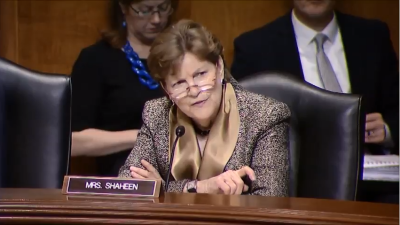 (Washington, DC) – Yesterday, U.S. Senator Jeanne Shaheen (D-NH), questioned Trump administration nominee Ambassador Jackie Walcott on the religious persecution that Indonesian Christians are facing during a Senate Foreign Relations Committee hearing. Shaheen highlighted the Indonesian families in New Hampshire who came to the United States fleeing religious persecution and are now threatened with deportation back to Indonesia by the Trump administration. Shaheen questioned Ambassador Walcott, a member of the U.S. Commission on International Religious Freedom, regarding the Commission's reporting on extreme religious persecution in Indonesia. Ambassador Walcott noted the potentially harsh consequences for anyone in Indonesia accused of blaspheming and said she would have sympathy for any Christian forced to return there.
The video is available here.
Earlier this week, Senator Shaheen questioned Homeland Security Secretary Kirstjen Nielsen on the Trump administration's targeting of members of New Hampshire's Indonesian community for deportation, despite the serious threat of religious persecution in Indonesia. Secretary Nielsen pledged to look into the situation in New Hampshire.
Shaheen has led efforts in Congress on behalf of New Hampshire's Indonesian community. In 2012, Shaheen helped negotiate an agreement with Immigration and Customs Enforcement (ICE) to allow Indonesian immigrants to remain in New Hampshire and obtain work permits in exchange for a commitment to regularly check-in with ICE. This agreement was reversed by ICE under the Trump administration, and these individuals were ordered to begin making preparations for deportation. Senator Shaheen called senior officials in the Trump administration on behalf of the Indonesian community, including then-Acting Homeland Security Secretary Elaine Duke, Acting Immigration and Customs Enforcement Director Tom Homan and Deputy National Security Advisor Dina Powell.
The 2017 International Religious Freedom Report details continued violations of freedom of religion or belief throughout Indonesia and lists the country as Tier 2 in its designations.