Energy & Environment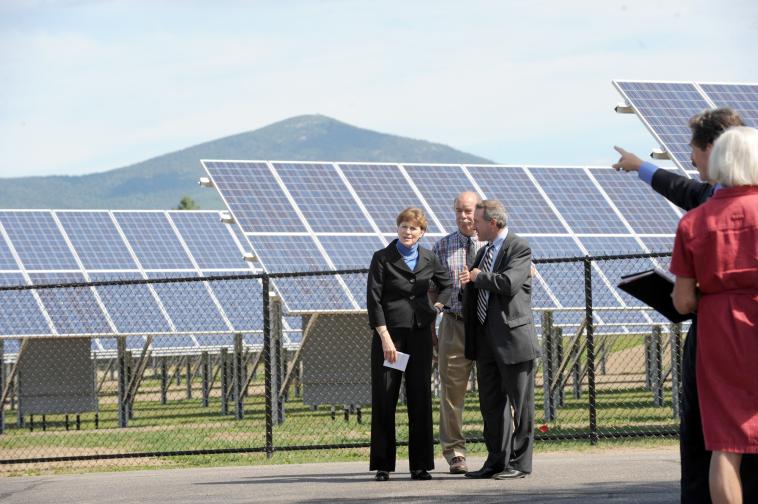 Transitioning to clean, alternative energy is critical to both our national security and our economy.
Senator Shaheen knows we face unprecedented energy and environmental challenges. We cannot continue to export dollars for imported oil from hostile regions of the world. Instead, we must confront the global threat of climate change, and at the same time we must meet our rapidly growing energy needs.
Shaheen has been a leader on energy efficiency policy throughout her career and is the co-author of bipartisan energy efficiency legislation.
In the Senate, Shaheen is a leading voice for comprehensive energy legislation that provides the incentives and certainty businesses are looking for to invest in clean energy.
Energy Efficiency
Energy efficiency is a fast and economical way to deal with our nation's energy needs and should be our "first fuel" in transitioning to clean energy.
By some estimates, our nation's electricity consumption is expected to increase by at least 40 percent by 2030. Innovation and investment in alternative energy will play a key role in addressing this challenge over the long term, but we can take an enormous and immediate step toward addressing our growing energy needs in a climate-friendly manner by enacting policies that encourage energy efficiency and foster greater conservation.
In New Hampshire, we've been investing in energy efficiency for quite some time. Our total energy consumption and per capita energy consumption are among the lowest in the nation. Now, Shaheen is helping to take New Hampshire's success national by leading the charge on national energy efficiency policy.
Senator Shaheen teamed up with Sen. Rob Portman (R-OH) to introduce bipartisan legislation in that would enact a national energy efficiency strategy. The Energy Savings and Industrial Competitiveness Act of 2013 (S. 761) contains a broad package of low-cost tools that would reduce barriers for businesses, homeowners, and consumers looking to adopt off-the-shelf energy efficiency technologies that will save them money. With a host of mature technologies already in widespread use — such as better insulation, computer-controlled thermostats, and more efficient electric motors — energy efficiency is the cheapest and fastest approach available to improving our nation's energy infrastructure and our economy's energy independence.
To read the press release on the Shaheen-Portman energy efficiency bill's reintroduction click here
To watch the press conference on the bill's reintroduction click here
To see the full text of the bill click here
To read a one-pager on the bill click here
To read a comprehensive summary of the bill click here
To see a letter of support for the bill from a coalition of more than 100 businesses, trade associations, and advocacy groups click here
To see a letter of support for the bill from a coalition of more than 30 New Hampshire businesses, trade associations, and advocacy groups click here
Alternative Energy
Shaheen has advocated for national energy policies that place a greater emphasis on clean, alternative energy technologies. Clean energy technologies—such as wind, solar, and biomass—have enormous potential benefits for New Hampshire's economy, and can help us break our addiction to fossil fuels and put us on a path towards a clean, sustainable energy future.
Biomass, hydro, and wind resources are already helping New Hampshire meet its strong renewable energy requirements and the opportunity to expand these efforts is promising. New Hampshire's North Country has vast and underutilized renewable timber resources ripe for investment in biomass energy. The New England Governors Renewable Energy Blueprint identified more than 10,000 megawatts of untapped onshore and offshore wind potential – enough to heat, cool, and light five million homes.
Shaheen believes that we need to support the development of alternative energy. She co-sponsored and voted for a Renewable Electricity Standard during the 111th Congress that would require all utilities to obtain 25 percent of their electricity from renewable energy sources by 2025. She also supported the Recovery Act, which made one of the largest investments in alternative energy in our country's history. In order to support the development of alternative energy, she will fight for strong incentives for alternative energy—such as wind, solar and biomass. She has also pushed for the extension of tax credits for renewable energy, investments in renewable energy technology research and development, and putting a price on greenhouse gases through a national climate program.
Reducing Our Reliance on Foreign Oil
Our reliance on foreign sources of energy is unsustainable and severely compromises our national security interests. We import 60 percent of the petroleum that we consume, and many of the countries we import from are at odds with our own national security interests.
In the Northeast, we are particularly reliant on imported oil to heat our homes. According to the Department of Energy, New Hampshire is one of the most petroleum-dependent states in the country because of our reliance on imported oil to heat our homes; more than 50 percent of New Hampshire homes rely on heating oil during the winter. A study by the New Hampshire Office of Energy Policy said that 84 cents of every dollar spent on diesel fuel and home heating oil leaves the state. This is money we need to keep in New Hampshire, to power our state's economy and create jobs in our local communities.
Senator Shaheen believes we can transform our economy and make our nation more secure by switching our heating systems from imported fossil fuels to locally produced, sustainable forms of energy, such as biomass. Communities, businesses, and homeowners across our state are already making this switch and with the right federal policies in place, Shaheen believes we can go even further.
Almost 30 percent of the energy we consume in the United States goes to powering our transportation sector, and improvements here are necessary to reduce our reliance on foreign oil. Electric vehicles, hybrids, and improved vehicle efficiency standards can greatly reduce this reliance and help make our country more secure. Shaheen also supports the development of advanced cellulosic biofuels, investment in mass transit, freight and passenger rail, and incentives for smart growth policies for states and local governments that will reduce heavy transportation use.
Carbon Pollution
The verdict on climate change is in. According to the UN Intergovernmental Panel on Climate Change (IPCC), a group of 3,000 scientists from over 130 countries who have studied climate change for over twenty years, global emissions must be stabilized by midcentury in order to avoid the most catastrophic and irreversible consequences of climate change. Senator Shaheen is committed to enacting policies that will reduce carbon pollution by 80 percent by 2050.
We know that carbon pollution is also a serious threat to public health. The American Lung Association, the American Public Health Association, the Trust for America's Health and the American Thoracic Society—some of our Nation's leading public health experts—all believe it is imperative to address carbon pollution to protect public health.
New Hampshire is already a leader in confronting climate change. Along with 10 other Northeast and Mid-Atlantic states, New Hampshire helped to form the Regional Greenhouse Gas Initiative (RGGI), the first mandatory, market-based effort in the United States to reduce carbon pollution. It is now time for Congress and the President to follow New Hampshire's lead and come together and enact a federal, mandatory greenhouse gas program to cut carbon pollution by 80 percent by 2050.