Senator Shaheen Presents Military Medals to Vietnam War Veteran George Andosca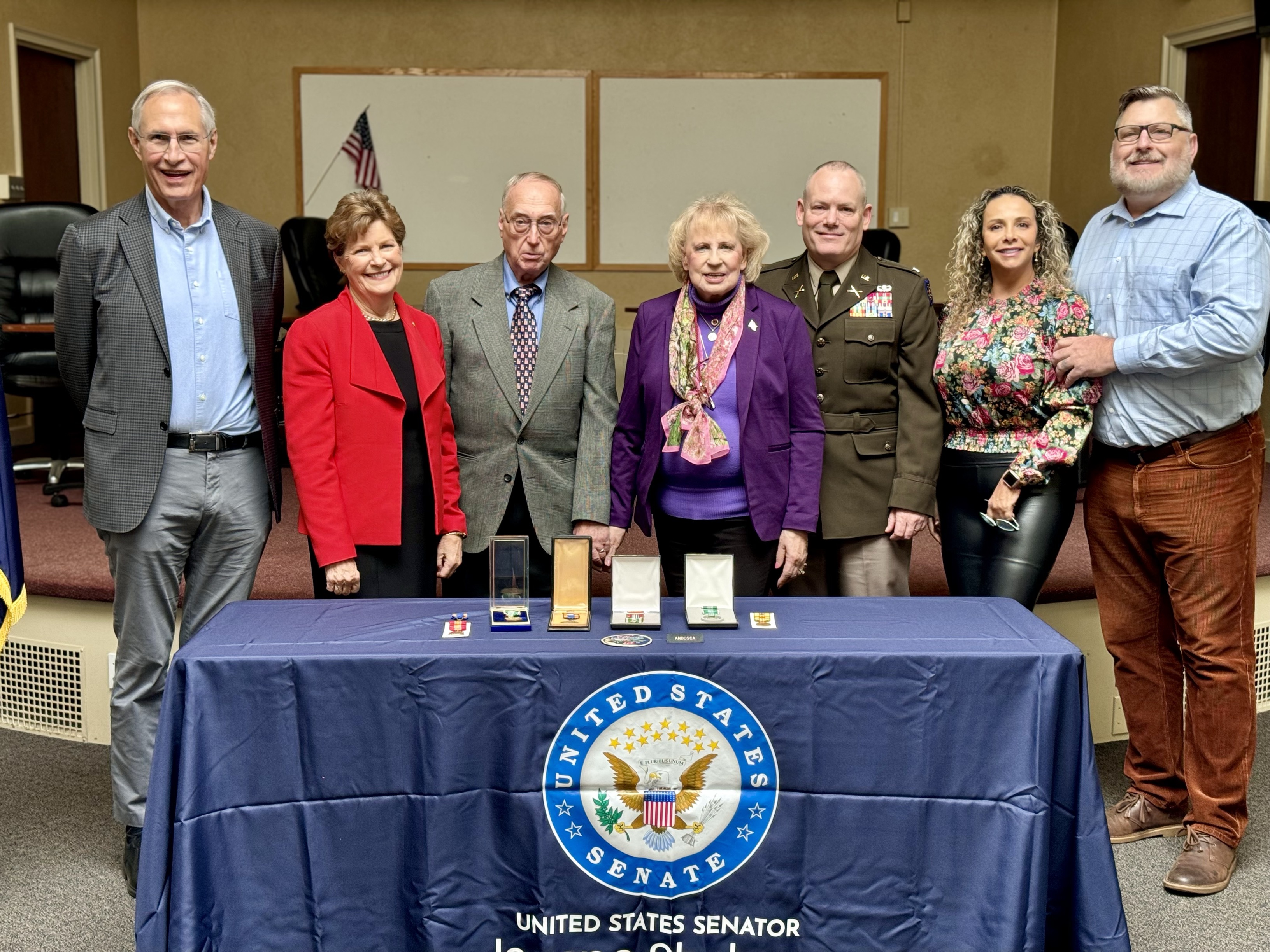 Shaheen with the Andosca family at the military medal presentation ceremony.
(Nashua, NH) – Today, U.S. Senator Jeanne Shaheen (D-NH), a senior member of the U.S. Senate Armed Services Committee, presented military medals to Vietnam War veteran Specialist 5 (SP5) George Andosca. Through his dedicated service, SP5 Andosca earned the Air Medal, Army Commendation Medal, National Defense Service Medal, Vietnam Service Medal with two Bronze Service Stars, Valorous Unit Award, Meritorious Unit Commendation, Republic of Vietnam Campaign Medal with "60" Device and Republic of Vietnam Gallantry Cross Unit Citation with Palm Device. Shaheen and her staff worked closely with the Andosca family to ensure he received the recognition he deserves.

"I was honored to take part in today's ceremony recognizing the service of Specialist 5 (SP5) George Andosca, who served in the Vietnam War as an aviation mechanic in the 219th Aviation Company," said Senator Shaheen. "It's a privilege for me to play a role in securing this much-deserved and long-overdue recognition of Mr. Andosca's service in Vietnam. Thank you to George, Mary-Louise, the entire Andosca family and everyone else involved in this effort."

Shaheen and the Andosca family were joined at the ceremony by Jim Donchess, Mayor of Nashua, and Colonel Erik Fessenden, Director of Joint Staff for the New Hampshire National Guard.

George Andosca was born in Winthrop, MA. George attended East Coast Aero Tech in Bedford, MA, and received a certificate in aircraft maintenance. In 1963, George joined the U.S. Army. He attended aircraft maintenance school at Fort Rucker in Alabama and air traffic controller (ATC) school at Keesler Air Force Base in Biloxi, Mississippi. He subsequently received orders to go to Pleiku Air Base in Vietnam. There, George worked as an aircraft mechanic, maintaining two aircrafts and flew on 25 missions as an observer. For that, he received the U.S. Army Air Medal. He was discharged from the Army as a Specialist 5. SP5 Andosca then married Mary-Louise Brennan, and together they raised two children. He was hired by the FAA as an ATC and worked at the Boston Center in Nashua, NH for 30 years until his retirement.

Senator Shaheen has worked across the aisle to honor and pay tribute to fallen American heroes and veterans. Senator Shaheen worked with a bipartisan group of Senators to introduce the Access for Veterans to Records Act to help more veterans access their service records. In addition, Shaheen has spearheaded efforts in the Senate in support of veterans' and military families' health. Shaheen worked to include provisions and helped pass the historic PACT Act, which expands health care services for post-9/11 combat veterans.
###