As 99% of Applicants Continue to Be Rejected From Student Loan Forgiveness Program, Shaheen Confronts Secretary DeVos With Correspondence From Claremont Social Worker
**As many as 99 Percent of Borrowers Have Had Promised Debt Relief Denied by the Trump Administration**
SHAHEEN TO DEVOS: "In rural New Hampshire, we can't get social workers. We can't get health care workers. We can't get so many of the people that we need in order to maintain our communities and keep people there and keep them healthy and having opportunities. So having incentives to attract them is something that's really important..."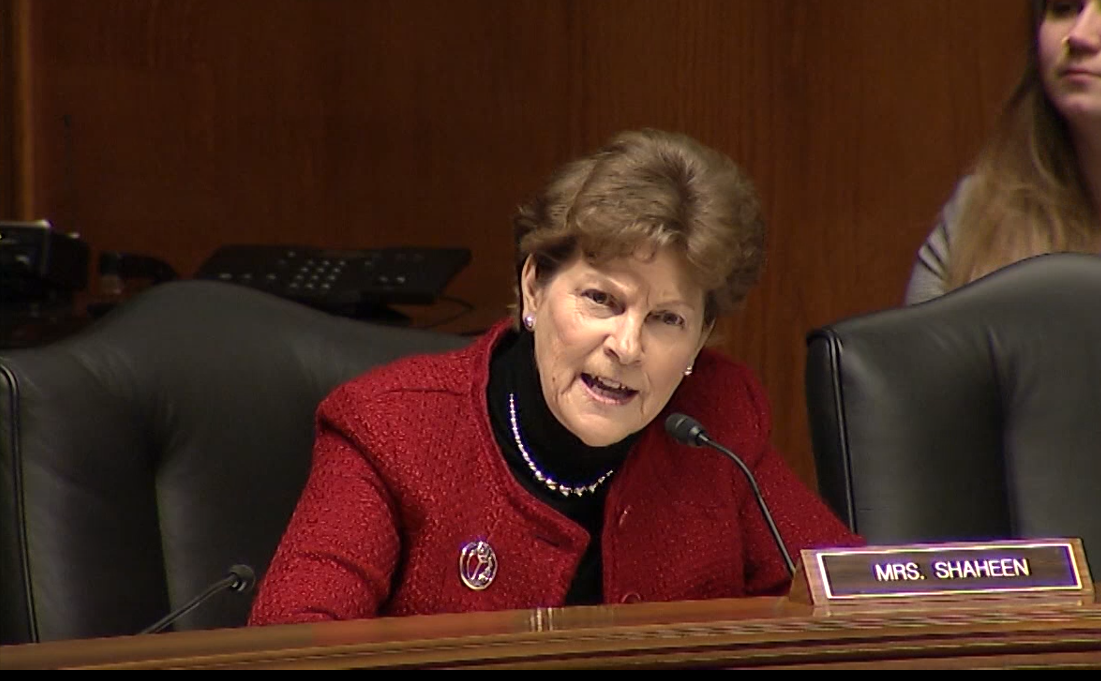 Senator Shaheen questions Education Secretary Betsy DeVos during a Senate Appropriations Subcommittee hearing on the importance of the Public Service Loan Forgiveness program in New Hampshire.
(Washington, DC)— Today, U.S. Senator Jeanne Shaheen (D-NH) questioned Department of Education Secretary Betsy DeVos during a Labor, Health and Human Services, Education and Related Agencies Appropriations Subcommittee where she underscored the importance of the Public Service Loan Forgiveness (PSLF) program for Granite Staters. The PSLF program helps those who commit their careers to public service by promising to forgive their federal student loans after ten years. President Trump's budget proposal for FY2021 would eliminate the program, and the administration has denied as many as 99 percent of borrowers' claims for debt relief.
The PSFL program was created in 2008 and commits to participants that if they work for ten years in public service and stay current on their student loan payments, the remainder of their debt will be forgiven. Shaheen highlighted how important this program is to New Hampshire residents and shared a story from Claremont, New Hampshire:
Several years ago I went to school to get my masters in social work in an effort to do more for my community.…I graduated with a Masters in Social Work in 2008 and have been paying ever since. ... I eventually entered the loan forgiveness program and as of right now I believe I have 5 years left as long as I continue to meet requirements…In 2015 I was diagnosed with MS [Multiple Sclerosis]. … I thought I was seeing a light at the end of the tunnel. That perhaps in five years my loan would be forgiven... Without the loan forgiveness program I will surely be working to pay this loan off until I am dead. 
Shaheen argued how critical this program is for New Hampshire to attract and retain workers in rural parts of the state, explaining, "In rural New Hampshire, we can't get social workers. We can't get health care workers. We can't get so many of the people that we need in order to maintain our communities and keep people there and keep them healthy and having opportunities. So having incentives to attract them is something that's really important..."
She rebuked DeVos' defense for eliminating the program, stating, "I want people to get the best jobs that they can, paying the most that they can. But if they want a job that is going to help a community, that's going to help the state of New Hampshire, that's going to help the country—and we can incentivize them to do that—then I think that's in the public interest."
Senator Shaheen's questioning can be viewed in full here.
Senator Shaheen has led efforts in Congress to help students manage their debt and to make college more affordable, championing legislation to increase access to higher education for Granite Staters. Shaheen has specifically advocated on behalf of the PSLF program, cosponsoring legislation in 2017 and again in 2019 that would expand and improve the program. She previously called on DeVos to streamline the application process for the program and make it more transparent to reduce confusion and inconsistency with borrowers after it was announced by the administration in 2017 that borrowers may not be able to rely on notices they had previously received about their eligibility for the PSLF program. And in 2018, Shaheen raised her serious concerns with DeVos regarding the alarming number of borrowers being denied loan forgiveness.
In addition to supporting the PSLF program, Shaheen has spearheaded numerous other efforts to make higher education more affordable. In January, Shaheen introduced legislation that would develop a central online portal to allow students to review all their public and private loans as well as repayment options in one place to help them better manage, understand and repay their debt. Shaheen introduced the bipartisan Student Protection and Success Act, legislation to curb skyrocketing student debt by increasing higher education institutions' accountability for their students' ability to repay their loans. Last year, Shaheen worked with a group of lawmakers to introduce the Bank on Students Emergency Loan Refinancing Act, which would allow undergraduate borrowers repaying public or private loans to refinance those loans at lower interest rates, reducing monthly payments and helping borrowers repay loans sooner. Shaheen also introduced bipartisan legislation with Senators Baldwin (D-WI), Braun (R-IN) and Fischer (R-NE) to combat student debt relief scams. Shaheen worked with Senators Michael Bennet (D-CO) and former Senator Johnny Isakson (R-GA) to reintroduce legislation that would provide tax relief for AmeriCorps members who earn federal Segal Education Awards. And in May, Shaheen joined a group of lawmakers to introduce bicameral legislation that would give hard-working Granite Staters and Americans overwhelmed by debt the option of obtaining meaningful bankruptcy relief that includes student loan debt.