On the Senate Floor: Shaheen Slams Rushed Partisan Supreme Court Nomination Process & Underscores Commitment to Upholding the ACA, Protecting Women's Reproductive Health and Safeguarding LGBTQ Civil Rights in Opposition to Barrett Confirmation
SHAHEEN: "…Leader McConnell's only priority has been to push through a nominee who will fundamentally alter the balance of the court and affect the lives of generations of Americans, all just days before ballots will be counted to decide the next President of the United States and the makeup of this body."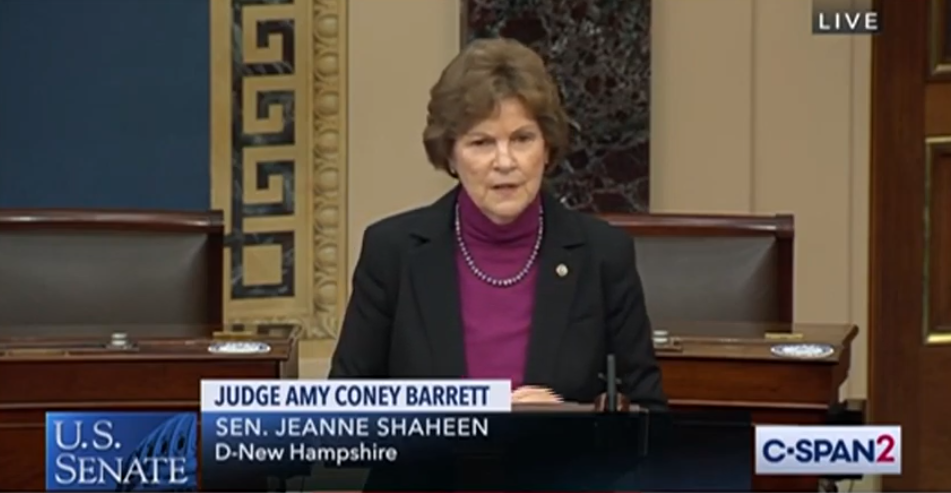 Shaheen speaks on the Senate floor against this rushed partisan Supreme Court nomination process.
(Washington, DC) – Today on the Senate floor, U.S. Senator Jeanne Shaheen (D-NH) rebuked Republican Majority Leader Mitch McConnell and Senate Republicans for shelving urgently needed COVID-19 relief legislation to instead prioritize a rushed partisan Supreme Court nomination process. Senator Shaheen argued that just eight days away from election day and in the midst of historic early voter turnout that has yielded tens of millions of ballots already cast, it is egregious for Senate Republicans to move forward with a needlessly rushed process and that the candidate chosen by the American people on November 3rd  should fill the Court vacancy. Shaheen also underscored the impact of Judge Amy Coney Barrett's confirmation to serve on the Supreme Court, which would affect generations of Americans with regard to health care, women's reproductive health, LGBTQ civil rights, voting rights and much more.
Shaheen slammed the partisan process that's put politics over the well-being of the American people, stating, "Leader McConnell's only priority has been to push through a nominee who will fundamentally alter the balance of the court and affect the lives of generations of Americans, all just days before ballots will be counted to decide the next President of the United States and the makeup of this body."
Shaheen highlighted what is at stake for the health care of Granite Staters and Americans if Judge Amy Coney Barrett is confirmed to serve on the Supreme Court. Shaheen said, "Judge Barrett has made her feelings clear about the ACA – she disagreed with decisions to uphold the ACA the last two times it came before the Supreme Court, and wouldn't answer questions about the health care law during her confirmation hearing. Striking down the ACA would deal a crushing blow to our most vulnerable populations during this pandemic. If the Court strikes down the ACA in its entirety, Granite Staters and Americans across the country will lose access to Medicaid expansion… If we lose Medicaid expansion, we will also lose our most important tool in combatting the opioid epidemic."
The ACA has been critical for New Hampshire families, from expanding access to substance use disorder for more than 11,00 Granite Staters to safeguarding accessible coverage for those living with pre-existing conditions. Hundreds of thousands of Granite Staters with pre-existing conditions are protected by the ACA from being discriminated against or denied coverage by health insurance companies. If the ACA is repealed by the Supreme Court, this key protection will be wiped out. This is particularly alarming as health experts warn that, without the ACA, health insurers could classify COVID-19 as a pre-existing condition and deny COVID-19 survivors health insurance – adding millions more people to the previously existing 133 million Americans with pre-existing conditions.
Senator Shaheen also underscored other areas of American life that this Supreme Court confirmation would affect. Shaheen continued, "Unfortunately, the Affordable Care Act and women's reproductive rights are just two of the many areas of American life that a partisan Supreme Court could dramatically alter. Equality for LGBTQ Americans is another major concern… When asked in her confirmation hearing about the precedent of the Supreme Court decision to legalize same-sex marriage, Judge Barrett was evasive. So you can understand the anxiety and fear that same-sex families are experiencing as they watch the Republican-led Senate rush this nomination. The stakes are incredibly high for voting rights, for worker protections, for common-sense gun control, for so many other issues that are in jeopardy with the appointment of Judge Barrett. Now, I know the dye has been cast… but I believe this effort to politicize the Supreme Court is a decision that those who care about our democratic institutions will come to regret for many decades to come… We should not be doing this today. We should be focusing on what the American public is most concerned about, help with the coronavirus."
Shaheen's remarks can be viewed in full here.