SHAHEEN CELEBRATES CONSTRUCTION OF FUTURE USS MANCHESTER AT KEEL LAYING CEREMONY
June 29, 2015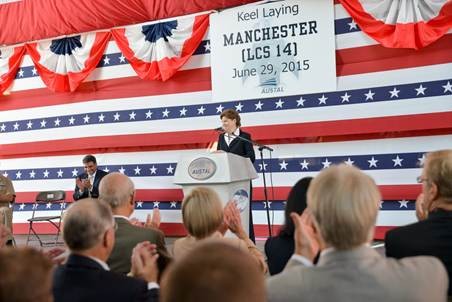 (June 29, 2015 – Mobile, AL – U.S. Senator Jeanne Shaheen addresses attendees at the keel laying of the USS Manchester)
(June 29, 2015 – Mobile, AL –Senator Shaheen displays welded initials on section of future USS Manchester hull. From left to right: Mr. Tim McCue, Vice President, LCS Program, Austal USA; Mr. Erwin Miranda, welder, Austal USA; U.S. Senator Jeanne Shaheen (D-NH); Mr. Craig Perciavalle, President, Austal USA; and CAPT Joe Tuite, USN, Supervisor of Shipbuilding Gulf Coast.)
(Mobile, AL) – U.S. Senator Jeanne Shaheen (D-NH), a member of the Senate Armed Services Committee, today participated in the keel laying ceremony of the future USS Manchester, which is currently under construction at the Austal USA shipyard in Mobile, Alabama. Shaheen is the official sponsor of the future Littoral Combat Ship USS Manchester and served as the "keel authenticator" at today's ceremony. As the ship's sponsor, Shaheen is considered a permanent member of the ship's crew, and as is tradition, welded her initials into a part of the ship's hull.
"It has been said that building a high-tech Littoral Combat Ship is more akin to making a spacecraft than a traditional warship," Shaheen said. "These ships and their technology are impressive. But what is always most impressive to me is the professionalism and excellence of the officers and sailors who serve on these vessels. We are grateful to the engineers, the welders, the machinists, the metalworkers and electricians – all the men and women who are working as a team to build the USS Manchester. I am honored and humbled to be her official ship sponsor."
Littoral Combat Ships are designed to face asymmetric threats in shallow areas off coastlines and primarily perform: surface warfare, antisubmarine warfare and mine countermeasures. The future USS Manchester will be part of the Independence class of Littoral Combat Ships. Only one other U.S. Navy ship has been named after Manchester, New Hampshire: the light cruiser USS Manchester (CL-83), which was commissioned in 1946 and primarily operated in the Pacific.
---
---
Next Article
Previous Article