Shaheen, EPA Administrator Cash Discuss Federal Action Underway to Designate PFAS Contamination Hazardous, Ramp up Mitigation Efforts
During the event, Shaheen and Cash announced $72 million in grants awarded to NH to upgrade water infrastructure and address PFAS contamination in the first allocation of five-years of funding through the Bipartisan Infrastructure Law, which Shaheen negotiated.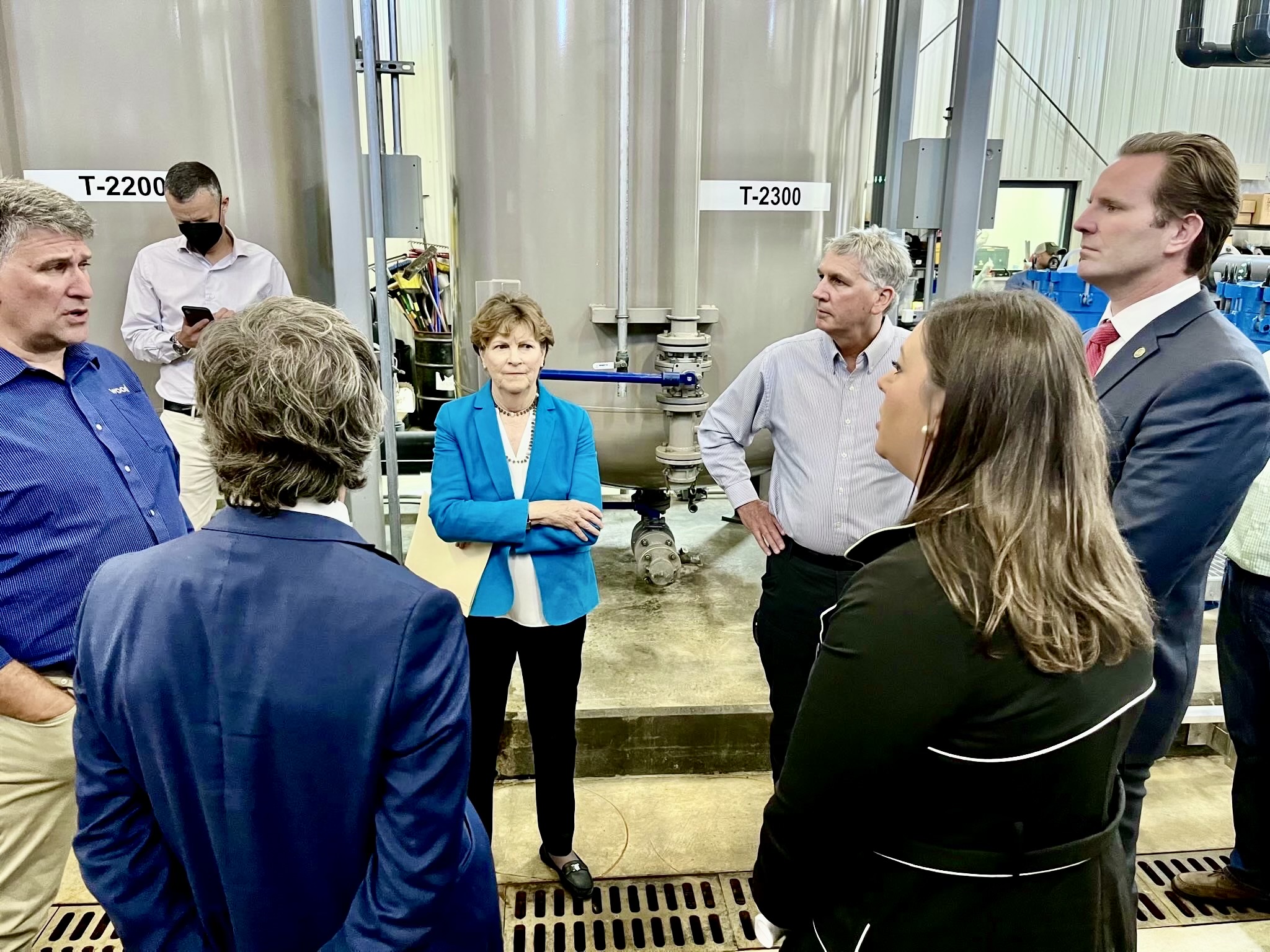 Shaheen and EPA Administrator for Region 1 Dr. David Cash at the Airfield Interim Mitigation System at Pease earlier today. 
(Portsmouth, NH) – U.S. Senator Jeanne Shaheen (D-NH) and Environmental Protection Agency (EPA) Administrator for Region 1, Dr. David Cash, visited a water treatment facility at Pease International Tradeport this afternoon to discuss the EPA's proposal to designate two of the most prevalent per- and polyfluoroalkyl substances (PFAS) – PFOS and PFOA – as hazardous substances under the Comprehensive Environmental Response, Compensation, and Liability Act (CERCLA). PFAS chemicals have been linked to adverse health effects and were found at elevated levels in drinking water sources at the former Air Force Base. The EPA's new proposal would trigger increased reporting and remediation efforts to protect public health and encourage better waste management.
During their visit, Shaheen and Cash visited the Airfield Interim Mitigation System (AIMS) at Pease, where they received a tour of the pump and treatment system that is installed around Haven Well to remove water from the aquifer, treat it and reinject it into the aquifer. Shaheen and Cash were joined by local officials and advocates, including Portsmouth Mayor Deaglan McEachern, Portsmouth City Manager Karen Conard, Testing for Pease co-founder Andrea Amico and other local stakeholders. 
"I'm glad Administrator Cash is in Portsmouth to not only see the mitigation efforts to cleanup these dangerous chemicals, but to also speak with our local officials and advocates who've worked hard for many years to make this a priority in our communities. Too many parents have had sleepless nights wondering about the adverse health effects on their kids from drinking water out of the tap, and have fought tooth and nail to get some accountability, transparency and most importantly – action to address PFAS. I'm glad the Biden administration is making this a real priority, and especially heartened by their proposal to designate PFOA and PFOS as hazardous substances under the law, which would trigger meaningful action to get these substances out of our communities," said Shaheen. "I look forward to working with Administrator Cash and the Biden administration to advance efforts to that end." 
"Under President Biden, EPA has been making good on our commitment to focus on PFAS chemicals and take meaningful action to protect public health and our shared environment from 'forever' chemicals. Just last week, EPA proposed to designate two of the most widely used PFAS – PFOA and PFOS – as 'hazardous substances' under the Superfund law that governs how we clean up contamination in our communities. This rulemaking would increase transparency around releases of these harmful chemicals and help to hold polluters accountable for cleaning up their contamination. EPA is accepting comments on this proposal, and we are eager to hear from all interested groups and individuals so we can ensure that any final rule is both fair and effective. Protecting people's health is always EPA's top priority," said U.S. Environmental Protection Agency New England Regional Administrator David W. Cash. 
"The EPA's recent proposal to designate PFOA and PFOS as hazardous substances is a strong step toward holding polluters accountable for decades of contamination. For far too long, communities across the nation have been exposed to a mixture of PFAS due to no fault of their own and with limited options to hold polluters accountable. Communities have suffered in so many ways from ongoing PFAS exposure and often bear the tremendous costs associated with PFAS contamination. We need continued leadership and bold action to address PFAS as a class by stopping the exposure, making the polluters pay, and helping the people harmed by PFAS exposure," said Andrea Amico, Co-Founder of Testing for Pease. "I applaud the EPA's efforts in designating PFOA and PFOS as a hazardous substance. And I am grateful for Senator Shaheen's unwavering leadership in Congress to help communities in New Hampshire and all across the nation address widespread PFAS contamination." 
Senator Shaheen leads efforts in Congress to uncover the potential health effects related to PFAS contamination, respond to the chemical exposure and remediate polluted sites. Shaheen has fought to secure consistent federal support for the PFAS health impact study that she established four years ago. Because of her efforts, Pease is serving as a model site for the nationwide study. As a lead negotiator of water provisions in the bipartisan infrastructure law, Shaheen secured record-level funding to upgrade drinking water and wastewater infrastructure and address PFAS contamination, including $72 million in grants to New Hampshire announced by the EPA earlier today. 
Last week, Shaheen sent a letter asking for updates on the implementation of recommendations outlined in the recent report from the National Academies of Sciences, Engineering and Medicine (NASEM) on PFAS chemicals to the Centers for Disease Control and Prevention (CDC) and the Agency for Toxic Substances and Disease Registry (ATSDR). Shaheen has long worked to get clinicians guidance on testing and protocols, including introducing the?Physician Education for PFAS Health Impacts Act, bipartisan legislation that would establish a grant program within the Department of Health and Human Services to fund the creation of training materials for physicians on the health effects of PFAS and best practices for caring for patients who have been exposed to PFAS. Key provisions of Shaheen's legislation were included in the fiscal year (FY) 2021 government funding legislation that was signed into law. Shaheen is a senior member of the Senate Appropriations Committee.
###