Shaheen Highlights Program Helping to Conserve NH Sites, Announces Significant Increase in Federal Grant to Support Granite State Parks
**Shaheen & Hassan's Bipartisan Legislation Saved LWCF to Ensure Continued Conservation Investments & Efforts at NH Parks & Recreation Sites**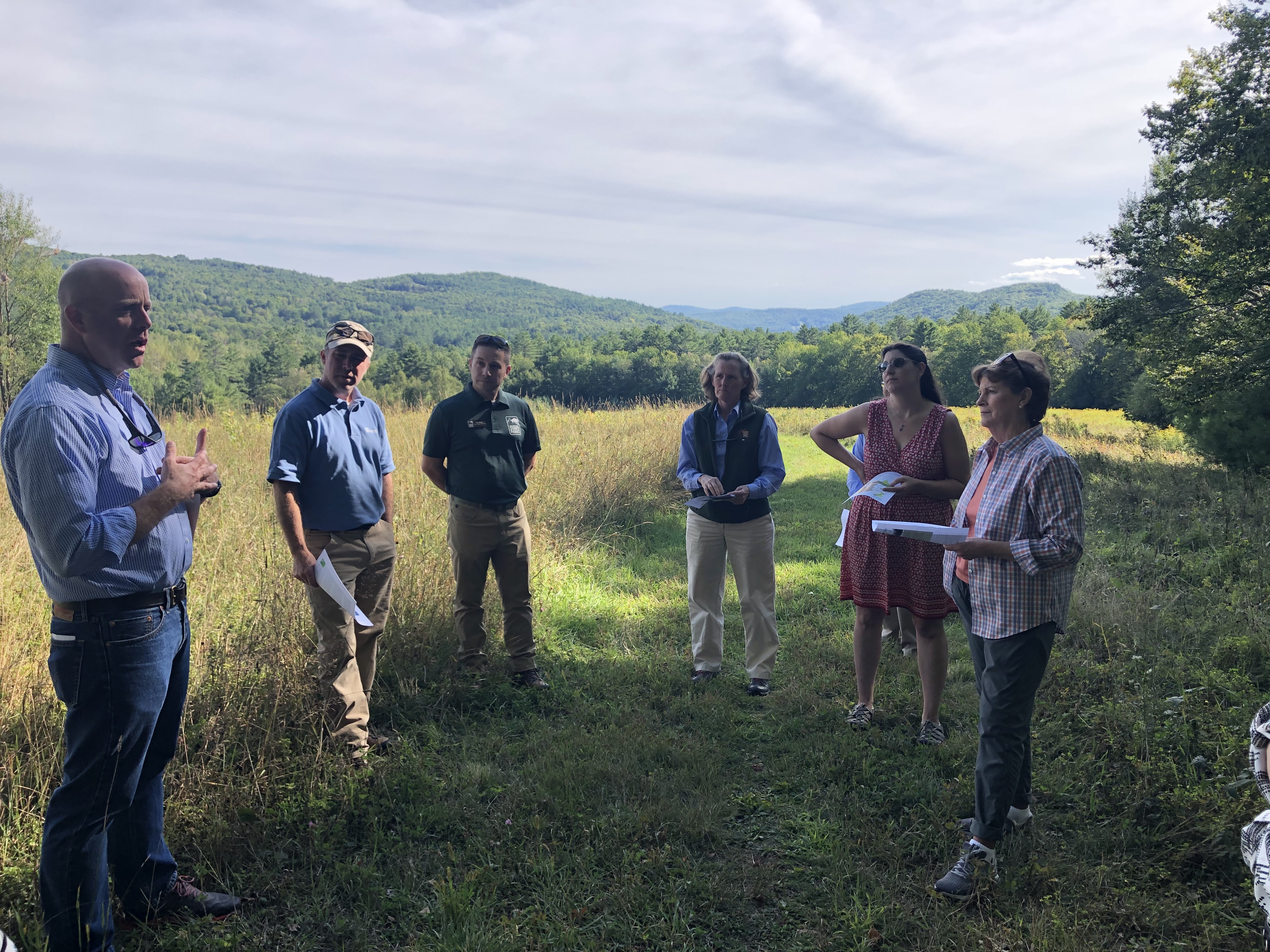 Shaheen visiting Hudson Farm
(Washington, DC) – U.S. Senator Jeanne Shaheen (D-NH) visited Hudson Farm this afternoon to highlight the significance of the Land and Water Conservation Fund (LWCF), which was permanently authorized as part of a historic lands package legislation signed into law earlier this year thanks to Shaheen's efforts. The lands package legislation included Shaheen's bill with Senators Maggie Hassan (D-NH), Richard Burr (R-NC) and a bipartisan group of Senators, to permanently reauthorize the LWCF, which helps preserve and maintain critical lands for national parks, forests, wildlife refuges and recreational areas across the country at no cost to American taxpayers. Shaheen has led efforts to help secure full funding and permanent authorization for the LWCF, which has helped protect more than 2.5 million acres of land and supported tens of thousands of state and local outdoor recreation projects throughout the nation. With the assistance of LWCF funds, the Trust for Public Land purchased Hudson Farm and transferred ownership over to the National Park Service, which incorporated the park into the Appalachian Trail. Shaheen was joined by members of the Trust for Public Lands, Appalachian Mountain Club, Town of Hanover, The Hanover Conservancy, Dartmouth College, the New Hampshire Division of Natural and Cultural Resources and The Appalachian Trail Conservancy, which maintains the park.
Additionally, Shaheen, a senior member of the Senate Appropriations Committee, announced that the Department of Interior has awarded New Hampshire $1,713,672 through the LWCF, which is a more than $700,000 increase over last year's funding levels.
"The Land and Water Conservation Fund plays an important role in strengthening the Granite State's outdoor recreation economy by preserving our most beautiful and popular tourist sites, including the White Mountain National Forest. That's why it's supported by Democrats and Republicans alike, and why my bill to permanently reauthorize the program enjoyed bipartisan support and was signed into law," said Senator Shaheen. "It's really encouraging to see how LWCF funds have been put to work at Hudson Farm and how this program really makes a difference, which is why I'll continue to fight for the LWCF in the Senate."  
Senator Maggie Hassan and Representatives Annie Kuster (NH-02) and Chris Pappas (NH-01) also applauded the boost in federal funding through the LWFC for New Hampshire.
"After working with the rest of the New Hampshire delegation to permanently reauthorize the Land and Water Conservation Fund earlier this year, it's great to see continued resources going to our state to support our outdoor spaces," said Senator Hassan. "From the White Mountains to our state parks, New Hampshire is known for its natural beauty, and I will continue to work across the aisle to secure federal funding to enhance and conserve our natural resources."
"In New Hampshire, we are blessed with beautiful parks and outdoor recreation areas that attract Granite Staters and tourists alike," said Congresswoman Kuster. "This funding will help improve and develop some of these outdoor spaces, providing a boost to our tourism industry and economy as a whole. I'm excited by this development and will continue working to invest in New Hampshire's spectacular outdoors."
"Safeguarding our environment is essential to retain New Hampshire's way of life and economy," said Congressman Pappas. "The reauthorization of the Land and Water Conservation Fund along with these federal dollars will go a long way to supporting our state and local agencies as they work to preserve our lands, lakes, and rivers and ensure they remain healthy and accessible for future generations."