Shaheen Highlights Urgent Need for COVID-19 Relief Funding for State & Local Governments During Roundtable Discussion with Somersworth Officials
October 02, 2020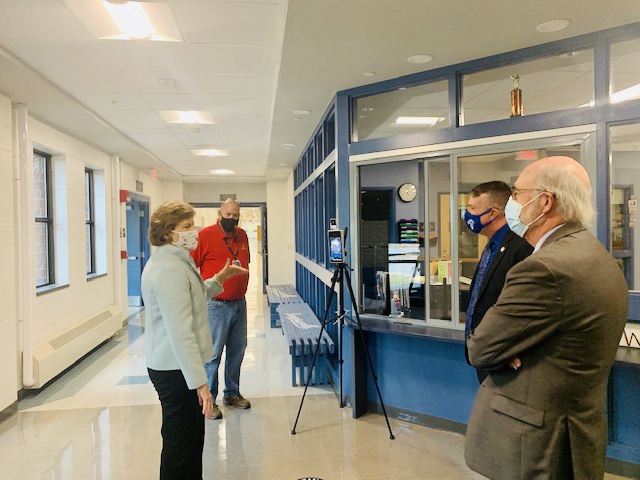 Senator Shaheen speaks with Somersworth Mayor Dana Hilliard and local officials to discuss ongoing need for financial assistance to support the state, cities and towns during the COVID-19 crisis.
**Shaheen also Honors National Flight Simulator of Manchester's Selection as SBA NH Veteran-Owned Business of the Year**
Senator Shaheen visits the Small Business Administration's New Hampshire Veteran-Owned Business of the Year, National Flight Simulator, in Manchester.
(Manchester, NH) – U.S. Senator Jeanne Shaheen (D-NH) hosted a roundtable discussion this morning with Somersworth officials to highlight the need to prioritize state and local funding in COVID-19 response legislation. Later in the day, she participated in a ceremony honoring the selection of National Flight Simulator of Manchester as the Small Business Administration's (SBA) New Hampshire Veteran-Owned Business of the Year.
"The economic strain from the COVID-19 crisis has taken a serious toll on our state, cities and towns. Without meaningful action from Congress and significant financial assistance, the jobs of teachers, first responders and other essential roles in our communities will be on the chopping block when we need their services the most," said Shaheen. "The feedback I heard from our local officials in Somersworth echo the concerns I've heard from leaders in every corner of our state: we need assistance to manage serious budgetary shortfalls and we need it now. The House passed legislation last night that responds to these needs and many others raised by Granite Staters on the frontlines, which is why it's imperative that Mitch McConnell allow the Senate to take up this bill. We are still very much in the middle of this crisis – our communities need resources to weather this storm in the days, weeks and months ahead."
Communities throughout New Hampshire like Somersworth are being forced to confront dire budgetary shortfalls as a result of the economic fallout of the pandemic, which threatens their ability to provide basic services to residents and could result in the layoffs of essential employees. In total, the state of New Hampshire is facing a shortfall of more than $500 million – a 20% drop in state revenue. Senator Shaheen is fighting to secure financial relief for struggling state and local governments. During negotiations of the Coronavirus Aid, Relief and Economic Security (CARES) Act, Shaheen helped deliver $1.25 billion to New Hampshire to assist the State during COVID-19. Shaheen underscored the urgent need to prioritize COVID-19 response legislation over partisan efforts to rush through a Supreme Court nomination on the Senate floor earlier this week, and last night called on Republican Majority Leader Mitch McConnell to move swiftly on House-passed COVID-19 relief legislation.
Later in the day, Shaheen visited National Flight Simulator in Manchester, which was founded in 2006 by U.S. Air Force veteran Steve Cunningham. During her visit, Shaheen paid tribute to the business' accomplishments, contributions to the state's aviation sector and efforts to support New Hampshire veterans. Shaheen was accompanied by SBA New England Regional Administrator Wendell Davis and Manchester Mayor Joyce Craig.
"Like so many businesses in New Hampshire, these have been really trying times for National Flight Simulator, but I'm glad to see this company getting back on its feet," said Shaheen, a senior member of the Senate Committee on Small Business and Entrepreneurship. "It's a real testament to Steve Cunningham's resilience. He has built a resourceful and very innovative company, utilizing the technical skills he acquired in the Air Force and sheer determination. Steve created a successful business that provides good jobs here in the Manchester area. It's no wonder this company was selected for the Small Business Administration's New Hampshire Veteran-Owned Business of the Year Award. I thank Steve first and foremost for his service to our country, and for inviting me to his business today."
---
---
Next Article
Previous Article