Shaheen Honors WWII Veteran John Durkin with Congressional Gold Medal
January 27, 2023
Shaheen awards Congressional Gold Medal to Dover resident and WWII veteran John Durkin. 
*Earlier in the day, Shaheen visited the Ukrainian Catholic Church in Manchester**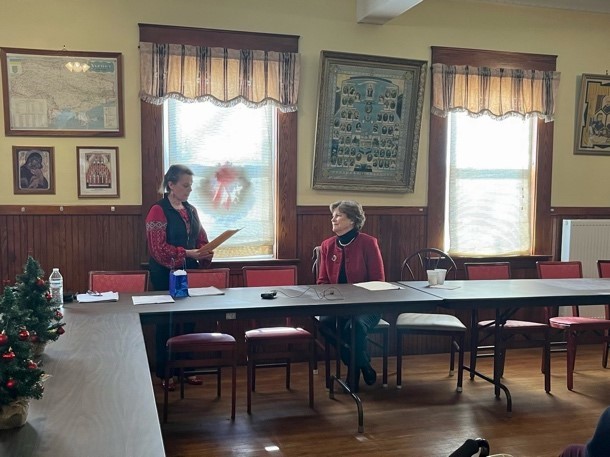 Shaheen speaks with parishioners and Ukrainian refugees at the Ukrainian Catholic Church in Manchester. 
(Dover, NH) – Today, U.S. Senator Jeanne Shaheen (D-NH), a senior member of the Senate Armed Services Committee, presented the Congressional Gold Medal to WWII veteran Lieutenant John Durkin. Shaheen and her staff worked closely with the Durkin family and coordinated with the Maritime Administration at the U.S. Department of Transportation to obtain this medal.  
"I was honored to have the privilege of presenting this prestigious award to Lieutenant John Durkin, who served in the Merchant Marine during World War II. Our Merchant Marines were instrumental to the war effort, where they served as the supply line for U.S. troops and our Allies. Victory would have been out of reach without their crucial contributions," said Senator Shaheen. "I was delighted to help Lt. Durkin obtain this well-deserved medal and I'm grateful to have had the opportunity to join him and his family to celebrate this momentous day."   
John Francis Durkin was born in Dover, New Hampshire in September 1927, and graduated from Dover High School in June 1945. Like most young men of his age during World War II, John wanted to do his part and serve his country. His first ship, the Conrad Kohrs, took coal and other much-needed supplies to war-ravaged Europe. John remained a Merchant Marine until he transitioned to the Navy as a reserve officer in 1953. After leaving the Navy in 1957, John worked at the Portsmouth Naval Shipyard and had a 4-year apprenticeship on computers before joining Honeywell. He retired from Honeywell in 1989.   
In 2019, Shaheen supported legislation – which is now law – to award the Congressional Gold Medal to the U.S. Merchant Mariners of World War II. The Merchant Mariners of World War II Congressional Gold Medal Act recognized the dedicated and vital service of the 290,000 men – including Lieutenant Durkin – who served in the Merchant Marine and risked their lives transporting American soldiers, supplies and equipment overseas in support of the Allied war effort. 
Earlier in the day, Shaheen visited Protection of the Blessed Virgin Mary Ukrainian Catholic Church in Manchester. There, she met with Parish members to share updates about her work in Washington to support Ukraine, as well as hear about humanitarian efforts at the Church.  
"I was humbled to join Parish members at Manchester's Ukrainian church to hear their personal stories and reaffirm my support for Ukrainian refugees as they find safety in New Hampshire and throughout the United States," said Shaheen. "As Putin's unprovoked war in Ukraine rages on, it's important for the U.S. to continue supporting Ukrainians' fight against Russian aggression, as well as provide aid to those fleeing the violence and seeking refuge. Ukrainians coming to the United States have fled unspeakable violence – war crimes and acts of genocide. They must be met with compassion as they work to heal from their trauma and build new lives in the United States. I'll continue to support aid to Ukraine – both militarily and humanitarian – to help Ukraine defeat Putin, whose aggression threatens democracies around the globe, and to give aid to innocent civilians in harm's way." 
As Chair of the Senate Foreign Relations Subcommittee on Europe and Regional Security Cooperation and a member of the Senate Ukraine Caucus, Shaheen has led action in the U.S. Senate in support of Ukraine amid the unprovoked, brutal invasion by Russia. In early December, Shaheen cosponsored a bipartisan resolution recognizing Russian actions in Ukraine as genocide. The resolution was passed by the Senate Foreign Relations Committee. In the National Defense Authorization Act (NDAA) for fiscal year (FY) 2023, Shaheen helped secure a provision that extends the Ukraine Security Assistance Initiative (USAI) through December 31, 2024 and authorizes the use of up to $800 million in FY2023 to provide security assistance to Ukraine - an increase of $500 million above the President's Budget. As a senior member of the Senate Appropriations Committee, Shaheen secured $920 million in the federal government funding law for FY 2023 to respond to the food insecurity impacts of Russia's invasion. She is also fierce supporter of Ukrainian refugees who've fled the war to find safety in the United States. She recently secured $600,000 in federal funding to support Ukrainian refugees and other immigrant families through St. Anselm College. 
### 
---
---
Next Article
Previous Article