Shaheen Meets Virtually with NH Stakeholders to Discuss Broadband Investments Heading to NH from the Bipartisan Infrastructure Package
December 10, 2021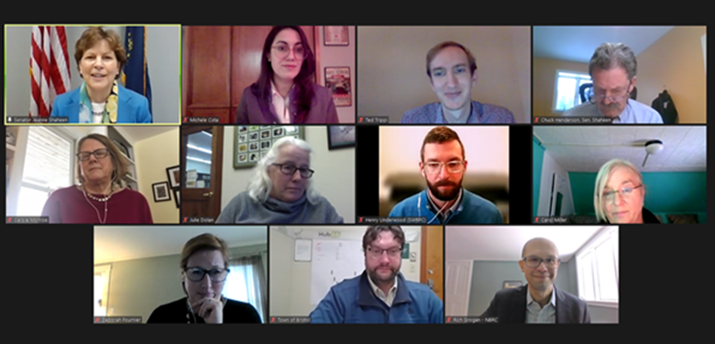 **Shaheen was a Key Negotiator of the Infrastructure Package, Led Bipartisan Talks on Broadband**
(Washington, DC) – U.S. Senator Jeanne Shaheen (D-NH) today virtually met with New Hampshire stakeholders to discuss how the bipartisan Infrastructure Investment and Jobs Act delivers a once-in-a-generation investment in broadband, connecting communities across New Hampshire to reliable, high-speed internet. During the virtual roundtable, Shaheen discussed the importance of increasing broadband connectivity and digital equity, particularly in rural communities.
As a lead negotiator of the bipartisan infrastructure deal, Shaheen secured $65 billion to support broadband deployment across the nation. The package also builds on the Emergency Broadband Benefit (EBB) Program by investing $14.2 billion to help working and low-income families access affordable high-speed internet.
She was joined at today's roundtable by Deb Fournier from NH Telehealth Alliance; Carol Miller from the National Collaborative for Digital Equity; Carole Monroe from ValleyNet; David Justice, Director of NH GRANIT at UNH; Henry Underwood from the Southwest Region Planning Commission; Nik Coates from the Grafton County Broadband Committee and the town of Bristol; Julie Dolan Chair of the Sandwich Broadband Committee; and Rich Grogan, Executive Director of the Northern Border Regional Commission.
"Granite Staters in every corner of the state deserve access to reliable, high-speed broadband," said Senator Shaheen. "Today, I discussed with New Hampshire stakeholders how the historic bipartisan infrastructure package I negotiated will expand access to internet services in New Hampshire. During negotiations, I spent long nights and early mornings hammering out broadband provisions because closing the digital divide is critical to the success of our families, students and businesses. I'm excited to see these historic investments heading to New Hampshire, I'll keep fighting for resources to keep our communities connected."
You can watch the full roundtable session here.
Shaheen was a lead negotiator on provisions of the historic infrastructure bill that address broadband and water infrastructure. In June, Shaheen joined President Biden and a bipartisan group of Senators to announce the framework of the package. Shaheen joined members of the bipartisan group on the Senate floor to unveil bill text of the legislation in August. This package will provide a significant investment in our nation's core infrastructure priorities – including roads and bridges, rail, transit, ports, airports, the electric grid, water systems and broadband. It is estimated to bring New Hampshire more than $1 billion to repair roads and bridges, more than $400 million to improve the state's water infrastructure and a minimum of $100 million to build out high-speed internet access.
###
---
---
Next Article
Previous Article