SHAHEEN MEETS WITH GRANITE STATE, NATIONAL EDUCATION ADVOCATES ON CAPITOL HILL
At roundtable discussion, Shaheen stresses importance of investments in early childhood education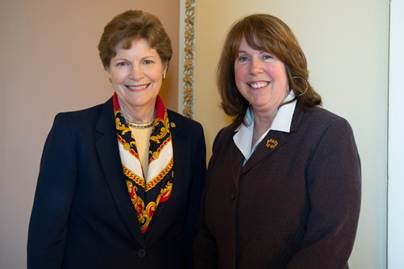 (April 9, 2014 | Washington, DC) — Senator Shaheen and Early Learning N.H. Executive Director Jackie Cowell)
(Washington, DC) ­–U.S. Senator Jeanne Shaheen (D-NH) participated in a roundtable discussion today on Capitol Hill with New Hampshire and national education advocates and experts to address policy issues and priorities on early childhood education. Shaheen hosted Early Learning New Hampshire Executive Director Jackie Cowell at a Democratic Steering and Outreach Committee discussion, which focused on expanding access to high-quality early-learning opportunities and coincided with Week of the Young Child.
"There is no more important or effective investment in our future and our children than education, particularly in their early years," Shaheen said. "We should all work together to make sure all children in New Hampshire and around the country have accessible, quality early childhood education that will help them form a solid foundation for their life and become productive members of society."
Many economists note that for every dollar invested in quality early childhood education, up to $17 is realized in return in the form of economic impact.
Throughout her career, Shaheen has made it a priority to expand opportunities for young children. As Governor, she expanded public kindergarten for tens of thousands of New Hampshire children. To increase awareness about the importance of early learning, she also launched a comprehensive statewide campaign that brought the business community to the table for the first time to create the Business Partners for Early Learning. The program fostered business involvement at the state, regional, and local levels in strategies to improve the quality, accessibility, and affordability of early care and education.
Since arriving in the Senate, Shaheen has also supported efforts to bolster Head Start programs, which promote school readiness among America's low-income children, and other investments in early childhood education to help working families. Recently, Shaheen supported legislation in the Senate to reauthorize, reform and revitalize the child care and development block grant program (CCDBG) to assist working families with the cost of child care and promote the healthy development of children and middle-class families.